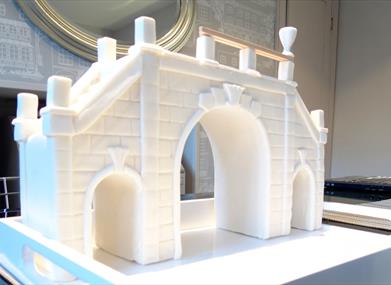 Jubilee celebrations at No.1 Royal Crescent will include an elegant table display of sugar sculpture art depicting a royal river procession.
Table displays were used to demonstrate wealth as well as interpret the classical architecture of the day. Inspired by the work of Canaletto and Carpaccio, the display will feature a centrepiece capturing the journey of a majestic processional barge as it floats down the river. The central architectural promenade will be surrounded by an array of sparkling and sumptuous treats including gilded gingerbread, sugar baskets and marzipan fruits, all shining under candlelight. Intricate sugar sculpted place settings will provide the perfect finishing touch for the honored guests who would have been invited to dine at this table.
During half term children can take part in an accompanying royal trail, following clues around the house to discover the interesting connections No.1 has with royalty.
Follow @No.1Museum on Twitter to see photographs of the sugar work. Why not share your own sugar sculpture photos!
Free with normal admission to the museum.