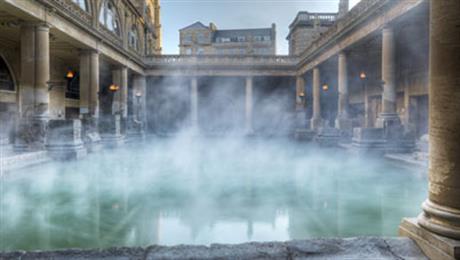 Visit the heart of the World Heritage Site. Around Britain's only hot spring, the Romans built a magnificent temple and bathing complex that still flows with natural hot water. See the water's source and walk where Romans walked on the ancient stone pavements around the steaming pool. The extensive ruins and treasures from the spring are beautifully preserved and presented using the best of modern interpretation.
Meet Roman costumed characters every day and hear the stories of those who lived and worked here 2,000 years ago. Audioguides in 8 languages, with a special one for children in English and French, are included in the admission price. Enjoy morning coffee, lunch or afternoon tea in the magnificent 18th c. Pump Room, accompanied by music from the Pump Room Trio, and try a glass of Spa water from the fountain. Visit the romantic torchlit Roman Baths and avoid the crowds on summer evenings - the whole site is open until 10pm, last entry 9pm, during July and August. Open every day except 25& 26 December.
When in Bath do as Romans do...
Fancy yourself as a Roman god or goddess, or a Roman centurian perhaps? Don your toga and laurel wreath, helmet and shield, or any other Roman garb. Get a friend to take a photo of you. Then visit www.beingroman.com to upload it, or email your photo to entries@beingroman.com and we'll enter you in our competition to win an iPad mini. Look out for our posters in Bath and Bristol, position yourself next to our lovely Roman soldier, and take a quick snap on your phone to enter the same way.
Competition closes 30 April 2013.
Special package:
Make the most of Bath's thermal waters with a full day experience that spans 2000 years! Package includes 2 hour session at Thermae Bath Spa, a ticket to the Roman Baths and a 3 course lunch in the Pump Room. The whole package costs just £63.50 per person and payment must be made upon booking. To book call the Personal Booking Service at Bath Tourist Information Centre on 0844 847 5256. Not available 25-26 December or 1 January. Please book at least 2 days in advance.
The Roman Baths is a Finalist in the 2012-2013 South West Tourism Excellence Awards.