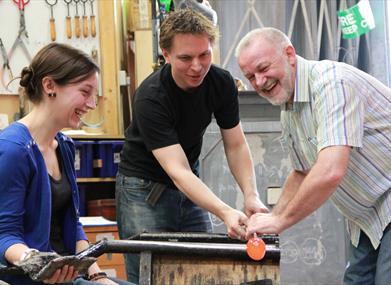 Glassmaking Taster Courses –Learn to Make a Paperweight
Have a go at the ancient art of glassmaking! 'A TRULY INSPIRATIONAL EXPERIENCE'
On this course you will learn all the basic skills of glassmaking in order to make your own paperweight with a professional glassblower and learn the magical way glass is blown and sculpted.
Our course is great if you are a complete beginner as no previous experience is necessary as we will start you off from scratch and by the end of the session you will have learnt all the basic techniques in order to make your very own paperweight.
During the course you will be introduced to techniques such as:
- Gathering Glass From The Furnace
- Shaping And Tooling The Molten Glass
- Applying Colour
- Finishing The Base
We offer tuition at the glassmaking course for a maximum of 4 people at a time, so book early. You will be able to take home your own piece of art after it has cooled down overnight which we can sign and date for you. (please note we are closed on Sundays so your work can be collected from the Studio from the Monday onwards or we can post your paperweight to you but we do charge for postage and packing)
Glassmaking Courses take place on Saturday mornings at the Theatre of Glass, Walcot Street in the centre of Bath and run for 3 hours from 9.30 - 12.30.
See www.bathaquaglass.com for further info or phone Hilary on 01225 428146 to book you placeH.
A Glassmaking Course makes a fantastic gift! - Gift Vouchers Available to buy a voucher or call 01225 311183 / 319606
Vouchers are valid for 12 months from date sold.
Please Note the minimum age to take part in a glassmaking course is 16 and due to the nature of the craft is not suitable for pregnant women.
Stained Glass Courses
As well as glassmaking courses we offer stained glass courses. Learn Stained glass with a professional - beginners and more advanced courses available, for more information about our stained glass courses please call Themis our stained glass artist on 01225 463436.

Opening Times
Opening
(01/01/2013 - 31/12/2013)
* Glassmaking courses generally run every Saturday morning 9.30-12.30, additional dates and times are added subject to availability.