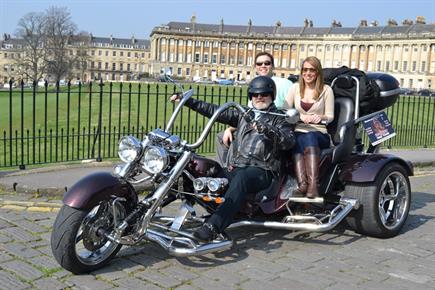 Razorcat Tours is a privately owned, family run business offering chauffeur-driven trike rides and tours for a very unique leisure experience. Gift vouchers available online - perfect for birthdays or Christmas.
What's a trike ride like? What will happen?
You'll be chauffeured by a professional who knows all the best places to visit and will make sure your day is a memorable one. One thing we can promise you is that you will have FUN! It's like nothing you've ever tried before. You'll feel safe too – a trike has the thrill of a motorcycle but with the stability of a car.
What kind of ride can I go on?
We have a wide choice of rides you can select from – check out our website for full details – but here's a selection:
• Taster ride – this is a short 20 minute blast around Bath. Perfect if you're on a tight budget or don't have much time to spare.
• Joy Ride – a half hour ride around Bath – you'll see some of the main sites and have a ride on a faster road.
• 1 hour Tours – these are perfect for tourists and locals. You have a choice of 5 different routes you can take. You'll see the iconic sites of Bath such as The Royal Crescent, then you'll zoom out into the beautiful Wiltshire countryside where you'll see stunning scenery and picture-perfect villages.
• Pub Lunch tour – ideal for special birthdays and anniversaries. Here you can combine your trike ride with a delicious pub lunch eaten in a traditional English pub – perfect!
You can also travel further afield to the World Heritage sites of Avebury and Stonehenge as well as trips to picturesque villages such as Lacock, Bradford on Avon and Castle Combe.
How much does it cost?
Our prices start from ONLY £18.50 per person – so we're sure you'll find something to suit your needs and budget. Check out our Tours and Rides pages on our website for more details. All tours must be booked and paid for in advance.
How do I Book?
It's easy! Phone us or email us – see 'Contact Details' top right of this page for links.
01225 745708
info@razorcattours.com
You can also buy GIFT VOUCHERS online.
General information
• Private hire licence - licensed to carry two passengers
• Safety restraint bar and seat belts
• Full vehicle and public liability insurance and CRB check
• Jackets, helmets, gloves, waterproofs, safety eyewear – all provided
Choose a different kind of day – you won't regret it!
Discover your WILD side with Razorcat Tours.
Testimonials:
'Short burst of SAFE, adrenalin-fuelled fun. Suitable for all ages. Very novel. Can be a tourist to enjoy the sights or merely sit back and enjoy the feeling of the ride, or both. Plus the driver, Stewart is super friendly and knowledgeable. Can't recommend it enough actually.' Scheherazade T
'What an amazing experience. Having never been on a motorbike before I was a little apprehensive, but wow what a ride. To be so open and exposed to the elements and yet feel so safe was fantastically exciting. Love the photos and had a fantastic time seeing the lovely sights of Bath. I am sure we will see you again as we will be visiting again. I will tell all my family and friends what a wonderful service you offer and I was especially impressed that Stewart remembered both of our names it gave it that extra personal touch. We absolutely loved it! Wish we'd had longer and wished we could've gone faster! Would love to do it again soon.' Crystal M
'I surprised my boyfriend with this for his Birthday in October. My debit card didn't go through while booking on the phone but the lady who took the call was lovely and I was still able to book the tour. I found her very friendly and accommodating. The ride was fantastic; we both enjoyed it and thought it was a fantastic way of seeing Bath and something unique too. The trike got a lot of attention from passersby, and our driver was more than happy to let people take pictures. Overall we would highly recommend this to everyone. The people who run it are lovely and more than happy to be flexible if you decide you would like a longer ride. A bonus is that the driver stops off during the ride to take pictures and now we have a lovely memento of our time in Bath. Highly recommended, I wish them the best of luck with the business-they deserve it!' Dawn R