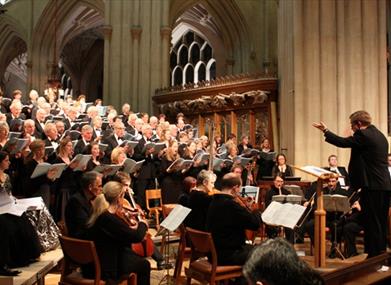 Bath Choral Society starts its new season in boisterous mood, with a late work by Haydn that celebrates the unfolding year. The Seasons provides an excellent pictorial antidote to thoughts of winter. Haydn paints scenes that include a ploughman whistling, dogs barking, cockerels crowing, a splendid hunt scene, the obligatory summer storm, stories around a log fire – and a riotous rural celebration! Sung in English, it promises to be a colourful evening of delightful music.
Bath Philharmonia will share the concert platform with Bath Choral Society for the first time, and the three eminent soloists Elizabeth Weisberg (soprano), John McMunn (tenor) and Alex Ashworth (bass) play the parts of the storytellers in this strongly narrative work.
Bath Choral Society is looking forward to its second year with Musical Director Will Dawes, who joined in September 2011 and has already made a strong impression in Bath with an exquisite interpretation of Monteverdi Vespers of 1610 and a concert of English music spanning 400 years for the Royal Jubilee. He has chosen to programme The Seasons above Haydn's better known Creation, giving the choir its first opportunity in a generation to sing this late masterpiece, and providing a rare treat for the audience.