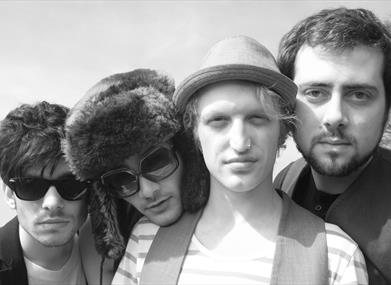 As part of Party in the City - Bohemian Embassy will be performing at the Victoria Art Gallery on 1 June 2012.
Ambassadors of the weird, the strange and the socially unconventional, The Bohemian Embassy (UK) don't just write edgy catchy rock indie pop tunes, they also live it, breathe it, drink it and take it.
"I have experienced this first hand having spent some time with the band a few years ago, with a few members staying on my floor for a time they were writing some of this material for the 'Built For The Future' album." - Jay (Glasstone)
There isn't really anything The Bohemian Embassy haven't sacrificed for the band, and largely operating on questionable sustenance, they bring to your ears some inspired material described as "telepathic post-punk" & not dissimilar to a modern day Velvet Underground or next generation Beatles, with some Supergrass style and modern-day glam thrown in to the mix, sealed together by a pure love and addiction for making music.
'Built For The Future' is fun, energetic & hard-hitting at times. Refreshingly difficult to pigeonhole, but the songs are beautifully crafted and stick with you in that "pop" way without really tiring.
The Bohemian Embassy already have a great live reputation, always bring a crowd, always ends in frenzied primal urges, sharing stages with bands such as You Love her Coz She's Dead, Go Ape, Supergrass, The Heavy, Kid Carpet, The Delays, Selfish C***, whilst also headlining many great venues, for example Moles (Bath), Thekla (Bristol) & Metro (London).
Prices
| Ticket Type | Ticket Tariff |
| --- | --- |
| Free Admission | Free |
Free just turn up.