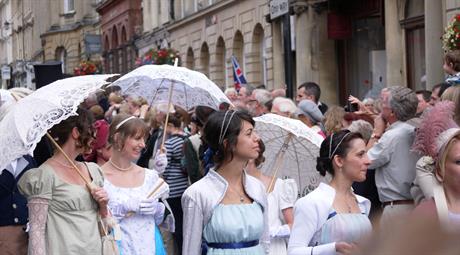 Dates:
13/09/2013

to

21/09/2013
The Jane Austen Festival – 13th to 21st September 2013
2013 is the 200th Anniversary of the first publication of Pride & Prejudice possibly the best loved novel in the world.
We will be celebrating with concerts, etiquette lessons, dancing lessons, Workshops – how to dress Regency on a budget, hair how to cheat - short hair, Walks – Sydney Pleasure Gardens and other places Jane Austen knew well Pride & Prejudice and Zombies an adventure!
Breakfasts and Rummaging in the Reticule – talks in Regency Town House
Theatricals – Pride & Prejudice of course also Northanger Abbey (with puppets)
Regency Costume Fashion Show – probably the first time ever that Regency costume has been shown in this way
GRAND REGENCY COSTUMED PROMENADE - Through the streets of Bath – stopping the traffic – a fantastic spectacle – soldiers firing muskets in the Royal Crescent – dancers in Milsom Street and Parade Gardens and the whole of the centre of Bath comes to a standstill!
Plus… lots more including the sell out
Jane Austen Festival Regency Costumed Masked Ball with a reception by the Roman Baths followed by the Ball in the Pump Rooms
This year Mr Beveridge's Maggot will be perfect!
_______
For those unable to wait until September the next Festival event is on Saturday 22nd June 2013 The Jane Austen Festival's - Netherfield Ball
Watch out for Mr Darcy! At the Guildhall, High Street, Bath
Tickets go on sale in February 2013
Details on the website www.janeausten.co.uk/festivalhome and from jackie@janeausten.co.uk (Jackie Herring – Festival Director)
If you require accommodation during the Jane Austen Festival, use the 'Book Accommodation Nearby' box to the right, or use the Accommodation tab at the top of the page. This will provide you with an online booking service for accommodation in Bath and the surrounding area. Alternatively, contact our personal accommodation booking service: + 44 (0) 844 847 5256.

Opening Times
2013
(13/09/2013 - 21/09/2013)
* Please see the Jane Austen website for individual event dates, times and prices.
Facilities
Provider Preferences
Of historic, literary or architectural interest - Jane Austen
Repeatable Event - annual
Tours and Demonstrations
Guided Tours Available for Groups