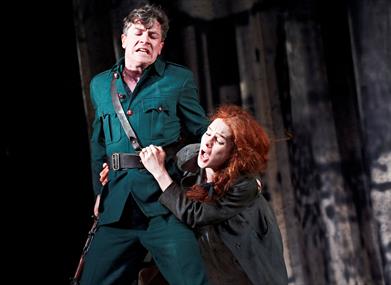 Ireland's world renowned Abbey Theatre is set to visit Bath to perform the classic Irish Drama, The Plough and the Stars. Written by one of the world's greatest writers, Sean O'Casey, this powerful new staging will appear at the Theatre Royal from Tuesday 16th to Saturday 20th October 2012, as one of only three UK tour dates outside Ireland following its opening in Dublin.
Set in a tenement house, against the backdrop of the Easter Rising in 1916, The Plough and the Stars is both an intimate play about the lives of ordinary people and an epic drama about ideals and the birth of the Irish nation.
As the residents of the Dublin tenement shelter from the violence that sweeps through the city's streets, a revolution that will shape a country's future rages around them. Amidst the tumult of political upheaval, Jack and Nora Clitheroe are 'like two turtle doves always billing and cooing', much to the ridicule of their bustling neighbours. But when Ireland calls, Jack must choose between love for his wife and duty to his country.
Heartbreaking, disturbing and funny, The Plough and The Stars is an iconic play to which director, Wayne Jordan, brings a fresh perspective. Sean O'Casey's masterpiece premiered at the Abbey Theatre in 1926 amid riots and complaints from audiences who rejected its interpretation of recent history. Since then the play has become a classic of the Irish drama repertoire and this Abbey Theatre revival follows Jordan's hugely successful 2010 production.