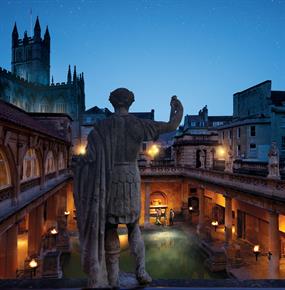 Dates:
01/07/2014

to

31/08/2014
Explore the torch-lit Roman Baths.
As darkness falls, the ruins of this vast Roman building are an awesome sight. By the light of flickering torches, you can walk on 2000 year old pavements and really sense the spirits of the ancients, providing a truly magical atmosphere which no other venue can surpass. With its steaming waters and Roman artefacts this is an unforgettable and unique experience.
If you require accommodation during the Roman Baths by Torchlight, use the 'Book Accommodation Nearby' box to the right, or use the Accommodation tab at the top of the page. This will provide you with an online booking service for accommodation in Bath and the surrounding area. Alternatively, contact our personal accommodation booking service: + 44 (0) 844 847 5256.
Opening Times
Opening 2014
(01/07/2014 - 31/08/2014)
* The site and shop are open until 10.00pm every evening in July and August (last admission 9.00pm). No need to book, just turn up.