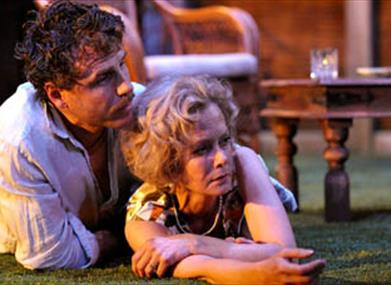 Noël Coward's Volcano visits Bath on its first major UK tour starring Jenny Seagrove (Judge John Deed, A Woman of Substance), Dawn Steele (Wild at Heart, Monarch of the Glen), and Jason Durr (Heartbeat, Above Suspicion). Playing the Theatre Royal Bath from Monday 11th June to Saturday 16th June 2012, this newly-discovered gem from the pen of one of Britain's most prolific and popular writers also stars Finty Williams, Perdita Avery, Robin Sebastian and Tim Daish.

Recently widowed, Adela Shelly finds herself being wooed by the suave and charismatic Guy Littleton, a visitor to her elegant Caribbean house on the side of an island volcano. When Guy's acid-tongued wife, Melissa, decides to fly in and see off the competition, she doesn't count on Adela's best friend, Ellen, also falling for Guy's charms. As tensions begin to bubble under the surface, so does the volcano and the results are explosive.

Written in 1956, during Coward's self-exile in Jamaica, this will be the first major production of this steamy tale of Caribbean adultery, which was originally envisioned for Katharine Hepburn but never performed in the author's lifetime. Inspired by an affair between Coward's friend Ian Fleming and a plantation-owning society beauty, this atmospheric drama gives a fascinating insight into the decadent, scandal-ridden Caribbean lifestyle that Coward and his fellow ex-pats enjoyed.