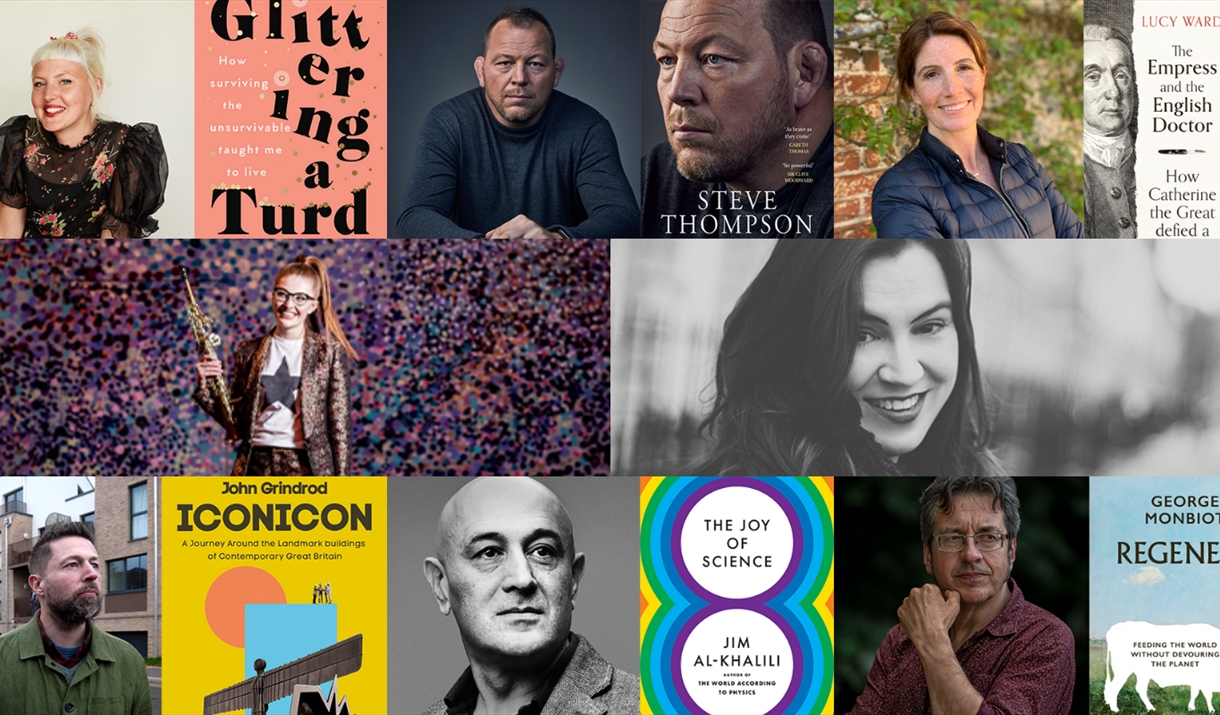 Opening Times
Sorry, this event has passed
About
The annual world-renowned festival, celebrating books and music in a beautiful city, will run from Friday 13 May to Saturday 21 May 2022, with a series of citywide live events. Day 4's highlights include Carrie Etter, Lucy Ward, George Monbiot, Kris Hallenga, John Grindrod and Penguin Micheal Joseph Proof Party. Much loved star Jess Gilam brings her ensemble to perform an explosive concert at Komedia

Writing Workshop: Publishing Your Poetry with Carrie Etter
Tuesday 17 May, 10am–12pm, BRLSI

Ever wanted to publish your poems in magazines but didn't know where to start? Or perhaps you've published some and are interested in publishing a pamphlet or book of your poems? In this two-hour session, widely published poet Carrie Etter will address how to analyse magazines to find the best fit for your work, writing cover letters, keeping records, and much more.

Walking Tour: Bath Blitz
Tuesday 17 May, 10am-12pm, Meet at Orange Grove

2022 marks the 80th anniversary of the bombing of Bath. On two moonlit nights in April 1942 more than 400 people in the city were killed and thousands of buildings were damaged or destroyed. Join Bath Walking Tours to discover why the Georgian city was targeted by the Luftwaffe. Professional Blue Badge Tourist Guides will lead you around the city centre and other bomb-affected sites, including the Royal Crescent, Circus and Assembly Rooms. See reconstructed and restored buildings, bomb craters and shrapnel damage, and hear about air raid shelters, child evacuees and the aftermath.

Classical Music Rising Star Jeneba Kanneh-Mason
Tuesday 17 May, 11am-12pm, The Holburne Museum

At 19 years of age Jeneba is the third member of the extraordinary Kanneh-Mason family to reach the final stages of BBC Young Musician of the Year. Still a student at the Royal College of Music she is already developing a remarkable career including a debut at the 2021 BBC Proms with Chineké Orchestra. Her programme ranges from the elegance of Mozart to the virtuoso fireworks of Scriabin and Liszt.

Lunchtime Lecture: The Joy of Science
Tuesday 17 May, 1pm–2pm, BRLSI

Today's world is complex and unpredictable and trying to make the best decisions is far from easy, so join physicist and bestselling author Jim Al-Khalili as he invites us to engage with the world as scientists do, exploring eight key features of the scientific method, such as the role of doubt, the pros and cons of simplification and the importance of evidence-based thinking.

Walking Tour: Bath on Screen
Tuesday 17 May, 2pm-4pm, Meet at No1 Royal Crescent

Bath has long been used as a scenic backdrop for films and TV shows. Screen tourism is a major factor in attracting visitors to the city, and production companies contribute around £2m a year to the local economy. This entertaining tour, created by Bath Walking Tours and led by professional Blue Badge Tourist Guides, covers recent large-scale filming in the city, including for Seasons 1 and 2 of Bridgerton, a new adaptation of Jane Austen's Persuasion and Wonka, a prequel to the famous Roald Dahl story. The tour also takes in filming locations for classic older movies such as The Duchess and Les Miserables, and a 1960s thriller about a smallpox epidemic in Bath.

The Empress and The English Doctor
Tuesday 17 May, 3.30pm–4.30pm, BRLSI

As smallpox ravaged her empire and threatened her court, Catherine the Great took the momentous decision to summon the Quaker physician, Thomas Dimsdale, from Hertford to St Petersburg to carry out a secret mission that would transform both their lives. Caroline Sanderson talks to writer Lucy Ward about this extraordinary story of Enlightenment ideals, female leadership and the fight to promote science over superstition.

English Garden Eccentrics
Tuesday 17 May, 3.30-4.30pm, The Holburne Museum

Renowned landscape architect and author Todd Longstaffe-Gowan reveals a fascinating array of obscure and eccentric English garden-makers who, between the 17th and 18th centuries created intensely personal and idiosyncratic gardens incorporating miniature mountains, exotic animals, excavated caves and shaped topiaries. Come and be inspired to add some eccentricity to your own gardens!

George Monbiot
Tuesday 17 May, 5pm–6pm, Komedia

Regenesis is a breathtaking vision of a new future for food and humanity. Farming is the world's greatest cause of environmental destruction – and the one we are least prepared to discuss. Writer and environmental campaigner George Monbiot talks to Max Porter about his inspiring vision of a new future for agriculture and how new discoveries could allow us to grow more food with less farming, transforming our relationship with the living planet.

Kris Hallenga: Coppafeel
Tuesday 17 May, 5.30pm–6.30pm, Walcot House

Kris Hallenga founded breast cancer awareness charity Coppafeel, following her untreatable stage 4 diagnosis at 23. She talks to cancer campaigner and author Emma Campbell, about her first book How to Glitter a Turd, their shared experiences and how despite dire adversity great things can follow difficult diagnoses.

Walking Tour: The Great Spa Town
Tuesday 17 May, 5.30pm-7.30pm, Meet at Kingsdown Parade Square

In 2021 Bath gained a rare second UNESCO World Heritage Site listing as one of The Great Spa Towns of Europe. This revealing walking tour by Fred Mawer Tours focuses on Bath's fascinating spa history. You will learn about the city's naturally hot springs, and how everyone from the poor to royalty came to Bath seeking cures for all sorts of ailments by bathing in and drinking the thermal waters. The tour, led by professional Blue Badge Tourist Guides, also reveals historic hospices and hospitals where pilgrims and patients heading to the baths stayed, and looks at après-spa attractions designed to keep visitors entertained in Georgian times when Bath was a fashionable health resort.

Butler to the World: Britain's National Decline
Tuesday 17 May, 6pm–7pm, BRLSI

Moneyland author Oliver Bullough's new book Butler to the World is a sizzling and incendiary story of our national decline. Join him as he reveals the devastating facts behind Britain's dirty financial secrets, corrupt politics and moral guilt while directly challenging the UK to clean up its act. This event is a must for anyone who cares about our reputation in the world today.

Iconicon: Contemporary British Buildings
Tuesday 17 May, 6 -7pm The Holburne Museum
Wimpey homes. Millennium monuments. Wind farms. Spectacular skyscrapers. Self-confessed architecture geek John Grindrod takes us on an enthralling, witty and engaging journey round the Britain we have created since 1980: the horrors and delights, the triumphs and failures.

Penguin Michael Joseph Proof Party
Tuesday 17 May, 6pm–7pm, Francis Hotel

Penguin Michael Joseph publishes some of the world's most popular authors. Get ahead of the game at this special event where you'll meet two of their biggest 2023 debut authors and take home proofs months ahead of publication. Writer and bookseller Francesca Beauman talks to Fran Littlewood and Katie Lumsden about their respective debuts: Amazing Grace Adams and The Secrets of Hartwood Hall. Ticket includes a glass of wine or soft drink and a goodie bag of limited edition proofs.

La Voix Humaine
Tuesday 17 May, 6pm-7pm, Secret Location

A co-production between Wales Millennium Centre and Welsh National Opera commissioned for Festival of Voice. A woman is on the phone to her lover who is ending their relationship. Her devastation unfolds before our eyes as we, the audience, eavesdrop on her despair in the confines of her home. Taking place in an apartment in Bath, Director David Pountney has taken a 20th century opera classic and created an intense theatrical experience. La voix humaine is opera up-close, intimate and unrestrained. Bookers will receive confirmation of the venue prior to the festival.

Bath to Fleet Street
Tuesday 17 May, 6.30-7.30pm Dorothy House Bookshop

Don't miss this opportunity to hear Geoff Ellis talk about his career as a press photographer, showcased in his book, Bath to Fleet Street, with images from his personal archive. A nostalgic look at life through Geoff's lens with pictures and anecdotes from his time as a young press photographer in Bath in the 1950s, troubled times in Northern Ireland through to Fleet Street power struggles.  

Mr B's Presents: Luke Healy
Tuesday 17 May, 7pm–8pm, Mr B's Emporium

Luke Healy has shared a train with Serbian cheese-smugglers, hiked 2660 miles from Mexico to Canada, and is conveniently talented at capturing his experiences in comic form. Join us as we chat about Luke's incredible journeys and his dazzlingly funny and honest work as the graphic artist of new novel The Con Artists and brilliant works like Americana and How to Survive in the North.  

Rugby, Dementia and the Fight of My Life
Tuesday 17 May, 8pm–9pm, Walcot House

Steve Thompson (Unforgettable) is a hero to many for his illustrious career, not least the part he played in England's 2003 Rugby World Cup victory. Steve, however, remembers nothing of that win due to an early onset dementia diagnosis in his early 40s, largely attributed to the insane physical nature of the sport he owes so much to. He talks to Bath Rugby's Club President John Hall about his life in rugby and his hopes and fears for the future.

Jess Gillam Ensemble
Tuesday 17 May, 8pm, Komedia

Programme includes music by CPE Bach, John Harle, James Blake, JS Bach, Piazzolla and Will Gregory. Jess Gillam is a musical force of nature. Passionate about inspiring and bringing joy to people through music, Jess invites audiences on journeys of musical discovery through her electrifying performances and eclectic programming. The Jess Gillam Ensemble is made up of an incredible group of musicians from a wide range of musical backgrounds but with roots in classical music. This promises to be an explosive concert designed to showcase the diversity, dynamism and versatility of the saxophone, and to inspire audiences to reflect, dance and smile!
- This year's music highlights
Book Tickets