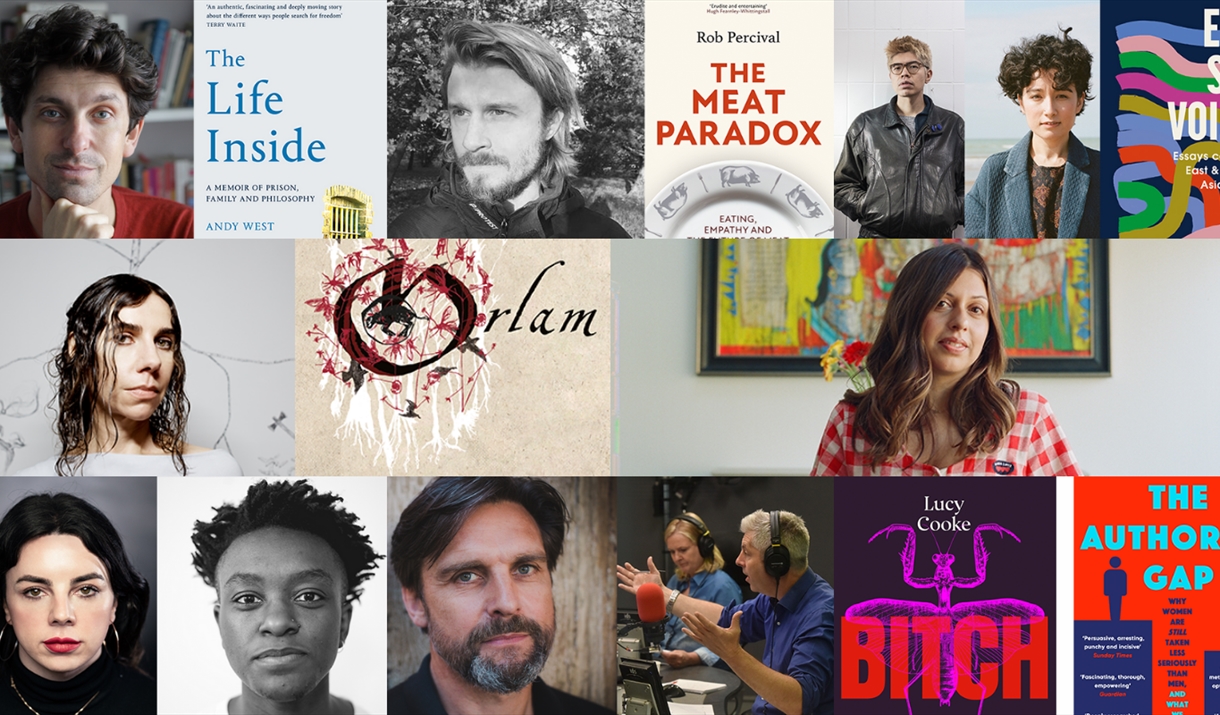 Opening Times
Sorry, this event has passed
About
The annual world-renowned festival, celebrating books and music in a beautiful city, will run from Friday 13 May to Saturday 21 May 2022, with a series of citywide live events. Day 1's highlights include Huma Quereshi, Rob Percival, PJ Harvey, Adbulrazak Gurnah with Elif Shafak, and Marian Keyes. Komedia's special comedy night Krater Comedy Club also guarantees a good night out, as well as the Queens Square Hub providing festival buzz and free entertainment.
Janice Hallett
Saturday 14 May, 10am–11am, Assembly Rooms

Author of The Appeal – Sunday Times Crime Book of the Year 2021 – Janice Hallett has been described as the modern-day Agatha Christie. Scala Radio's Penny Smith talks to Hallett about her phenomenal success, how she creates her ingenious and twisty plots, and introduces The Twyford Code, her dazzling and addictive new novel.

Walking Tour: Bath Blitz
Saturday 14 May, 10am-12pm, Meet at Orange Grove

2022 marks the 80th anniversary of the bombing of Bath. On two moonlit nights in April 1942 more than 400 people in the city were killed and thousands of buildings were damaged or destroyed. Join Bath Walking Tours to discover why the Georgian city was targeted by the Luftwaffe. Professional Blue Badge Tourist Guides will lead you around the city centre and other bomb-affected sites, including the Royal Crescent, Circus and Assembly Rooms. See reconstructed and restored buildings, bomb craters and shrapnel damage, and hear about air raid shelters, child evacuees and the aftermath.

Harriet Evans
Saturday 14 May, 10am–11am, Literature Lounge

Harriet Evans has written 13 bestselling novels and worked for many years as an editor with authors such as Marian Keyes and Sue Townsend. In early 2020 she moved to Bath, where her family has lived for 200 years. Harriet will be talking to writer and broadcaster Francesa Beauman about her latest novel, The Beloved Girls, the sometimes strange life of being labeled a 'women's fiction' author, the secrets of a long writing career, and living and writing in Bath.

We Are Family
Saturday 14 May, 10.30am–11.30am, Assembly Rooms

A trio of wise, warm and wonderful writers together in discussion about family – what we inherit, the stories that every family holds at its heart and how our relationships influence our health and happiness. Join bestselling psychotherapist Julia Samuel (Every Family Has a Story) and Clover Stroud, who writes movingly about the death of her sister Nell Gifford in The Red of My Blood, in conversation with acclaimed writer Cathy Rentzenbrink (Write It All Down).

Creative Writing: Saying more with less
Saturday 14 May, 11am–12.30pm, Persephone Books

Huma Qureshi introduces you to the short story form, what she loves so much about it and what she has learnt in the process of writing her own. Explore how to make an emotional impact, by adding depth and layers rather than length, in order to create a short story that resonates with readers long after the story has ended. Expect lively discussion about favourite short story writers, such as Alice Munro, Jhumpa Lahiri and Lucy Caldwell and write your own opening scenes with Huma's guidance.

Eating, Empathy and the Future of Meat
Saturday 14 May, 11am–12pm, The Forum Ballroom

We care for animals. We eat them. We struggle to make sense of the contradiction. Climate campaigners, beleaguered farmers and media commentators insist our meat consumption is either good or bad. Writer and campaigner Rob Percival (The Meat Paradox) brings us an even-handed and nuanced exploration of our complex moral relationships with other animals.

Bach: The Great Passion
Saturday 14 May, 11am-12.15pm, St Swithins

The St Matthew Passion is one of the greatest pieces of music ever written. But what was it like to play, sing and hear it for the first time? James Runcie talks about the imaginative research involved in writing his new novel The Great Passion, the story behind the inspiration, composition, rehearsal and first performance of Bach's masterpiece in April 1727. This is an illustrated talk with musical accompaniment by brilliant young French violinist Irène Duval.

PJ Harvey with Max Porter – Orlam: A Conversation
Saturday 14 May, 12pm–1pm, Komedia

In this spoken-word PJ Harvey will recite poems from her new book, and join in conversation with renowned English writer Max Porter. Orlam reveals PJ Harvey as a gifted poet  whose formal skill, transforming eye and ear for the lyric line has produced a strange and moving poem like no other. Orlam is not only a remarkable coming-of-age tale, but the first full-length book written in the Dorset dialect for many decades.

Share Your Story with Cathy Rentzenbrink and Nikesh Shukla
Saturday 14 May, 12.30pm–1.30pm, Assembly Rooms

Telling stories helps us make sense of ourselves. Would you like to write but aren't sure where to start? This special festival event brings together two bestselling authors Cathy Rentzenbrink (Write it All Down) and Nikesh Shukla (Your Story Matters) to inspire and steer you through the philosophical and practical challenges.

East Side Voices
Saturday 14 May, 12.30pm–1.30pm, Literature Lounge

Helena Lee, founder of the East Side Voices cultural salon and acting deputy editor of Harper's Bazaar, presents this bold, first-of-its kind anthology, that explores a dazzling spectrum of experience from the East and Southeast Asian diaspora living in Britain today. She is joined by two anthology contributors: writer and musician Claire Kohda (Woman, Eating), and award-winning poet Will Harris (RENDANG).

Exploring Male Power and Privilege
Saturday 14 May, 1pm–2pm, Assembly Rooms

Broadcaster Justin Webb (The Gift of a Radio) and bestselling author Richard Beard (Sad Little Men) were both sent away from home as young boys to boarding school. Join them for a candid and deeply insightful discussion with broadcaster Mark Lawson, about the formative experiences of boyhood, the realities of British elite all-male boarding school life and its long-reaching consequences on the psyche of the men who often end up leading the country.

Dealing with Disaster
Saturday 14 May, 1.30pm–2.30pm, The Forum Ballroom

Professor Lucy Easthope is the UK's leading disaster recovery authority. Her book When the Dust Settles is the gripping story of a life spent inside major disasters from Hillsborough and 9/11 to Grenfell and Covid. Anna Kent has delivered babies in war zones across the world and Frontline Midwife shares her extraordinary experiences as a nurse, midwife and mother. They talk to Claire Armitstead, The Guardian journalist and editor about life, loss and hope.

Walking Tour: Bath on Screen
Saturday 14 May, 2-4pm, Meet at No1 Royal Crescent

Bath has long been used as a scenic backdrop for films and TV shows. Screen tourism is a major factor in attracting visitors to the city, and production companies contribute around £2m a year to the local economy. This entertaining tour, created by Bath Walking Tours and led by professional Blue Badge Tourist Guides, covers recent large-scale filming in the city, including for Seasons 1 and 2 of Bridgerton, a new adaptation of Jane Austen's Persuasion and Wonka, a prequel to the famous Roald Dahl story. The tour also takes in filming locations for classic older movies such as The Duchess and Les Miserables, and a 1960s thriller about a smallpox epidemic in Bath.

Female of the Species
Saturday 14 May, 3pm–4pm, Assembly Rooms

Join two brilliant women – broadcaster and journalist Mary Ann Sieghart and award-winning broadcaster and filmmaker Lucy Cooke – as they consider what it means to be female. The Authority Gap provides a fresh, provocative take on how to address systemic sexism to benefit everyone while Bitch blows sexist myths right out of biology. They talk to writer and comedian Viv Groskop (How to Own the Room) about overturning outdated binary expectations of bodies, brains, biology and behaviour.

Let's Talk About Love
Saturday 14 May, 3pm–4pm, Literature Lounge

Huma Qureshi talks to journalist Natasha Lunn (Conversations on Love) about Things We Do Not Tell the People We Love, her breathtaking collection of stories about our most intimate relationships: the misunderstandings between families, the silences between friends and the dissonance between lovers.

Creative Writing: How to make writing part of your life 
Saturday 14 May, 3pm–4.30pm, Persephone Books

Kick start your creativity with this encouraging and enjoyable workshop led by author and memoirist Cathy Rentzenbrink (Write It All Down) on how to develop a writing practice that will enrich your life and help you to write pretty much anything at all. All are welcome. 

Homelands and Heartlands
Saturday 14 May, 3.30pm–4.45pm, Assembly Rooms

A conversation between two literary giants, this festival highlight features the Tanzanian-born Nobel Prize winner, Abdulrazak Gurnah, and the eminent Turkish-British novelist and activist, Elif Shafak. They form this unique pairing to discuss their prolific body of work alongside notions of home, Britishness, international fiction and post-colonial legacies. Chaired by journalist and editor, Boyd Tonkin.

The Life Inside: Andy West
Saturday 14 May, 4pm–5pm, The Forum Ballroom

Andy West teaches philosophy in prisons, listening as the inmates explore new ways to think about their situation. He also confronts his own inherited guilt: his father, uncle and brother all spent time in prison. He talks to Caroline Sanderson about The Life Inside, his wise and frequently funny debut book that blends memoir, storytelling and gentle philosophical questioning.

Shostakovich, Life Letters and Friendship
Saturday 14 May, 5pm-7pm, St Swithin's Church

Experience the intense emotional power of Shostakovich's String Quartets as the Carducci Quartet paint an intimate portrait of the great composer through music and spoken word. Take a journey deep into Shostakovich's psyche, as he walked a delicate tightrope balancing political pragmatism with personal expression against the backdrop of Josef Stalin's tyrannical Soviet regime. Historical sources and letters from the composer to one of his closest confidantes are paired with extracts from contemporaneous quartets, painting a fascinating picture of how music offered a much-needed emotional outlet in the most difficult of times.

Ali Smith: Treasured Companions
Saturday 14 May, 5.30pm–6.45pm, Assembly Rooms

One of the nation's most accomplished living novelists, Ali Smith will be in conversation with journalist and author, Arifa Akbar, about the inspiration for her latest book, Companion Piece, and the seasonal quartet of novels that wove fiction from life following Brexit. Accompanied by short readings selected by Smith, the event also explores her love of music, her life and work, as well as the value of hospitality in society and the importance of openness in our age.

Men on Love
Saturday 14 May, 5.30pm–6.30pm, Literature Lounge

Two exceptional voices in contemporary British fiction. Award-winning author Okechukwu Nzelu's latest novel, Here Again Now is a spellbinding, tender and immensely uplifting tale about lovers, fathers and sons. Kasim Ali's captivating debut, Good Intentions, is a powerful modern love story that deftly explores family obligation and racial prejudice alongside the flush of first love. They talk to Nikesh Shukla.

Pitch Perfect: Marian Keyes, Nina Stibbe and Lucy Mangan
Saturday 14 May, 5.30pm–6.30pm, Assembly Rooms

Three witty, wise and wickedly funny writers Marian Keyes (Again, Rachel), Nina Stibbe (One Day I Shall Astonish the World) and Lucy Mangan (Are We Having Fun Yet?) explore female friendship, old flames, family chaos and the absurd pitfalls of modern life with Claire Armitstead, The Guardian journalist and editor.

Walking Tour: The Great Spa Town
Saturday 14 May, 5.30pm-7.30pm, Meet at Kingsdown Parade Square

In 2021 Bath gained a rare second UNESCO World Heritage Site listing as one of The Great Spa Towns of Europe. This revealing walking tour by Fred Mawer Tours focuses on Bath's fascinating spa history. You will learn about the city's naturally hot springs, and how everyone from the poor to royalty came to Bath seeking cures for all sorts of ailments by bathing in and drinking the thermal waters. The tour, led by professional Blue Badge Tourist Guides, also reveals historic hospices and hospitals where pilgrims and patients heading to the baths stayed, and looks at après-spa attractions designed to keep visitors entertained in Georgian times when Bath was a fashionable health resort.

Speaking Volumes on Identity and Transformation
Saturday 14 May, 8pm–9pm, Assembly Rooms

Two trailblazers come together to talk about identity, imagination and human rights. Jay Bernard, Ted Hughes Award winning poet (Surge), performs their spoken word poetry and talks to Shon Faye, a former lawyer and bestselling author (The Transgender Issue: An Argument for Justice). The event showcases the groundbreaking live literary platform, Speaking Volumes, which supports under-represented voices. Chaired by The Guardian journalist and editor, Claire Armitstead.

Litwitchure with Abigail Bergstrom
Saturday 14 May, 8pm–9pm, Literature Lounge

Join author Abigail Bergstrom as she has her tarot read by Jen Cownie and Fiona Lensvelt (Wild Card) who also perform together as Litwitchure. The cards will guide the conversation as they explore the many captivating themes of Abigail's new book What a Shame, including friendship, consent, relationship breakdown and love. Expect the unexpected! There's no way of knowing what the cards will reveal.

Krater Comedy Club
Saturday 14 May, Doors 6.30pm // Show 8pm, Komedia

Kick-off your weekend with some proper good laughs and discover the best in live comedy, featuring three top stand-ups and one of the best comperes in the business! Previous alumni of Krater Comedy Club include the likes of Romesh Ranganathan, Tom Allen, Sarah Millican, Daliso Chaponda & Luisa Omielan to name just a few, so our stage really is the place to catch the comedy all-stars of tomorrow! Includes FREE entry to The Big Disco or Motorcity afterwards!
- This year's music highlights
Book Tickets