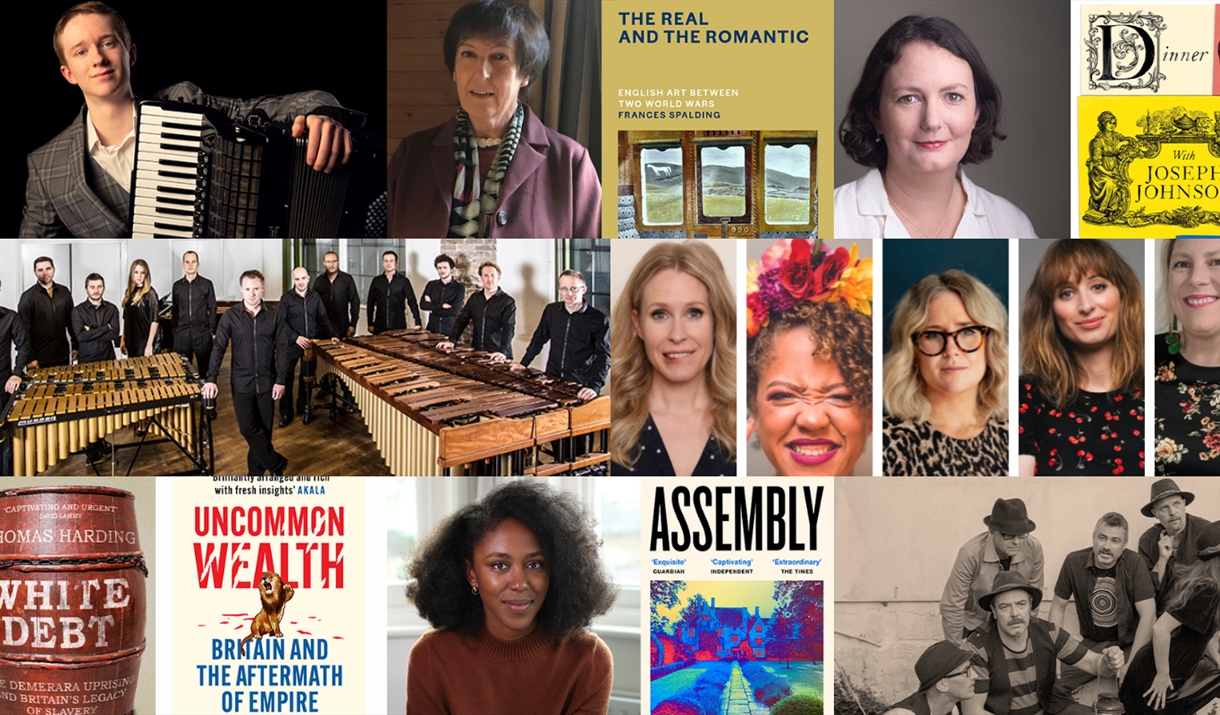 Opening Times
Sorry, this event has passed
About
The annual world-renowned festival, celebrating books and music in a beautiful city, will run from Friday 13 May to Saturday 21 May 2022, with a series of citywide live events. Day 7's highlights include Classical Music Rising Star Ryan Corbett, Emma Smith, Frances Spalding, Kojo Karam, Natasha Brown and Anna Whitehouse hosts Lucy Beaumont, Isy Suttie Jessica Jones and Helen Thorn for a big women's 'night out'.

Writing Workshop: The Art of Pitching with Blake Friedmann
Friday 20 May, 10am–12pm, BRLSI

Writing a novel? Have a great idea for a memoir, or nonfiction narrative? How can you give your finished manuscript the best shot at publication with a winning pitch? Join three Blake Friedmann Literary Agency book agents as they take you through which elements of your story have the best pitching potential, how to pitch so your book appeals to publishers and agents, and how to define your USP as the author. A comprehensive and friendly workshop.

Walking Tour: Bath Blitz
Friday 20 May, 10am-12pm, Meet at Orange Grove

2022 marks the 80th anniversary of the bombing of Bath. On two moonlit nights in April 1942 more than 400 people in the city were killed and thousands of buildings were damaged or destroyed. Join Bath Walking Tours to discover why the Georgian city was targeted by the Luftwaffe. Professional Blue Badge Tourist Guides will lead you around the city centre and other bomb-affected sites, including the Royal Crescent, Circus and Assembly Rooms. See reconstructed and restored buildings, bomb craters and shrapnel damage, and hear about air raid shelters, child evacuees and the aftermath.

Classical Music Rising Star Ryan Corbett
Friday 20 May, 11am-12pm, The Holburne Museum

A remarkable virtuoso Ryan Corbett won the Royal Overseas League competition in 2021, an accolade to launch a major career. He mixes baroque, romantic and contemporary music in his programmes, which have a freshness and brilliance which mark him out as a star of the future.

Lunchtime Lecture: A History of Books and their Readers
Friday 20 May, 1pm–2pm, BRLSI

Bestselling author (This is Shakespeare) and academic Emma Smith is here to talk about Portable Magic, her illuminating book that reveals the unexpected and unseen consequences of our love affair with books. She'll explore the rise of the mass-market paperback, dismantle the myth that print began with Gutenberg and propose new definitions of a 'classic' book.

Walking Tour: Bath on Screen
Friday 20 May, 2-4pm, Meet at No1 Royal Crescent

Bath has long been used as a scenic backdrop for films and TV shows. Screen tourism is a major factor in attracting visitors to the city, and production companies contribute around £2m a year to the local economy. This entertaining tour, created by Bath Walking Tours and led by professional Blue Badge Tourist Guides, covers recent large-scale filming in the city, including for Seasons 1 and 2 of Bridgerton, a new adaptation of Jane Austen's Persuasion and Wonka, a prequel to the famous Roald Dahl story. The tour also takes in filming locations for classic older movies such as The Duchess and Les Miserables, and a 1960s thriller about a smallpox epidemic in Bath.

Dinner with Joseph Johnson
Friday 20 May, 3.30-4.30pm, BRLSI

Award-winning biographer Daisy Hay has captured an extraordinary portrait of a changing nation, focusing on publisher and bookseller Joseph Johnson whose weekly dinner gatherings in late 18th-century London saw guests including William Wordsworth, Mary Woolstonecraft, Samuel Coleridge and Joseph Priestley join him for brilliant, unpredictable and profound conversation. She talks to Caroline Sanderson about this radical age.

English Art Between Two World Wars
Friday 20 May, 3.30-4.30pm, The Holburne Museum

Leading art critic and biographer, Frances Spalding (The Real and the Romantic) takes a fresh look at this richly diverse period in English art, focusing on artists including Stanley Spencer and Eric Ravilious as well as previously overlooked painters such as Winifred Knights and Evelyn Dunbar and illuminating the intriguing alliances that fed into the creativity of the interwar years.

Walking Tour: The Great Spa Town
Friday 20 May, 5.30-7.30pm, Meet at Kingsdown Parade Square

In 2021 Bath gained a rare second UNESCO World Heritage Site listing as one of The Great Spa Towns of Europe. This revealing walking tour by Fred Mawer Tours focuses on Bath's fascinating spa history. You will learn about the city's naturally hot springs, and how everyone from the poor to royalty came to Bath seeking cures for all sorts of ailments by bathing in and drinking the thermal waters. The tour, led by professional Blue Badge Tourist Guides, also reveals historic hospices and hospitals where pilgrims and patients heading to the baths stayed, and looks at après-spa attractions designed to keep visitors entertained in Georgian times when Bath was a fashionable health resort.

Understanding Our History
Friday 20 May, 6pm–7pm, BRLSI

Thomas Harding's new book White Debt is both an interrogation into the choices of his ancestors, whom he discovered had made money from plantations, and a quest to learn more about Britain's role in slavery. Uncommon Wealth is Kojo Koram's blistering uncovering of the scandal of Britain's cynical self-interest in the aftermath of decolonisation. They talk to Romesh Vaitilingam about the cultural, financial, moral and political legacy we have been left with.

Travels in Mythical and Modern Greece
Friday 20 May, 6-7pm, The Holburne Museum

Join author and Time Out publisher Peter Fiennes (A Thing of Beauty) as he tells of his journeys on the trail of the Greek myths, exploring the modern relevance of Theseus, Hera and Pandora and discovering what's to be found now at the places where heroes fought and gods once quarrelled.

Mr B's presents: Natasha Brown
Friday 20 May, 7pm–8pm, Mr B's Emporium

Join Natasha Brown as we discuss her arresting debut novel, Assembly, a taut, elegant and unflinching study of race and privilege in modern Britain. Assembly's young Black narrator is a high-flying city banker poised to marry into England's elite – but over the course of a weekend garden party she's forced to ask, is this version of herself worth the cost?

Women On Top – The Big Night Out
Friday 20 May, 7.30pm–9.15pm, The Forum

Lockdown life has left us all in need of a big night out. Come and join five furiously funny women for a festival extravaganza packed with confessions, comedy and chaos. Anna Whitehouse (Underbelly) hosts Lucy Beaumont (Drinking Custard), Isy Suttie (Jane is Trying), Jessica Jones (Own It) and Helen Thorn (Get Divorced, Be Happy). Their brilliant books shine a light on the highs and lows of womanhood; from friendships and self-love to infertility, parenting small children and divorce. Bring your mates and prepare to get involved on the night!

Drumming with Colin Currie Group and Synergy Vocals
Friday 20 May, 7.30pm-8.45pm, Bath Abbey

Drumming with Colin Currie Group and Synergy Vocals: Drumming is a percussion epic! Led by Colin Currie, the hand-picked ensemble was formed in 2006 for a performance of Drumming at the BBC Proms to celebrate the 70th birthday of Steve Reich. The ensemble specialises in the music of Steve Reich. In Drumming, Reich is deeply motivated by African drumming traditions and you can feel this in every thunderous beat of the hour-long piece. The stunning musicianship of the Colin Currie Group has performed Drumming around the world. They have expanded their repertoire to include many of Reich's most popular works, including Music for 18 Musicians, Sextet, Tehillim and Music for Pieces of Wood.

Mad Dog Mcrea
Friday 20 May, 7.30pm, Komedia

In constant demand and having played just about every festival and two-bit, jibe-arsed dive in Christendom, Mad Dog Mcrea are, in every sense of the word, a live band. Matched with the unshakable dedication of their massive and "loyal-to-the-hilt" fan base – Mad Dog Mcrea are more than just a very popular, festival act – with five albums under their belts, they are serious and acclaimed recording artists too. December 2019 saw Mad Dog Mcrea release a 5-track EP titled 'It's a Sign'. The famous purple happy bus is fired up and ready for action, and there's room for you – jump aboard!
- This year's music highlights
Book Tickets