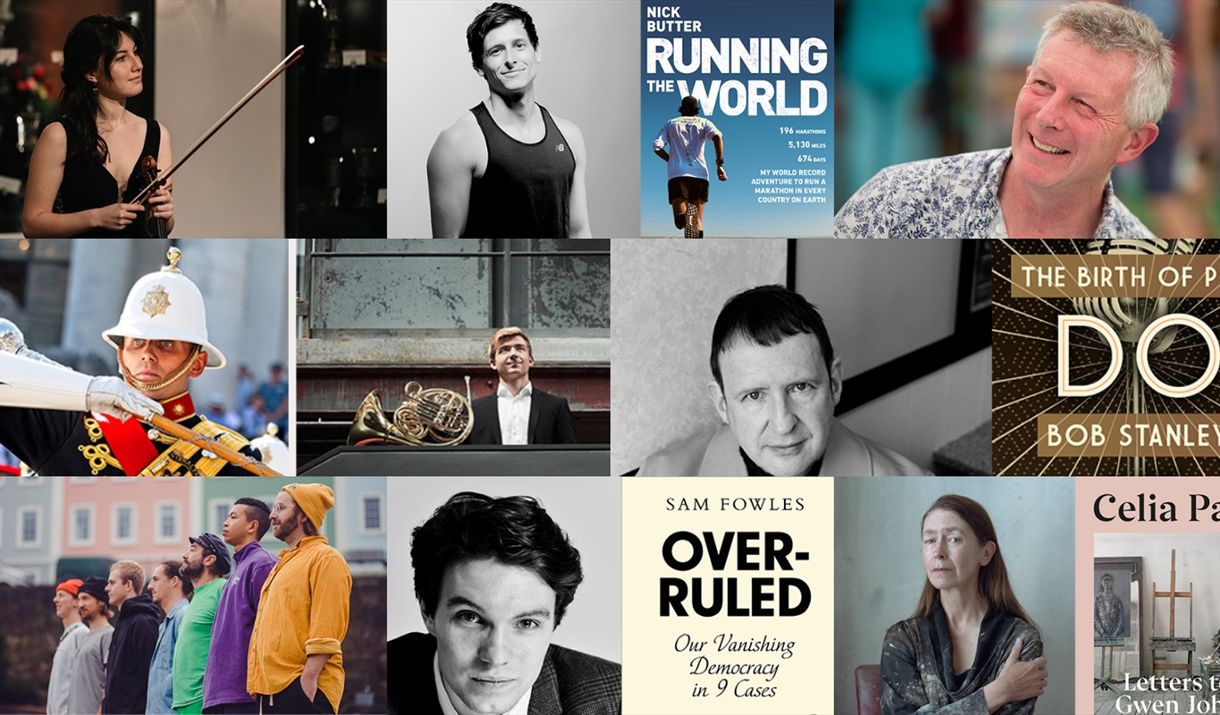 Opening Times
Sorry, this event has passed
About
The annual world-renowned festival, celebrating books and music in a beautiful city, will run from Friday 13 May to Saturday 21 May 2022, with a series of citywide live events. Day 6's highlights include Classical Music Rising Star Irene Duval, Nick Butter, Sam Fowles, Celia Paul, Tade Thompson, Bob Stanley, alongside genre crashing band Snazzback and the Lydian Collective as well as the annual classical Concert for the People of Bath.

Writing Workshop: Nature Writing, An Introduction with Stephen Moss
Thursday 19 May, 10am–12pm, BRLSI

How do we translate our experiences of the natural world onto the page? What techniques can we use to do so? And why do we want to do it in the first place? In this practical workshop, aimed at beginners, award-winning author and naturalist Stephen Moss, course leader of the MA Nature and Travel Writing at Bath Spa University, looks at the different ways we can turn experience into prose, via a simple writing exercise which you will then share with the group. 

Walking Tour: Bath on Screen
Thursday 19 May , 10am-12pm, Meet at No1 Royal Crescent

Bath has long been used as a scenic backdrop for films and TV shows. Screen tourism is a major factor in attracting visitors to the city, and production companies contribute around £2m a year to the local economy. This entertaining tour, created by Bath Walking Tours and led by professional Blue Badge Tourist Guides, covers recent large-scale filming in the city, including for Seasons 1 and 2 of Bridgerton, a new adaptation of Jane Austen's Persuasion and Wonka, a prequel to the famous Roald Dahl story. The tour also takes in filming locations for classic older movies such as The Duchess and Les Miserables, and a 1960s thriller about a smallpox epidemic in Bath.

Classical Music Rising Star Irene Duval and Sam Armstrong
Thursday 11am-12pm, The Holburne Museum

Irène Duval, violin
Sam Armstrong, piano

Hahn: Romance in A
Poulenc: Sonata for violin and piano
Fauré: Andante, Op.75
Fauré: Berceuse, Op.16
Saint-Saens: Berceuse, Op.38
Enescu: Sonata No.2 in F minor, Op.6

A fitting programme for a budding violin virtuoso. George Enescu was a brilliant violinist in his own right and his music concludes a ravishing French programme which includes the beautiful melodies of Fauré and Hahn as well as the charm and wittiness of Poulenc – one of the 20th century's most endearing composers.

Lunchtime Lecture: Tutankhamun at 100
Thursday 19 May, 1pm–2pm, BRLSI

Acclaimed Egyptologist Toby Wilkinson (Tutankhamun's Trumpet: The Story of Ancient Egypt in 100 Objects) re-evaluates the fascinating and fractious life of the young Pharaoh through the objects he was buried with. A wide-ranging exploration of ancient Egyptian culture, its extraordinary development, remarkable flourishing and lasting impact.

Walking Tour: The Great Spa Town
Thursday 19th May, 2pm-4pm, Meet at Kingsdown Parade Square

In 2021 Bath gained a rare second UNESCO World Heritage Site listing as one of The Great Spa Towns of Europe. This revealing walking tour by Fred Mawer Tours focuses on Bath's fascinating spa history. You will learn about the city's naturally hot springs, and how everyone from the poor to royalty came to Bath seeking cures for all sorts of ailments by bathing in and drinking the thermal waters. The tour, led by professional Blue Badge Tourist Guides, also reveals historic hospices and hospitals where pilgrims and patients heading to the baths stayed, and looks at après-spa attractions designed to keep visitors entertained in Georgian times when Bath was a fashionable health resort.

La Voix Humaine
Thursday 19 May, 3pm-4pm, Secret Location

A co-production between Wales Millennium Centre and Welsh National Opera commissioned for Festival of Voice. A woman is on the phone to her lover who is ending their relationship. Her devastation unfolds before our eyes as we, the audience, eavesdrop on her despair in the confines of her home. Taking place in an apartment in Bath, Director David Pountney has taken a 20th century opera classic and created an intense theatrical experience. La voix humaine is opera up-close, intimate and unrestrained. Bookers will receive confirmation of the venue prior to the festival.

Delusions and Diagnosis: From Mediaeval Times to Present Day
Thursday 19 May, 3.30pm–4.30pm, BRLSI

In this special event writer and producer Victoria Shepherd (A History of Delusions) and writer and former consultant neurologist Jules Montague (The Imaginary Patient) explore the implications behind diagnostic labels, the stories of collective anxieties and traumas, the history behind illness and our current modern maladies. They speak to Judith Robinson.

Constable: A Portrait
Thursday 19 May, 3.30-4.30pm, The Holburne Museum

The revolutionary 19th-century landscape painter John Constable is one of Britain's best-loved but perhaps least understood artists. Art and cultural historian James Hamilton (Constable: A Portrait) reveals a complex, troubled man, explodes previous mythologies and establishes him in his proper context as a giant of European art.

Nick Butter: Running the World
Thursday 19 May, 5.30pm–6.30pm, Walcot House

Athlete and adventurer Nick Butter is no ordinary runner having set himself the extraordinary challenge of running a marathon in every country in the world. 196 marathons, 5,130 miles in 674 days. He talks to Bex Band, adventurer and author of Three Stripes South, about their thirst for adventures, testing human endurance and the power of movement.

Walking Tour: Bath Blitz
Thursday 19 May, 5.30pm-7.30pm, Meet at Orange Grove

2022 marks the 80th anniversary of the bombing of Bath. On two moonlit nights in April 1942 more than 400 people in the city were killed and thousands of buildings were damaged or destroyed. Join Bath Walking Tours to discover why the Georgian city was targeted by the Luftwaffe. Professional Blue Badge Tourist Guides will lead you around the city centre and other bomb-affected sites, including the Royal Crescent, Circus and Assembly Rooms. See reconstructed and restored buildings, bomb craters and shrapnel damage, and hear about air raid shelters, child evacuees and the aftermath.

British Democracy on Trial
Thursday 19 May, 6pm–7pm, BRLSI

Our media happily lies to us. Our politicians brazenly break the rules. Public law barrister Sam Fowles (Overruled: Our Vanishing Democracy in 8 Cases) has experience of holding the government to account at the highest level, including taking the Prime Minister to court with the Gina Miller case. He talks to writer and economic commentator Grace Blakeley about how we can and must fight for what's ours.

Letters to Gwen John
Thursday 19 May, 6-7pm, The Holburne Museum

Acclaimed painter, Celia Paul has felt a lifelong connection to the artist Gwen John. Letters to Gwen John is a unique combination of imagined correspondence and insightful artistic biography, interspersed with original artworks. She talks to The Holburne Museum director Chris Stephens about the extraordinary parallels in their lives and work.

The Picador Proof Party 
Thursday 19 May, 6pm–7pm, Francis Hotel

To celebrate 50 years of Picador Books, join us at this exclusive proof event to hear about some of Picador's most exciting upcoming releases and take home a goodie bag full of early copies. On the panel will be Booker-shortlisted author Jim Crace, debut novelist Nell Stevens, and acclaimed poet James Conor Patterson. This event will be chaired by Salma Begum from the Picador editorial team. Ticket includes a glass of wine or soft drink and a goodie bag of limited edition proofs.

History of Cleveland Pools
Thursday 19 May, 6.30-7.30pm, Dorothy House Bookshop

Bath's hidden jewel, built in the Georgian period, is a unique open air bathing facility on the river in the city. Join research historian for the Pools, Dr Linda Watts (Swimming Through History) as she explores the Pools' 200 years of remarkable history and celebrates the fact that these wonderful heritage buildings are finally being restored for the community of Bath and beyond to enjoy.

La Voix Humaine
Thursday 19 May, 7pm-8pm, Secret Location

A co-production between Wales Millennium Centre and Welsh National Opera commissioned for Festival of Voice. A woman is on the phone to her lover who is ending their relationship. Her devastation unfolds before our eyes as we, the audience, eavesdrop on her despair in the confines of her home. Taking place in an apartment in Bath, Director David Pountney has taken a 20th century opera classic and created an intense theatrical experience. La voix humaine is opera up-close, intimate and unrestrained. Bookers will receive confirmation of the venue prior to the festival.

Mr B's Presents: Tade Thompson
Thursday 19 May, 7pm–8pm, Mr B's Emporium
Join pioneering sci-fi writer and Rosewater trilogy author Tade Thompson, as we discuss his triumphant new space opera thriller Far From the Light of Heaven. When colony ship Ragtime arrives from light-years away, it is discovered that some of its sleeping passengers will never wake. This heart-pounding story of humanity's interstellar future is told with imagination and immediacy.

Snazzback and Lydian Collective
Thursday 19 May, 7.30pm, Komedia

A night of explosive genre-crashing jazz. Snazzback are a Bristol-based collective, focused on creating collaborative compositions tied together through a constant stream of improvisation and an infectious looseness. London-based instrumental jazz/fusion four-piece Lydian Collective are proving themselves a musical tour de force with their hypnotic rhythms.

Concert for the People of Bath
Thursday 19 May, 7.30pm-9.30pm, The Forum

Copland: Fanfare for the Common Man
Mozart: Horn Concerto No 4 in E flat major K495
Janacek Sinfonietta
Ceremonial Fanfare
Haydn: Trumpet Concerto in E flat major
John Williams: Olympic Fanfare and Theme

The Band of the Royal Marines School of Music joins Bath Philharmonia in Janáček's astonishing 'Sinfonietta' with its 25 brass players and Copland's iconic 'Fanfare for the Common Man'. The sparkling evening is completed by two concertos performed by two of today's most brilliant young brass soloists.

The Birth Of Pop
Thursday 19 May, 8pm–9pm, Walcot House

Musician and writer Bob Stanley talks to his friend, journalist Pete Paphides about Let's Do It, his new book that tells the fascinating history of pop before rock and roll. They'll bring this eclectic and evolving world to life – from ragtime, blues and jazz to Broadway, country and crooning – guaranteed to remind you why you fell in love with pop in the first place.
- This year's music highlights
Book Tickets