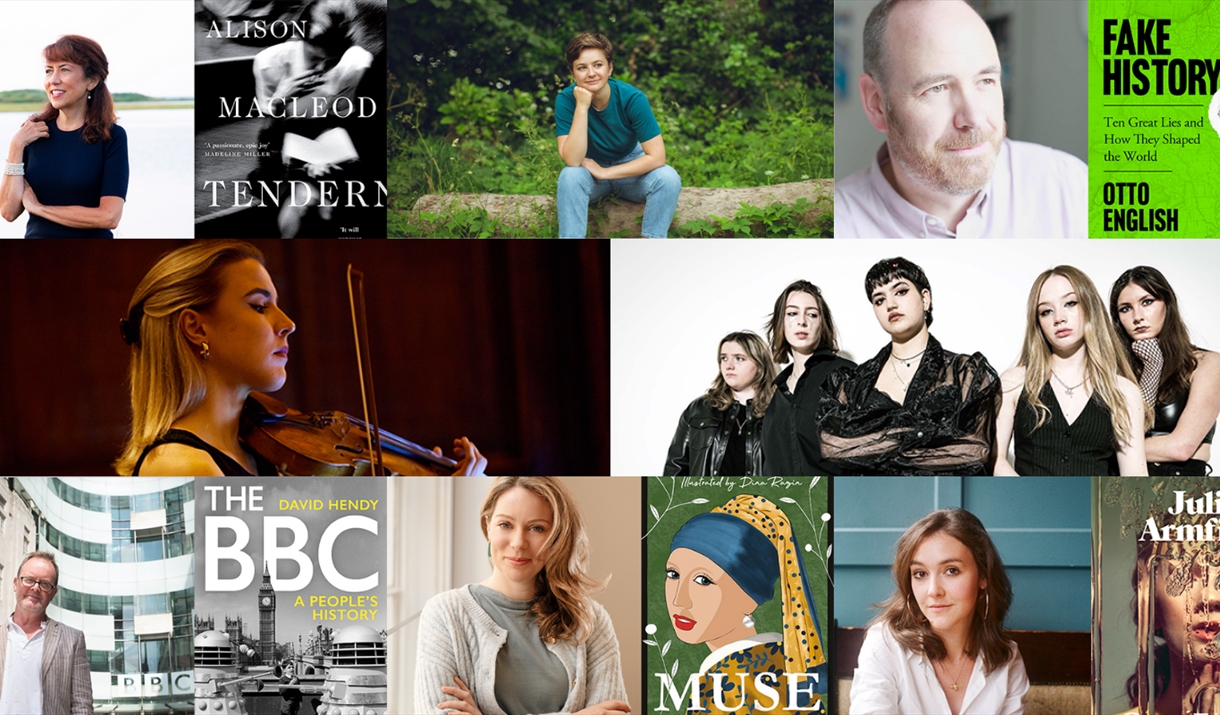 Opening Times
Sorry, this event has passed
About
The annual world-renowned festival, celebrating books and music in a beautiful city, will run from Friday 13 May to Saturday 21 May 2022, with a series of citywide live events. Day 3's highlights include Classical Music Rising Star Laura Van Der Heijden, Ruth Milligon, Otto English, Alison MacLeod, Julia Armfield and a special concert from The Bath Festival Orchestra in the renowned Roman Baths. Also on offer is an accessible concert of the intense theatrical performance of 20th century opera classic La Voix Humaine.

Creating Compelling Characters with Jason Hewitt
Monday 16 May, 10am–12pm, BRLSI

Stories cannot exist without the people that inhabit them, and yet creating strong, believable characters can be a challenge. Acclaimed novelist Jason Hewitt (The Dynamite Room) will provide practical steps to help you create complex and fully formed characters that not only bring your story to life but also drive the narrative in fresh and exciting ways.  All are welcome.

Walking Tour: Bath on Screen
Monday 16 May, 10am-12pm, Meet at No1 Royal Crescent

Bath has long been used as a scenic backdrop for films and TV shows. Screen tourism is a major factor in attracting visitors to the city, and production companies contribute around £2m a year to the local economy. This entertaining tour, created by Bath Walking Tours and led by professional Blue Badge Tourist Guides, covers recent large-scale filming in the city, including for Seasons 1 and 2 of Bridgerton, a new adaptation of Jane Austen's Persuasion and Wonka, a prequel to the famous Roald Dahl story. The tour also takes in filming locations for classic older movies such as The Duchess and Les Miserables, and a 1960s thriller about a smallpox epidemic in Bath.

Classical Music Rising Star: Laura Van Der Heijden
Monday 16 May, 11am-12pm, The Holburne Museum

Since winning BBC Young Musician of the year in 2012 Laura van der Heijden has developed an international career in recital, chamber music and concerto. Bach's cello suites are among his best loved and provide the perfect framework for two 20th century works. Coleridge-Taylor Perkinson is now considered to be among the finest Black American composers of the 20th century and Imogen Holst was a major figure in British musical life.

Lunchtime Lecture: Nino Strachey – Young Bloomsbury
Monday 16 May, 1pm–2pm, BRLSI

Little has been written about the second-generation figures who, in the 1920s, tantalised the original Bloomsburies with their cross-dressing, captivating looks and provocative ideas. Head of Research for the National Trust, Nino Strachey (Young Bloomsbury), descended from a family at the heart of the Bloomsbury Group, shines a light on this extraordinarily colourful cast of talented and complicated characters.

Walking Tour: The Great Spa Town
Monday 16 May, 2pm-4pm, Meet at Kingsdown Parade Square

In 2021 Bath gained a rare second UNESCO World Heritage Site listing as one of The Great Spa Towns of Europe. This revealing walking tour by Fred Mawer Tours focuses on Bath's fascinating spa history. You will learn about the city's naturally hot springs, and how everyone from the poor to royalty came to Bath seeking cures for all sorts of ailments by bathing in and drinking the thermal waters. The tour, led by professional Blue Badge Tourist Guides, also reveals historic hospices and hospitals where pilgrims and patients heading to the baths stayed, and looks at après-spa attractions designed to keep visitors entertained in Georgian times when Bath was a fashionable health resort.

Muse
Monday 16 May, 3.30–4.30pm, The Holburne Museum

Meet the unexpected, overlooked and forgotten models of art history. Far from the prevailing perception as passive, powerless models posing silently, muses have often played influential and active roles in the lives of the artists who immortalised them. Art historian and critic Ruth Millington talks to The Holburne Museum director Chris Stephens about the compelling true stories featuring incredible women who have inspired art history's masterpieces across the centuries.

The BBC at 100
Monday 16 May, 3.30pm–4.30pm, BRLSI

From the Great War to the culture wars, this global institution has helped define Britain.
Greg Ingham talks to professor and historian David Hendy (The BBC: A People's History) about his captivating and compelling book that traces the BBC from its maverick beginnings through war, the creation of television, changing public taste, austerity and massive cultural change.

Walking Tour: Bath Blitz
Monday 16 May, 5.30pm-7.30pm, Meet at Orange Grove

2022 marks the 80th anniversary of the bombing of Bath. On two moonlit nights in April 1942 more than 400 people in the city were killed and thousands of buildings were damaged or destroyed. Join Bath Walking Tours to discover why the Georgian city was targeted by the Luftwaffe. Professional Blue Badge Tourist Guides will lead you around the city centre and other bomb-affected sites, including the Royal Crescent, Circus and Assembly Rooms. See reconstructed and restored buildings, bomb craters and shrapnel damage, and hear about air raid shelters, child evacuees and the aftermath.

Fake History: 10 Great Lies and how they shaped the world
Monday 16 May, 6pm–7pm, BRLSI

From the myths of the Second World War to the self-serving legends of 'great men', fake history is everywhere. Journalist and author Otto English tears apart the lies propagated by politicians and think tanks, grand narratives spun by populists and the media as well as the stories on your friend's Facebook feeds. He talks to Greg Ingham about reclaiming the truth from those who have perverted it.

Alison Macleod on D.H. Lawrence
Monday 16 May, 6pm–7pm, The Holburne Museum

Lady Chatterley's Lover, once entitled Tenderness, was banned as obscenity on its publication in 1928. Alison MacLeod will explore, with Richard Owen, her novel, Tenderness, based around the creation of D.H. Lawrence's 'scandalous' story, from the wet ink of its creation to its trials and surprising aftermath. A Book of the Year for The New York Times and The Spectator.

Persephone Books Comes to Bath
Monday 16 May, 6-7pm, Persephone Books

The founder of publishing company Persephone Books, Nicola Beauman, will give an informal talk looking back at what will soon be 25 years of rediscovering and reprinting 20th-century women writers; she will also explain why, a year ago, the Persephone Bookshop came to Bath.

Mr B's Presents: Julia Armfield
Monday 16 May, 7pm–8pm, Mr B's Emporium

When a submarine voyage goes wrong, Leah is lost thousands of feet under the ocean for weeks. The woman that emerges is a grotesque shell of her former self. Join us as we chat to Julia Armfield (Our Wives Under the Sea) about her unique, debut novel, part-horror, part-love story that embeds itself under your skin and refuses to leave. 

Girls Support Girls
Monday 16 May. 7.45pm, Komedia

An all female line up curated by Girls Support Girls. Bringing a safe space for everyone to support and engage with a female-led creative collective. Girls Support Girls are pushing for more opportunities for local artists and providing larger promotional platforms to celebrate individuality for marginalised genders.

Bath Festival Orchestra
Monday 16 May, 8pm-9.15pm, The Roman Baths

An ocean-bound journey: four countries – all separated by water – bring forth a composer each, with four different sea-inspired musical pieces. The journey starts in Japan, with the rather well-known composer Toru Takemitsu and his work Toward the Sea (1981). This work was commissioned by Greenpeace for the Save the Whales campaign. The work, which exists in three different versions, is divided in three parts which are titled after Melville's Moby Dick, or The Whale and serves as a homage to the sea.

La Voix Humaine
Monday 16 May, 8pm-9m, Secret Location

This event is the only performance which is accessible for wheelchair users.

A co-production between Wales Millennium Centre and Welsh National Opera commissioned for Festival of Voice. A woman is on the phone to her lover who is ending their relationship. Her devastation unfolds before our eyes as we, the audience, eavesdrop on her despair in the confines of her home. Taking place in an apartment in Bath, Director David Pountney has taken a 20th century opera classic and created an intense theatrical experience. La voix humaine is opera up-close, intimate and unrestrained. Bookers will receive confirmation of the venue prior to the festival.
- This year's music highlights
Book Tickets