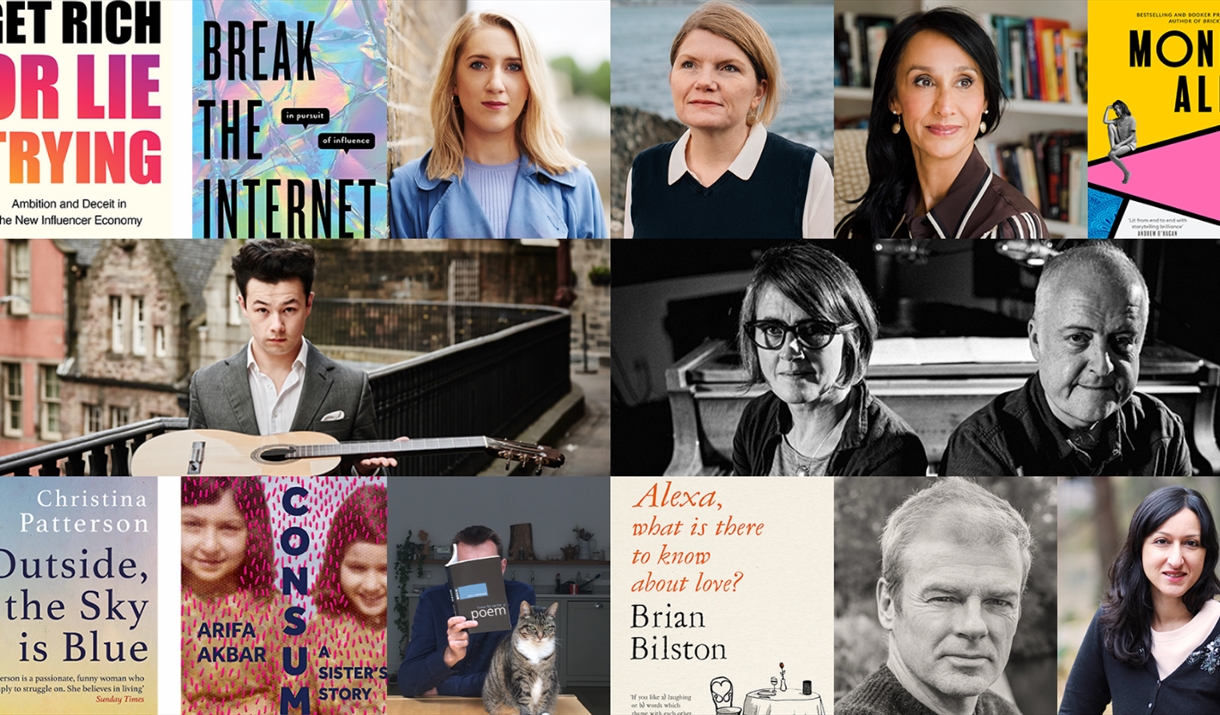 Opening Times
Sorry, this event has passed
About
The annual world-renowned festival, celebrating books and music in a beautiful city, will run from Friday 13 May to Saturday 21 May 2022, with a series of citywide live events. Day 2's highlights include Arifa Akbar, Marcus Brigstocke, Brian Bilston, Monica Ali, IF Opera and Karine Polwart with Dave Milligan. The Queens Square Hub provides a huge festival buzz and free entertainment.
Mark Haddon: A Writer's Life
Sunday 15 May, 10am–11am, Assembly Rooms

A multi award-winning and bestselling author who has achieved international acclaim (The Porpoise, The Pier Falls, The Curious Incident of the Dog in the Night-time), Mark Haddon reflects on the writer's life in a candid conversation with journalist and author, Arifa Akbar (Consumed: A Sister's Story). After depression robbed him of the ability to write for 18 months, he talks about mental illness, heart surgery, working for the Samaritans, the joy and horror of social media, and the consolations of Papier Mâché.

Writing Lives with Stacey Halls and Cathy Rentzenbrink 
Sunday 15 May, 10am–11am, Literature Lounge

First meeting as journalists over ten years ago, while working for The Bookseller magazine, writing about other people's books, these two wonderful writers, Stacey Halls and Cathy Retzenbrink, have now published eight books between them. In this lively event, they will interview each other about how they made the leap into their writing careers, what they wish they'd known, and the highs and lows of writing life. Prepare to be inspired! 

Walking Tour: The Great Spa Town
Sunday 15 May, 10am-12pm, Meet at Kingsdown Parade Square

In 2021 Bath gained a rare second UNESCO World Heritage Site listing as one of The Great Spa Towns of Europe. This revealing walking tour by Fred Mawer Tours focuses on Bath's fascinating spa history. You will learn about the city's naturally hot springs, and how everyone from the poor to royalty came to Bath seeking cures for all sorts of ailments by bathing in and drinking the thermal waters. The tour, led by professional Blue Badge Tourist Guides, also reveals historic hospices and hospitals where pilgrims and patients heading to the baths stayed, and looks at après-spa attractions designed to keep visitors entertained in Georgian times when Bath was a fashionable health resort.

Martin Bell: War & Peacekeeping
Sunday 15 May, 10.30am–11.30am, Assembly Rooms

Over six decades, Martin Bell, (War and Peacekeeping: Personal Reflections on Conflict and Lasting Peace) the finest war reporter of his generation, has stood in 18 war zones as a soldier, a reporter and a UNICEF ambassador. He looks back on our efforts to keep the peace since the end of the Second World War and considers the current darkening political landscape with broadcaster and journalist Mark Lawson.

Marcus Brigstocke's Sunday Papers
Sunday 15 May, 11am–12pm, Komedia

Comedian Marcus Brigstocke brings his popular event to The Bath Festival for the first time! He will be joined by panelists, author and campaigner Dr Rachel Clarke, Channel 4 News journalist Symeon Brown and comedian Rachel Parris to review the news stories of the week. Listen as they tear apart the tabloids, play havoc with the headlines and blast the broadsheets; picking out the topical, heartwarming and funny stories of the day.

Charlotte Mendelson and Daisy Buchanan
Sunday 15 May, 12.30pm–1.30pm, Literature Lounge

Award-winning author Charlotte Mendelson's new novel The Exhibitionist is a dazzling exploration of art, toxic family politics and queer desire. Careering is award-winning journalist and broadcaster Daisy Buchanan's blisteringly funny and perceptive look at work, self-worth and womanhood. Claire Armitstead, The Guardian journalist and editor talks to them about exploring the hot mess that lies just beneath the surface of life.

Monarchy: Past, Present and Future
Sunday 15 May, 1pm–2pm, Assembly Rooms

There has never been a more apposite moment to consider the history and evolution of the British Monarchy – one of the most iconic and enduring institutions in the world, surviving centuries of rebellion, revolution and war as well as the shaping of our religious, political and cultural identity. Leading historian and joint chief curator at Historic Royal Palaces Tracy Borman (Crown & Sceptre) considers this extraordinary survivor at a pivotal point in British history.

Brian Bilston
Sunday 15 May, 1-2pm, Assembly Rooms

The unofficial Poet Laureate of Twitter, Brian Bilston comes to Bath to share some of his brilliant, touching and hilarious poems. His book Alexa, What Is There To Know About Love? features everything from romantic to familial love, as well as poems about reading and literature and the odd one about the subject causing many of us heartbreak: politics.

Rachel Parris in Conversation with Viv Groskop
Sunday 15 May, 1pm–2pm, Komedia

Over the course of a year, award-winning comedian and presenter Rachel Parris asked members of her live audiences for advice. Her new book, Advice from Strangers explores the resulting random gems of wisdom in ways that are both hilarious and heartbreaking. She talks to writer and comedian Viv Groskop (How to Own the Room) about the peculiarly human habit of giving and asking for advice. They consider the essentials of living in the modern world; dealing with everything from Tampons to Tories and from #hashtags to Staying Hydrated.

Walking Tour: Bath Blitz
Sunday 15 May, 2-4pm, Meet at Orange Grove

2022 marks the 80th anniversary of the bombing of Bath. On two moonlit nights in April 1942 more than 400 people in the city were killed and thousands of buildings were damaged or destroyed. Join Bath Walking Tours to discover why the Georgian city was targeted by the Luftwaffe. Professional Blue Badge Tourist Guides will lead you around the city centre and other bomb-affected sites, including the Royal Crescent, Circus and Assembly Rooms. See reconstructed and restored buildings, bomb craters and shrapnel damage, and hear about air raid shelters, child evacuees and the aftermath.

My Family and Other Memoirs
Sunday 15 May, 3pm–4pm, Assembly Rooms

What are the rigours and rewards of writing about the darker side of family life? How does an author navigate its ethics? Journalist and broadcaster, Christina Patterson (Outside,The Sky is Blue: A Family Memoir), talks to The Guardian critic and Costa Prize shortlisted author, Arifa Akbar (Consumed: A Sister's Story), about grief, catharsis and pinning life and love on the page. Chaired by writer and broadcaster, Mark Lawson.

The Impact of Internet Influencers
Sunday 15 May, 3pm–4pm, Literature Lounge

In the 'attention economy', influencers are royalty and everyone from mumfluencers to governments want to build their online influence. But what murky secrets lurk behind the filtered selfies? Channel 4 reporter Symeon Brown (Get Rich or Die Trying) and digital strategist Olivia Yallop (Break the Internet) talk to Marisa Bate about influencer bootcamps, fraudulent cryptocurrency schemes and whether our digital rat race is costing us too much.

Monica Ali in conversation with Dr Rachel Clarke
Sunday 15 May, 3.30pm–4.30pm, Assembly Rooms

The bestselling Brick Lane author, Monica Ali, returns with Love Marriage, a heartbreaking and gripping new novel that tells the story of two junior doctors trying to understand each other. She talks to author and campaigner Dr Rachel Clarke (Breathtaking) about exploring the questions of who we are and how we love in today's Britain with all the complications and contradictions of life, desire, marriage and family.

IF Opera Presents Tales from Chez Bullier in partnership with Viking
Sunday 15 May, 5pm or 7.30pm, The Guildhall

If Opera, born of Iford Arts, and now one of the most progressive and exciting opera ensembles anywhere, comes to the Bath Festival with a very special new show. Chez Bullier's, a faded Parisian speakeasy, is home to a cast of characters with tales of love and laughter, tragedy and loss, whose stories sadden and gladden the heart, or even break it. Bullier's host and compère takes us on a journey through their lives as we meet Ruggero and Magda, Mimi and Rodolfo, Hannah, the widow and a whole tapestry of delicious characters from operatic history. Featuring music by Puccini, Verdi, Lehar and others. Oliver Gooch conducts a small salon band alongside the 2022 If Opera ensemble who will perform for the first time under the company name, a prelude to the spectacular season at Belcombe Court in August. A unique and ravishing evening of stories and the most beautiful music imaginable.

Shean Shibe
Sunday 15 May, 5pm-6pm, St Swithin's Church

Hailed as the most exciting guitarist of his generation, Sean Shibe offers a kaleidoscopic programme ranging from South America to Spain and from Scotland to Germany and to Bach – the composer he performed to win his most recent Gramophone Award.

Building a Meaningful Life with Oliver Burkeman and Emma Gannon
Sunday 15 May, 5.30pm–6.30pm, Assembly Rooms

We live in an era of online distraction, overwhelm and seemingly constant uncertainty. Join writer Oliver Burkeman (Four Thousand Weeks) and writer and podcaster Emma Gannon ((Dis)connected) as they share refreshing and insightful perspectives on productivity, mortality and balance with Daisy Buchanan.

Georgia Pritchett and Abi Morgan:
Sunday 15 May, 5.30pm–6.30pm, Literature Lounge

Two Emmy award-winning writers Georgia Pritchett and Abi Morgan talk to Francesca Beauman about their joyful, tender and brutally honest new memoirs. Succession screenwriter and co-executive producer Georgia Pritchett (My Mess is a Bit of a Life) knows a thing or two about living with and sometimes thriving (sometimes not) with anxiety whilst The Iron Lady and Suffragette screenwriter Abi Morgan (This is not a Pity Memoir) returned home one June morning to find the man she loved lying on the bathroom floor.

Walking Tour: Bath on Screen
Sunday 15 May, 5.30pm-7.30pm, Meet at No1 Royal Crescent

Bath has long been used as a scenic backdrop for films and TV shows. Screen tourism is a major factor in attracting visitors to the city, and production companies contribute around £2m a year to the local economy. This entertaining tour, created by Bath Walking Tours and led by professional Blue Badge Tourist Guides, covers recent large-scale filming in the city, including for Seasons 1 and 2 of Bridgerton, a new adaptation of Jane Austen's Persuasion and Wonka, a prequel to the famous Roald Dahl story. The tour also takes in filming locations for classic older movies such as The Duchess and Les Miserables, and a 1960s thriller about a smallpox epidemic in Bath.

John Crace in conversation with Zoe Williams
Sunday 15 May, 6pm–7pm, Assembly Rooms

A Farewell to Calm: The New Normal Survival Guide sees the brilliantly acerbic parliamentary sketch writer John Crace present an infectiously funny selection of his finest recent pieces. Join him in conversation with fellow columnist at The Guardian, Zoe Williams, as they reflect on 18 months of bluster and bedlam, Brexit blithering and Covid confusion. Not to be missed.

Karine Polwart and Dave Milligan
Sunday 15 May, 7.30pm, Komedia

Seven-time winner at the BBC Radio 2 Folk Awards, Karine Polwart's latest project is a collaboration with renowned jazz/folk pianist Dave Milligan. Piano and voice isn't a combination you hear often in the folk idiom, and yet it can be just as potent, if not more so, than a full band, and the duo's new album is just this – an intimate, stripped-back collection of songs performed entirely with voice and grand piano.
- This year's music highlights
Book Tickets