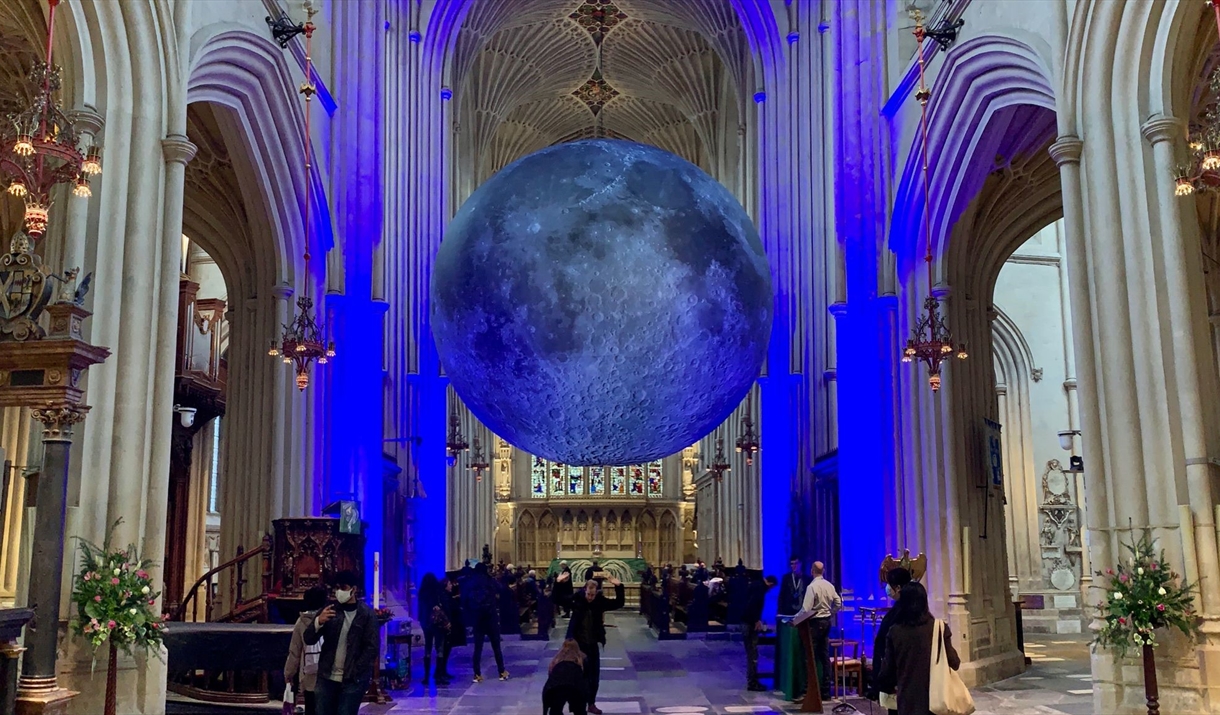 Opening Times
Date:
(19 Nov 2021 - 26 Dec 2021)
About
Christmas carols, magical storytelling and moon-gazing all under the light of the Moon.
Museum of the Moon is a touring artwork by UK artist Luke Jerram. Measuring seven metres in diameter, the moon features 120dpi detailed NASA imagery of the lunar surface. At an approximate scale of 1:500,000, each centimetre of the internally lit spherical sculpture represents 5km of the moon's surface. Over its lifetime, the Museum of the Moon will be presented in a number of different ways both indoors and outdoors, so altering the experience and interpretation of the artwork. As it travels from place to place, it gathers new musical compositions and an ongoing collection of personal responses, stories and mythologies, as well as highlighting the latest moon science.
Bath Abbey will be hosting the Museum of the Moon this December, free to enter during normal Abbey opening hours, with a variety of special events occuring:
Moonlight Lates - Visiting After Hours 6.00pm - 9.30pm every Sunday and Monday evening
A unique opportunity to experience the magic of the moon after hours in the stunning Abbey. The accompanying soundtrack created by BAFTA and Ivor Novello winner Dan Jones can also be enjoyed during these magical evenings.
Tickets for the evening: £6 Adult; £3 Child - via Eventbrite.
Stargazing with the Bath Astronomers 6.00pm - 9.30pm every Sunday and Monday evening
As part of Moonlight Lates, you can interact with Bath Astronomers in the Abbey Nave and there will be a ticketed opportunity to climb the Tower for some moon and star gazing (weather dependent).
Stargazing Tour & Moonlight Late Combined Ticket: £21 Adult; £13 Child - via Eventbrite.
Moon-tastic Family Days (Storytelling & Craft)
Tuesday 30th November, Saturday 4th December & Saturday 18th December, 10am - 12.30pm
Ages 5 and over. Join in for some family fun including listening to magical stories while sitting under the Moon and making Cosmic Christmas decorations in the new Learning Room down in the Abbey vaults.
Drop in. Free, no tickets required.
'Cosmic Wonder' Trail
Don't forget to pick up the complimentary 'Cosmic Wonder' trail from the Welcome Desk and explore the Abbey to find out more about both the amazing Moon and the wonderful birth of Jesus at Christmas.
The Still Moon - Accessible Sessions 9am - 10am every Tuesday
For those who find bright lights and noises distressing, visit the Moon between 9am and 10am on Tuesday mornings to experience the exhibition at a quiet time.
Artwork & Exhibitions: 'Into the Silent Land' by Stephen Magrath
An exhibition of four pictures on the theme of circles and abstract space by Bath artist Stephen Magrath, resonating with Luke Jerram's 'Museum of the Moon' while it is at Bath Abbey. Visitors are invited to be still and contemplate the inner nature of life and God.
Mindful Art Workshops led by Stephen Magrath 4.15pm - 5.15pm every Monday
Local artist, Stephen Magrath, will help participants create their own personal design inspired by the Abbey's moon exhibition, sacred circle art and the artist's own work.
Age 8 upward. Tickets from Eventbrite: £3 (all materials included)
Concerts and Carols:
All Night Vigil - Sergei Rachmaninov: with the Bath Abbey Choirs of Girls and Lay-Clerks
Tuesday 23 November, 8pm
This will be an evening to remember as the Abbey Girls and Lay-clerks sing the atmospheric and uplifting music written for the Russian Orthodox liturgy by Sergei Rachmaninov. Rachmaninov's masterpiece was written in 1915 and this rich and sonorous work is written entirely for unaccompanied chorus and sung in Church Slavonic. Performed under the Museum of the Moon, and combined with the Abbey's beautiful acoustic, this will be a hypnotic and mesmerising experience – let your hearts be drawn to heaven with the rich sonorities of one of the greatest twentieth century composers. Director: Huw Williams, The Abbey Girls and Lay-clerks.
Tickets cost £20, £15 and £10 (16s and under half price), available from Bath Box Office.
A Christmas Celebration with the Bath Abbey Choirs and Melody Makers
Saturday 11 December, 7pm - 9pm
A festive selection of well-known Christmas classics for choir, organ and audience. To help get into the festive spirit, there will be plenty of opportunities for audience participation and to singalong. Featuring the Abbey Choir of Girls, Boys and Lay-clerks directed by Huw Williams, Director of Music, Bath Abbey, and the Abbey's youngest Choir of 6-11 year olds, the Melody Makers directed by Shean Bowers, Assistant Director of Music, Bath Abbey.
Tickets cost £18, 13, and £8 (16s and under half price), available from Bath Box Office.
A Baroque Christmas with the Bath Abbey Choirs
Saturday 18 December 7pm – 9pm
Featuring Vivaldi's Gloria and Charpentier's Messe de Minuit. Bath Abbey's Choirs are joined by Baroque instrumentalists Rejouissance playing on historic instruments. With carols for audience and a feast of glorious Christmas music from Venice and Paris. Directed by Huw Williams, continuo organ Shean Bowers.
Tickets £20, £15 and £10 (16s and under half price), available from Bath Box Office.
Book Tickets