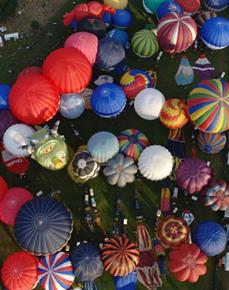 Type:
Aircraft/Ballooning
Clive and Jo Bailey at Bailey Balloons would love to share their passion for ballooning with you and have Special offers on their balloon rides over Bath!
Balloon Flights are often available at short notice or as Gift Vouchers! You can also fly at the Bristol Balloon Fiesta with up to 150 balloons 8-11th August from £160!
Call them now on 01275 375300.
Your magical Champagne balloon ride over Bath begins at the historic Royal Victoria Park, Bath. Royal Victoria Park is close to the centre of the Bath and the Royal Crescent offering stunning views of the city - a view that can only be truly appreciated whilst gently drifting above in a hot air balloon. Passengers can be involved helping set the balloon up, with the flight lasting approximately one hour. Chilled champagne is served after the flight to celebrate before returning back to the launch site , where each passenger is presented with a commemorative flight certificate. The whole experience takes between three and four hours.
The meeting times vary throughout the year as balloon flights take place a couple of hours after sunrise and before sunset when the winds are at their calmest. Alternative sites for group bookings can also be arranged to suit your needs. They offer competitive prices with a generous discount for group bookings.
The Bailey Balloons Balloon Flight Package includes:
• Up to an hour's balloon flight, chilled champagne, beer or soft drinks on touch down.
• A flight certificate & transport back to the launch site.
• In flight photos can be purchased as a memento of your flight.
• They can also arrange transport to the site including by helicopter, or arrange VIP parking, meals, hotels, corporate hospitality packages; just ask & they can arrange it for you!
Flight Vouchers on Special offer:
Prices including VAT:
Gold 'Anytime' voucher £120 Per Person or £115 Per Person for two or more people (reduced form £145)
Weekday morning £85 Per Person (reduced from £125)
Exclusive Balloon for Two £275 Per Person
Exclusive Balloon for Four-Six people £170 Per Person (reduced from £185)
Bristol Balloon Fiesta Flight 8-11th August 2013 £160-180 Per Person
Call now on 01275 375300. Prices valid until 30th April 2013.
Opening Times
2013 Opening
(01/01/2013 - 31/12/2013)
Facilities
Accessibility
Accessible to Wheelchair Users
Facilities for the Disabled
Children & Infants
Parking & Transport
Payment Methods
MasterCard accepted
Special group rates
Switch accepted
Visa accepted
Establishment Features
Cater for Corporate events
Cater for groups
Welcome single sex groups, eg stag/hen parties
Road Directions
Maps will be sent to passengers.
Public Transport Directions
From Bath bus station take the bus to Victoria Park.