Experience live sporting fixtures
Get caught up in the action of live horse racing, rugby, football and more
Attractions in Bath
What are you looking to do on your visit? Whether it's explore, eat, shop, learn, relax or get active, Bath attractions offer something for everyone.
If you want to unwind and enjoy some pamper time, how about a spa session in the natural thermal waters at Thermae Bath Spa?
You can also explore the history behind the city's spa culture by discovering the 2,000 year old Roman Baths, filled with ancient mystical artefacts and thermal water that still steams today.
There's plenty of Bath attractions for families and kids to enjoy too, from outdoor adventures at Longleat and Stonehenge to performances at the egg theatre or a tour of the spooky caves of Wookey Hole.
Whatever you do, don't miss taking in some (or all!) of Bath's many iconic sights: marvel at the magnificent Royal Crescent, The Circus, Pulteney Bridge and Bath Abbey and see all of those picture-perfect postcard attractions in Bath come to life.
The city's many museums and art galleries provide a rich and fascinating insight into fashion through the ages, 19th century astronomer William Herschel, Bath's industrial heritage, the life of Bath's most famous literary resident a the Jane Austen Centre and much, much more.
If you're a visitor with access needs, take a look at Bath's accessible attractions and packages here.

Visiting during the summer months? Make the most of the warm weather and soak up the sunshine in one of Bath's beautiful parks or gardens with a picnic or stroll around a crescent, deer park, skyline walk or botanical gardens, all with stunning views.
If you're visiting in the winter months don't miss the annual Christmas Market, one of the most renowned attractions in Bath that sees the city centre transformed into a magical festive wonderland. The smell of spiced mulled wine and sound of carol singers is guaranteed to get anyone in the festive mood!
If you would like more information on any of our Bath attractions, why not request your very own copy of our Visitor Guide?
Our Visitor Guide has been designed to be cram-packed full of ideas on everything from the best accommodation (including our range of amazing hotels, B&B's and self catering apartments) to the best things to do, our whats on calendar, a guide to the best restaurants and pubs along with our line-up of festivals and amazing nightlife scene.
Also, you will find a comprehensive map, a guide to parking in and around the city centre along with and travel information including information on the local bus and train stations.
Featured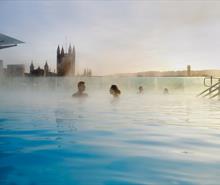 Our exclusive package includes the Roman Baths, Thermae Bath Spa, & Pump Room dining.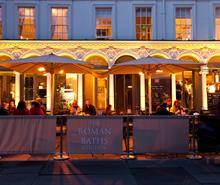 A truly unique, evocative experience.
Search and Book Accommodation Here
Search for What's On By Date Here