February is LGBT+ History Month, a chance to shine a spotlight on the achievements and experiences of the community as well as promote diversity and equality. It's the perfect time to reflect on the stories and contributions of lesbian, gay, bisexual, and transgender people here in Bath.
This guest article by local historian and Gay West member Robert Howes is a great introduction to the people and places connected to the city's LGBTQ+ past – from the eighteenth century to the present day.
Find more ways to mark LGBT+ History Month in Bath here.
William Beckford (1760-1844), one of the richest men in England due to his family's connection with slavery, was involved in the Powderham Castle scandal in 1784, when he was reported to have been found in compromising circumstances with the younger William "Kitty" Courtenay.
It is unclear exactly what happened but Beckford was ostracised by society and went into self-imposed exile on the Continent, helping later to put Portugal on the tourist map. He spent his last 22 years as a recluse in Bath, living at 20 Lansdown Crescent and 1 Lansdown Place West. His grave lies in the grounds of Beckford's Tower, the retreat he constructed on Lansdown.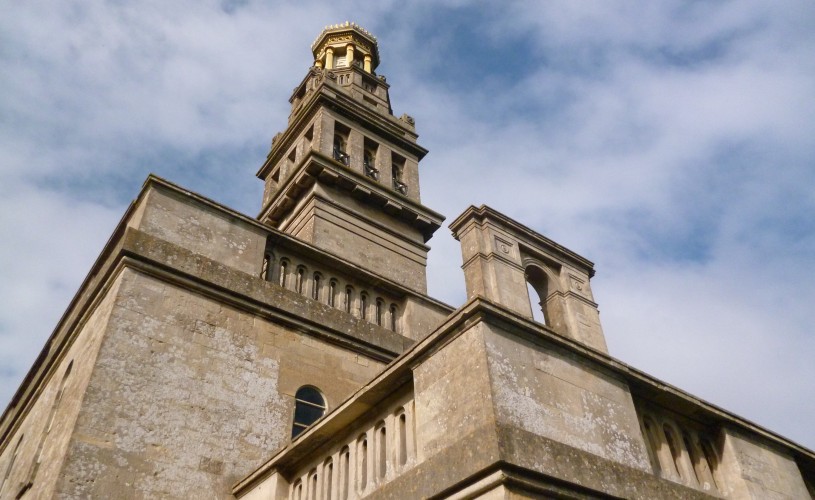 Image - Beckford's Tower
Eagle House, Batheaston
From 1909 to 1912, Colonel Blathwayt turned Eagle House into a refuge for suffragettes who had been imprisoned and force-fed to allow them to rest and recuperate. His daughter, Mary Blathwayt, also a suffragette, recorded in her diary that Annie Kenney (1879-1953), one of the few working-class suffragettes, shared beds and slept with various women.
Historians are divided as to whether this should be taken literally or whether the suffragettes were engaging in lesbian relations, as was suggested by enemies at the time. We shall never know for sure, but it is clear that the suffragettes formed close bonds with each other during their struggle for votes for women.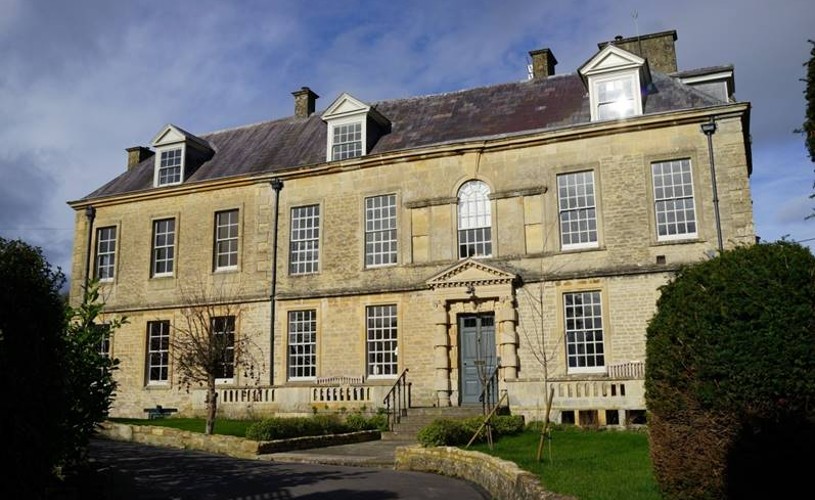 Image - Eagle House, credit Robert Howes
Kingston House, Pierrepont Street
During the Second World War, theatre photographer Angus McBean (1904-1990) moved to Bath to escape the London Blitz. His studio in Kingston House became a meeting point for gay men, some of them servicemen. In November 1941, the police raided the flat and arrested McBean and a sixteen-year-old youth. Police investigations led to a chain of arrests and McBean stood trial with five other men at Winchester Assizes in March 1942.
McBean was sentenced to four years hard labour. At least one of the men implicated and possibly two committed suicide and the case, which was well-publicised in the local press, made a lasting impression on at least one young gay man growing up in Bath at the time. Because of the involvement of servicemen, it is seen by some historians as a precursor of the homosexual spy witch-hunts of the 1950s and 1960s.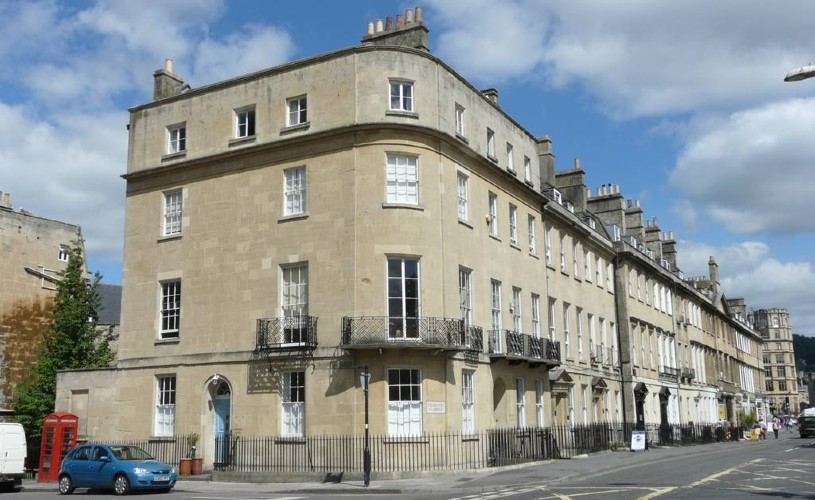 Image - Kingston House, credit Robert Howes
Charlotte Street Car Park
Prior to the decriminalisation of male homosexuality in 1967, one of the few places where gay men could meet others was the public toilet. The practice known as "cottaging" offered the opportunity for sex and friendship but was dangerous.
In April 1953, nine youths were tried and sentenced at Bath magistrates court for blackmail and violence against gay men whom they met in the gents at the Charlotte Street car park. In this case, unusually, the police chose to prosecute the blackmailers and gave immunity to the gay men, who acted as witnesses.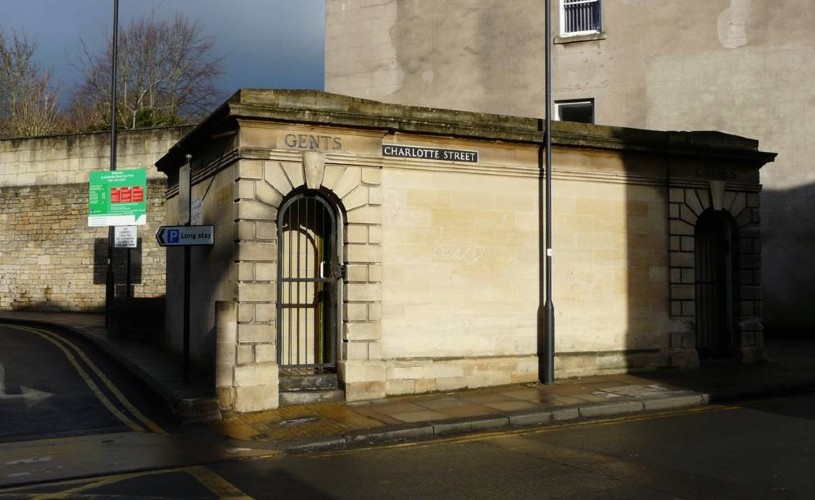 Image - Charlotte Street public toilet, credit Robert Howes
Garrick's Head Pub
The Garrick's Head was the main gay pub in Bath from before the Second World War, and possibly much earlier, until 1997. Although not openly advertising itself as such, the pub was well-known locally and probably benefitted from its proximity to the Theatre Royal and the tolerance extended to theatrical folk.
LGBTQ+ customers were generally accepted by the pub management because they brought good trade and for many the Green Room (on the left going in, although in later years it was actually furnished in red flock) was their local home-from-home.
Image - Garrick's Head, credit Robert Howes
BCVS building, 3 Abbey Green
The Bath Council for Voluntary Service building at 3 Abbey Green (now a guesthouse) provided a base for the local LGBTQ+ group, Gay West, which ran a weekly pop-up coffee shop on the first floor from 1983 to 1993.
In a period of widespread homophobia fanned by tabloid press campaigns over HIV/AIDS and Section 28, the Saturday-morning coffee shops provided a brief place of sanctuary, enabling LGBTQ+ people to meet in safety and socialise together.
St Michael's Day Centre, St Michael's Place
This building in St Michael's Place has a double connection with LGBTQ+ history. During 1973-74, when it housed the Bath Liberal Association headquarters, it was the first public space to be used for meetings by the Bath Gay Awareness Group – the first open LGBTQ+ organisation in the city, which otherwise met in members' homes.
Since 1993, the St Michael's Day Centre has been the venue for Gay West's Saturday-morning coffee shop, now renamed the Rainbow Café, which every week offers a warm welcome to members and visitors from the city and beyond.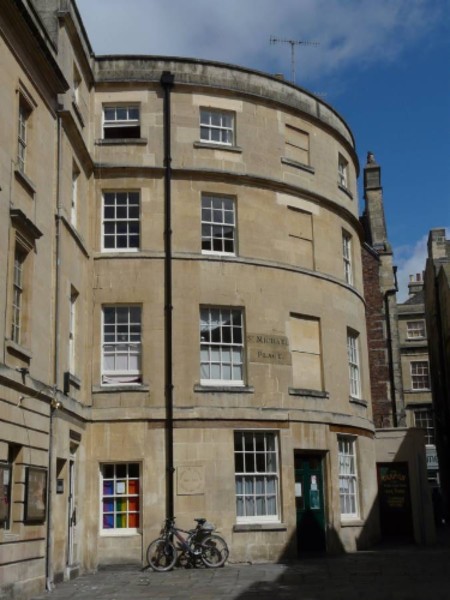 Image - St Michael's Place, credit Robert Howes
The Bath Tap, 19 St James's Parade
The Bath Tap (previously the Devonshire Arms) was Bath's first openly gay pub when it opened in 1996, proudly displaying a rainbow flag to announce its presence. It also ran a disco club in the basement and replaced the Garrick's Head as the main meeting place for the LGBTQ+ community. It gradually lost its popularity and closed in 2010.
Mandalyn's, 13 Lansdown Road
Mandalyn's is currently Bath's only gay pub. Formerly known as the Lansdown Arms, it was opened as a LGBTQ+ venue by two women in 2002. Since then, it has gone through a number of changes of ownership but remains "a gay bar with a friendly attitude to its customers, where everyone is welcome! Being the only gay bar in a small city, we cater for all ages 18+, all genders, and all types of sexual orientation!".
Guildhall, High Street
The Guildhall used to house the magistrate's court and in 1974 was the site of a little-known trial which had national significance. After a police raid on a magazine distributor, Gay News – a serious newspaper aimed at a LGBTQ+ audience – was included in the list of publications charged with obscenity.
At the trial it soon emerged that the newspaper had been charged simply because of its title and the magistrates dismissed the case against it. The verdict helped establish that it was legal to publish non-pornographic publications aimed at a LGBTQ+ audience.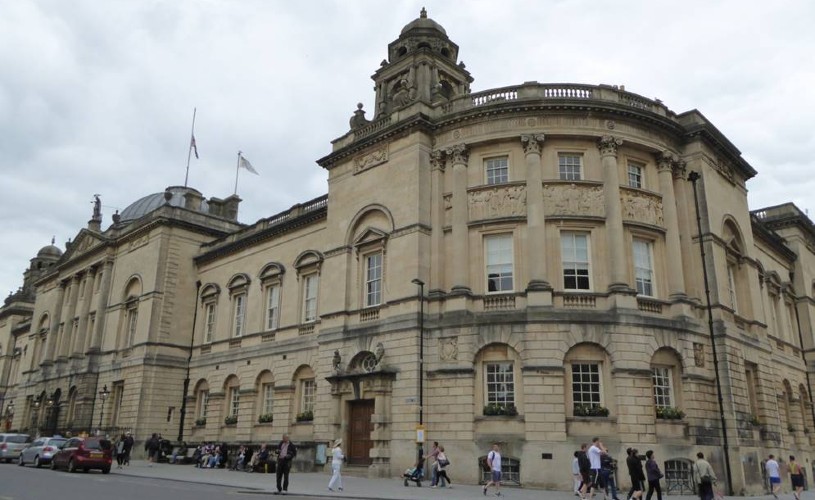 Image - Guildhall, credit Robert Howes
In more recent times the Registry Office in the Guildhall saw the first civil partnership in 2005 and the first same-sex marriage in 2014. The Guildhall has flown the rainbow flag during LGBTQ+ History Month most years since 2014 and BathNES Council has won awards for its work on diversity and equality with young people.
About the Author
This article and the featured photographs (where credited) are by Robert Howes. Most of the information is drawn from his book Gay West: Civil Society, Community and LGBT History in Bristol and Bath, 1970 to 2010, available from the publishers and online booksellers.
Find more information about Bath's LGBTQ+ history and current community activities on OutStories Bristol – Recording the lives of LGBT+ people of Bristol and Gay Events In Bristol - Gay West.
Watch Robert's virtual tour of Bath's LGBTQ+ history:
Related
0 Comments