During the autumn and winter of 1816-1817, one of the most iconic Gothic novels of all time was being crafted here in Bath. Author Mary Shelley was living at 5 Abbey Churchyard as she wrote much of Frankenstein, the story of a gifted scientist and the monster he brings to life.
In this guest article from Haunt Bristol, leading Shelley expert Dr Anna Mercer delves into the writer's time in Bath and how her legacy is explored at new attraction House of Frankenstein.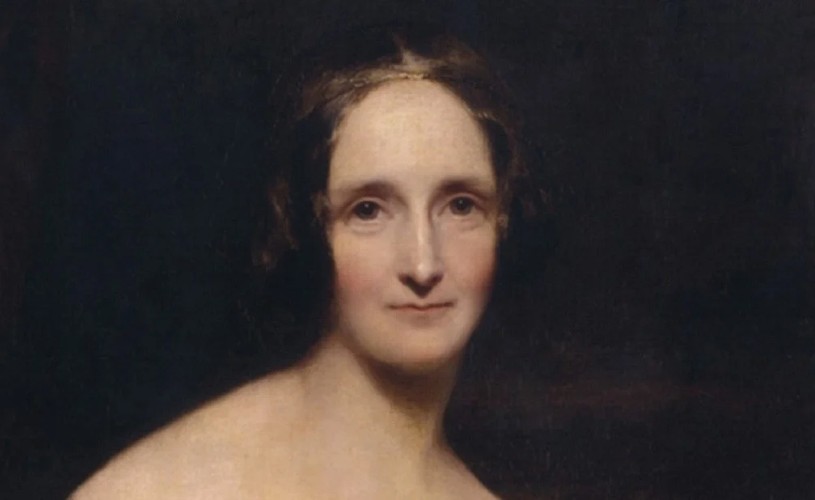 Mary Shelley and Bath
"I have also finished the 4 Chap. Of Frankenstein which is a very long one & I think you would like it"

Mary Shelley writes from Bath to Percy Bysshe Shelley, 5 December 1816
Mary Shelley's first letter composed during her residence in Bath from 1816-17 was written to her lover Percy Bysshe Shelley. Her name then was Mary Wollstonecraft Godwin, indicating her connection to two of the most famous authors of the late eighteenth century, her parents Mary Wollstonecraft and William Godwin.
In her letter (as cited above) Mary Godwin/Shelley begins by explaining her success in completing a chapter of Frankenstein, the first edition of which would appear in 1818. She first found her inspiration following a dramatic night of ghost story telling in Lake Geneva with Percy Shelley, Lord Byron and others. Now back in England, it appears Mary was settling down to creative composition with some significant determination.
Yet the letter can also tell another story. She asks plaintively, 'And where are you? and what are you doing my blessed love'; the occasion for her letter is that her lover is away from their shared lodgings. Her tender comments on their small child ('my pretty babe […] The blue eyes of your sweet boy') are juxtaposed with indications of her wider study: 'If you, my love, go to London you will perhaps try to procure a good Livy, for I wish very much to read it – I must be more industrious, especially in learning latin'.
In this letter, as is common for Mary Shelley, she refers to other members of the intellectual Shelley circle (this time Leigh Hunt). Her words also suggest a complex domestic setting, strongly hinting at her increasingly strained relationship with her stepsister Claire Clairmont.
Overall, Mary Shelley's time in the city of Bath provides a snapshot of a collection of qualities crucial to understanding her as a writer and several aspects of her work and life. These include her responsibilities to her household in an arguably highly gendered role common for the time, her creative collaboration and interaction with others (whether P B Shelley will 'like' her latest chapter is testament to the fact that the Shelleys shared drafts of their work with one another), and then crucially her huge commitment to reading and learning. Mary Shelley had an incredible way with words even at such a young age: this letter, and indeed much of Frankenstein, was written when she was just nineteen years old.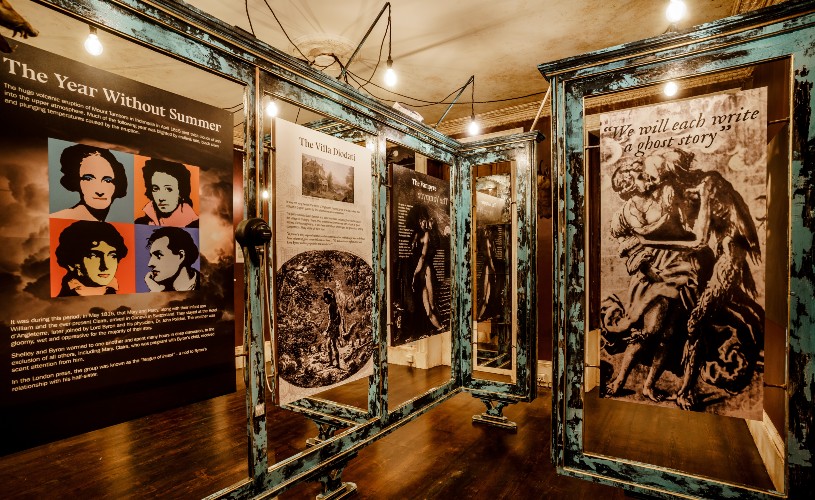 Image - Mary Shelley's House of Frankenstein
The Shelleys arrived in Bath on 10 September 1816. Mary's journal records it: 'Arrive at Bath about two – dine and spend the evening in looking for lodgings'. However, her correspondence from Bath takes place later that year, starting in December, and I think her letters in this dark winter are very evocative of her time there, a period when she was writing her novel in earnest, but often feeling very alone.
She was though, as always, deep in study, and sifting through her journals of her time in Bath leaves one impressed by her reading, noting texts by John Locke, Horace, Mary Wollstonecraft, Lucian, Cicero, Samuel Richardson and others.
Bath was also where she was living just before her marriage, as Mary and Percy Bysshe Shelley were married on 30 December 1816 at St Mildred's Church, Bread Street in the City of London. They returned to Bath afterwards for a period, with Mary Shelley writing to the Shelleys' mutual friend Byron on 13 Jan 1817:
Another incident has also occurred which will surprise you, perhaps; It is a little piece of egotism in me to mention it – but it allows me to sign myself – in assuring you of my esteem & sincere friendship
Mary W. Shelley
So, Mary first signed her name as 'Mary Shelley' from Bath. Prior to this formal union her letters indicated she was anxious: 'I hardly know what I mean, I am so much agitated' she writes on 17th December. Much of the context is long and complex, relating to Percy Shelley's battle for the custody of the children from his first marriage, as well as growing anxieties about Percy Shelley's father, and also tension between the Shelleys and William Godwin and Mary Shelley's stepmother. Mary and Percy had caused significant controversy when they eloped in 1814 with Claire Clairmont in tow, leaving London for France.
Now, over two years later, Bath was providing Mary Shelley respite in terms of a settled place to compose, but not without personal issues also affecting her state of mind.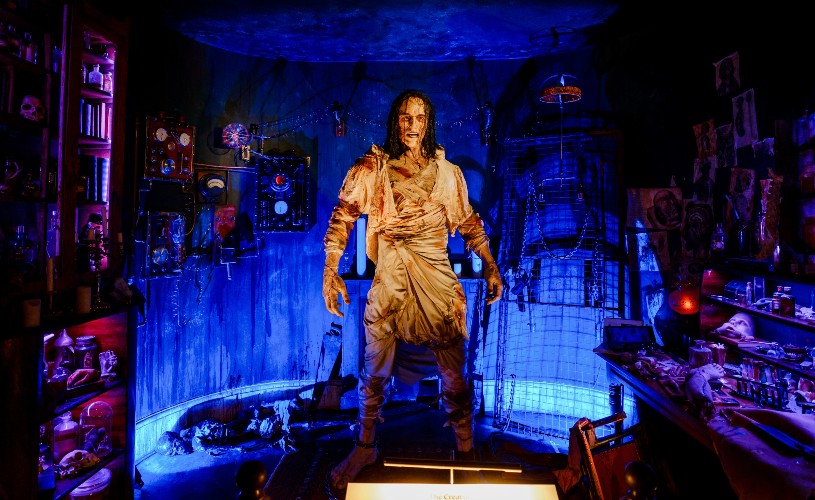 Image - Mary Shelley's House of Frankenstein
Mary Shelley's House of Frankenstein
Today, Mary Shelley's residence in the city is celebrated not only by the plaque where her lodgings stood, next to what is now a part of the Pump Room, but at Mary Shelley's House of Frankenstein: the world's first attraction dedicated to the author and her most famous creation. The House of Frankenstein tells Mary's story as well as looking at the legacy of the iconic Victor Frankenstein and his creature. In relation to Mary's life, it is interesting to note her statement in the letter of 5th December 1816:
But in the choice of residence – dear Shelley – pray be not too quick or a(t)tach yourself too much to one spot […] give me a garden & absentia Claire and I will thank my love for many favours
I mention this part of the letter because the new House of Frankenstein does much to present a narrative of Shelley's complex personal relationships as you make your way around the building, especially on the lower floors. I was delighted to see Claire Clairmont, an often neglected and unfairly represented member of the Shelley household, brought so clearly into the story in the museum's exhibits. Claire was Mary Shelley's stepsister, but she is perhaps most famous for her love affair with and child by Byron.
Mary and Claire's relationship was a tumultuous one, but it was a loving one at times, too. This fact is something that recent dramatizations have successfully shown, where elsewhere they completely fail to capture much of the true essence of Mary Shelley or indeed her husband as varied, complex individuals (see Mary Shelley Dir. Haifaa Al-Mansour, 2017).
Gothic Women
I am part of a new project called 'Gothic Women', and our central focus is on women writing during the Romantic period. We are also interested in the afterlives and ongoing influence of the work of such authors, aiming to celebrate women's Gothic through the centuries.
Our first online event discussed Mary Shelley beyond Frankenstein. As I revisit her time in Bath, although it is certainly connected to that famous novel, I do think it is important that her experiences as a teenager lead us to ask about her life after that point. In 1817, the Shelleys moved to a period of relative contentment in Marlow just outside London. Then, in 1818, they left England once again, this time for Italy – a country from which P B Shelley would never return.
And as for Mary Shelley? Well, her writing career had only just begun. By the time she died aged 53 in 1851, she had published six novels, several short stories and travelogues, meticulously edited posthumous editions of her late husband's works and she composed her own poetry, too. If you start to discover her in Bath, I hope you will go on learn just how much more she achieved!
About the author
Dr Anna Mercer is a lecturer at Cardiff University and one of the country's leading experts on Mary Shelley. She's the author of The Collaborative Literary Relationship of Percy Bysshe Shelley and Mary Wollstonecraft Shelley. You can follow her on Twitter as well as the Gothic Women project and the Shelley Conference.
Haunt Bristol is a team of journalists and researchers who uncover Bristol and the wider region's hidden, Gothic and alternative heritage.
Related
0 Comments