Whether you're a seasoned veggie, taking up the challenge of Meatless Mondays, or just looking for a tasty meal, Bath has plenty of options on offer. Here is our ultimate guide to vegetarian restaurants in the city…
Vegan and Vegetarian Cafés and Quick Bites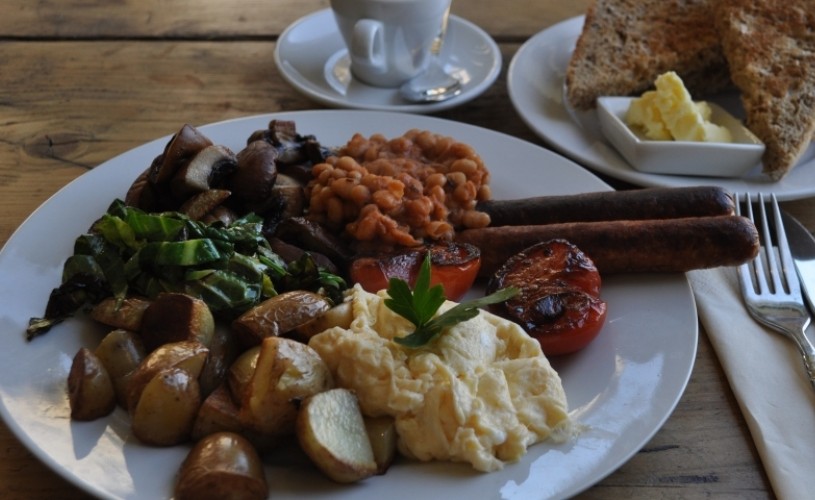 Image - Green Rocket Cafe
Green Rocket Café
The Green Rocket offers tasty vegetarian food and great coffee in a relaxed setting. With an extensive menu featuring plenty of vegan options, the Green Rocket are open for breakfast, lunch and afternoon tea. We particularly recommend the Italian tasting plate!
Cascara
Reopened in October 2018 with a fully vegan menu, Cascara is the ideal spot for a relaxed lunch. Tuck into hearty salad plates, delicious dips with sourdough bread, and a selection of freshly baked cakes.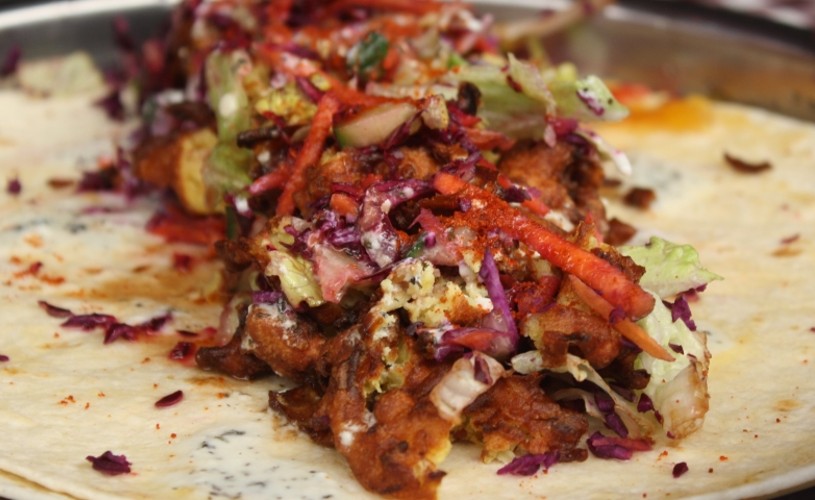 Image - Chaiwalla
Chaiwalla
Opened in early 2016, Indian street food takeaway Chaiwalla very quickly became a Bath favourite. Housed in a pocket-sized unit in Kingsmead Square, Chaiwalla offers a small menu with three delicious vegetarian options, each bursting with flavour.
Rooted
Vegetarian café Rooted opened in 2018 at the bottom of Chelsea Road in Newbridge. Enjoy breakfast, brunch, lunch or dinner, with tasty options including the Full Indian Breakfast, Moroccan Shakshuka, Jerk Jackfruit Bakun Burger and Kimchi Dog.
Vegan and Vegetarian Restaurants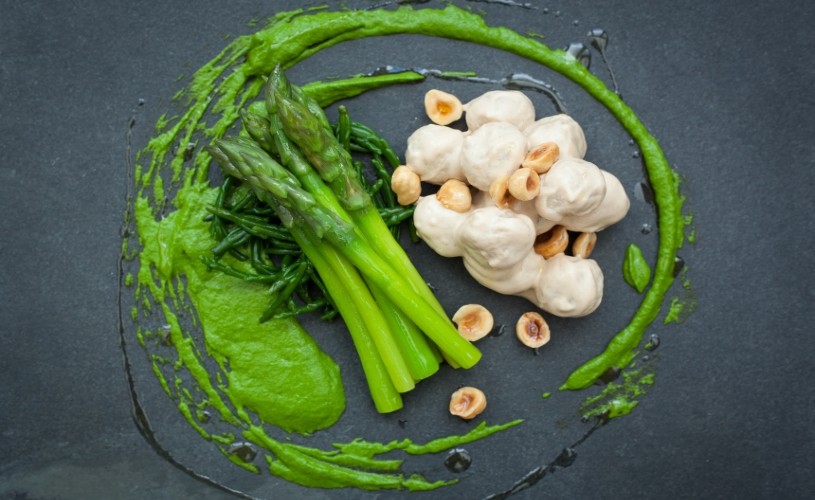 Image - OAK
OAK
The chefs at OAK are passionate about producing beautiful and delicious plant-based dishes, and push boundaries using cutting-edge techniques to deliver an adventurous and exciting menu which looks and tastes great.
With plenty of vegan, wheat-free and gluten-free options, everybody is well catered for. Open every day for brunch, lunch and dinner, you'll be sure to have a delicious meal.
Indian Temptation
Exclusively vegetarian restaurant Indian Temptation allows everyone to experience a taste of Indian heritage. Indian Temptation offer a varied range of delicious dishes, with a separate vegan menu available on request. All food is cooked fresh, and you can choose to eat in or order your food to take away.
Cafés and Restaurants with Great Veggie Options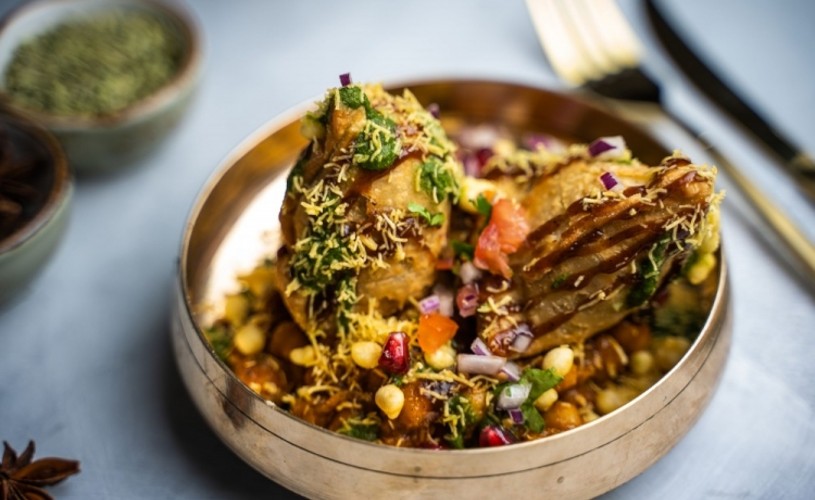 Image - Bandook Indian Kitchen
India's street food and roadside restaurant culture inspire Bandook's menu, which is stuffed full of fantastic veggie options. This includes a meat-free selection of chaats, small snack dishes that pack in big flavours, as well as curries, biryani and dosa. Their breakfast menu is also nearly all vegetarian, offering a mix of Indian twists on dishes like granola and a full English alongside parathas and uttapam.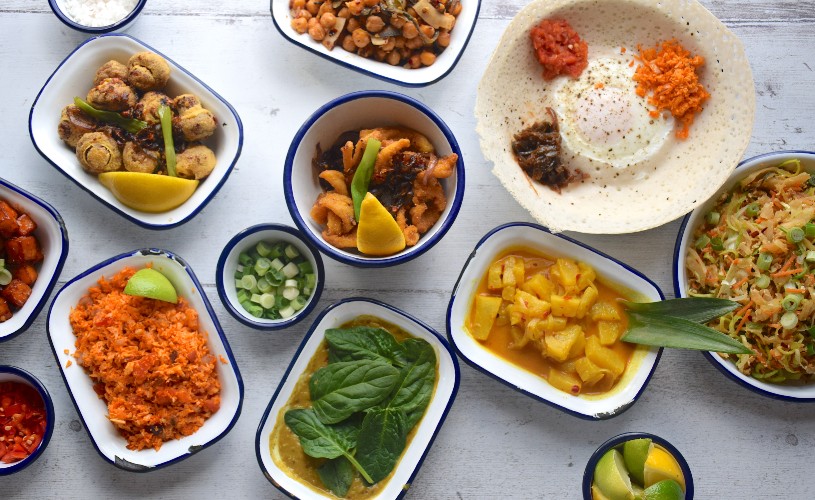 Image - The Coconut Tree
For more street food-inspired fare, this time with Sri Lankan flavours, head to The Coconut Tree. Much of the menu is veggie and most of the veggie dishes are vegan, with a dedicated Roots menu showing off all the plant-based options in one place. The lively atmosphere, tropical 'cocotails' (non-alcoholic versions also available), and tapas-style sharer plates make it a great spot for meals out with friends and family.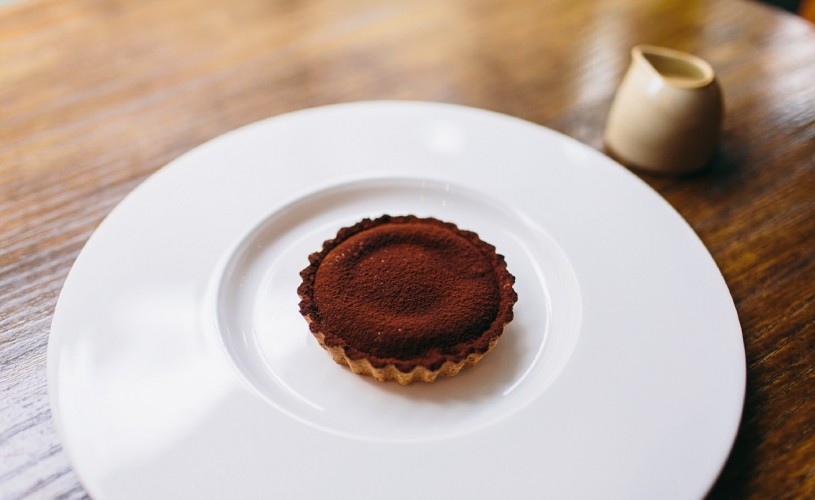 Image - Henry's Restaurant
For a special occasion, try the vegetarian tasting menu at Henry's Restaurant, which is every bit as imaginative as its counterpart for meat eaters. If you love the idea of refined seasonal food in a relaxed, humble setting, you're sure to love the Henry's experience. There's a green-minded ethos here too, with locally sourced ingredients and a zero-waste approach in the kitchen.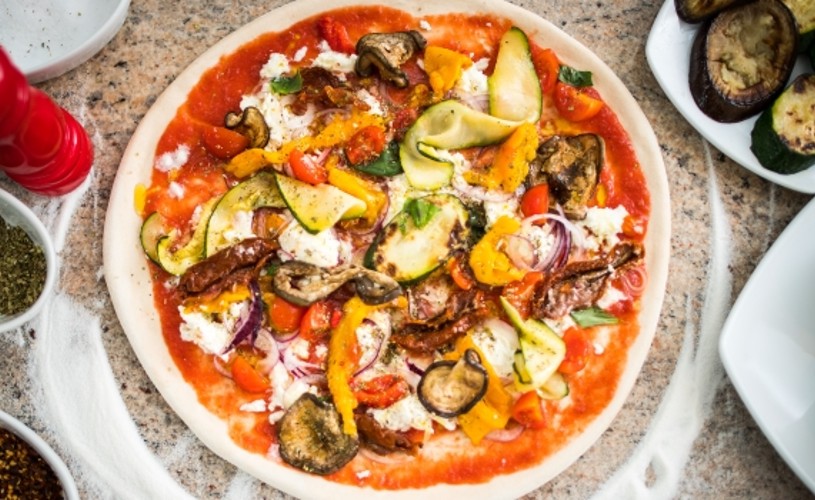 Image - Dough
Dough
If pizza is your favourite treat, look no further than Dough in The Corridor and Kingsmead Square. With a variety of different pizza doughs on offer (all of which are vegan, and with gluten-free options to boot), you'll be spoilt for choice. Sub mozzarella for their tasty vegan alternative and you can enjoy a plant-based version of the Italian classic.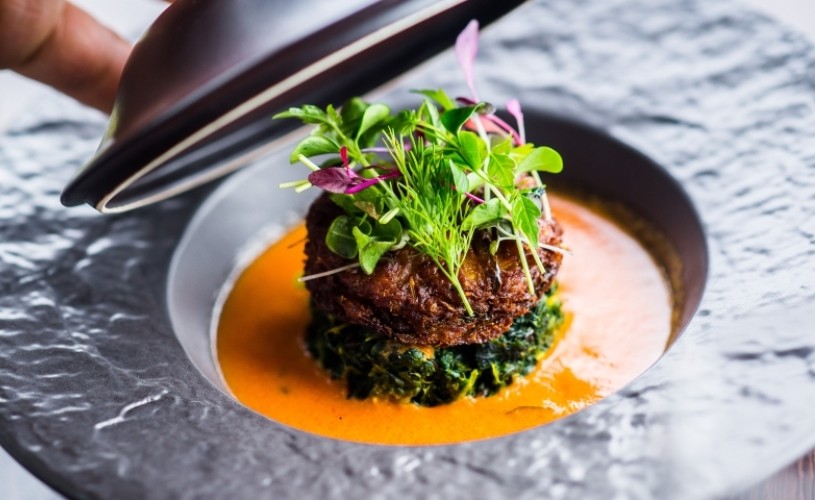 Image - The Mint Room
The ethos of Indian restaurant The Mint Room is that tradition and modernity should go hand in hand. Open seven days a week for lunch and dinner, The Mint Room has a contemporary ambience and offers traditional Indian cuisine cooked and presented in an innovative and exciting way. Those dining on a sunny day can enjoy their meal on The Mint Room's stunning terrace.
The Mint Room has a generous offering of vegetarian dishes to enjoy inside the restaurant or order to take away.
Newton Farm Café is situated just ten minutes from Bath, in the picturesque village of Newton St Loe. The café is family-run, and a part of Newton Farm Foods, which incorporates a farm, award-winning farm shop and café.
For breakfast, Newton Farm Café offers various delicious veggie options, including a vegetarian cooked breakfast. Their lunch menu is equally vegetarian-friendly, with plenty of meat-free sandwiches. For Sunday Lunch, you can enjoy a Portobello burger, Mediterranean vegetable salad or quinoa risotto.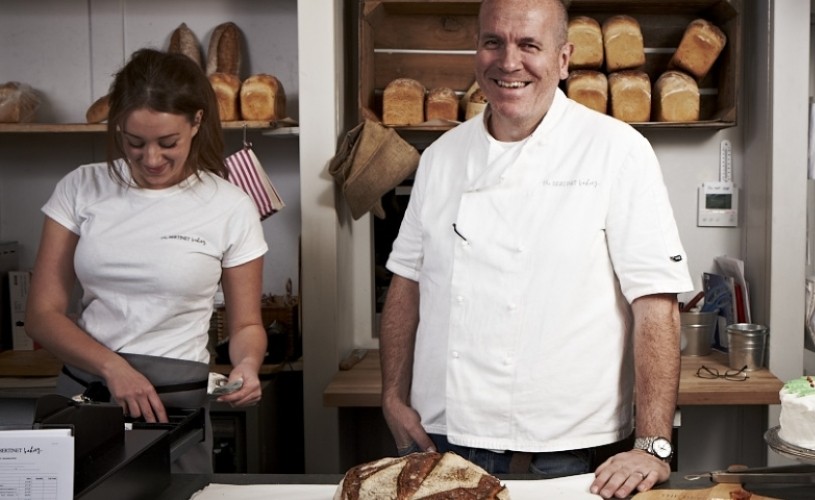 Image - Bertinet Bakery
Another fantastic option for vegetarians is one of Bath's delicious independent bakeries. Bertinet Bakery offers a stunning range of artisan breads, sourdoughs, pastries and savouries. Make sure you give their famous almond croissants a try – the perfect quick and delicious breakfast option.
Yak Yeti Yak
Tucked in the basement of an eighteenth-century townhouse in the centre of Bath, Yak Yeti Yak was the first purely Nepalese restaurant to open in the UK. In accordance with the heavily plant-based diets of the people of Nepal, vegetarian and vegan food is given equal billing on the menu to the meat dishes, and you'll find a wide variety of delicious vegetable dishes to whet your appetite.
If you'd like an authentic Nepalese experience, there is a cushioned area where you can sit on the floor to enjoy your meal, although there are tables and chairs for those who aren't feeling so adventurous!
Phat Yaks
In December 2016, the owners of Yak Yeti Yak also opened Nepalese street food café Phat Yaks. Following the same ethos as their parent restaurant, Phat Yaks offers delicious vegetarian and vegetarian breakfast and lunch options which are great for on-the-go dining.
Giggling Squid
Giggling Squid opened its doors in Bath in January 2018, offering mouthwatering Thai fare in beautiful surrounds. With a dedicated vegetarian and vegan menu, there's plenty on offer for those looking to avoid a meaty dish. We're big fans of the Crispy Pak Maew to start – a delicious plant-based alternative to crispy squid – and a thick and creamy red vegetable curry or a flavoursome cashew nut stir fry as an appetising main course.
Great for Groceries
Harvest Natural Foods
If you'd prefer to pick up some delicious vegetarian ingredients and cook up a feast at home, head to Harvest Natural Foods. The friendly team at Harvest specialise in providing ethically sourced, vegetarian, speciality foods. They take pride in selling only natural products, untouched by genetic engineering or food additives. You'll be sure to find the ingredients for the perfect vegetarian or vegan meal, as well as something tasty for dessert!
Veggie Experiences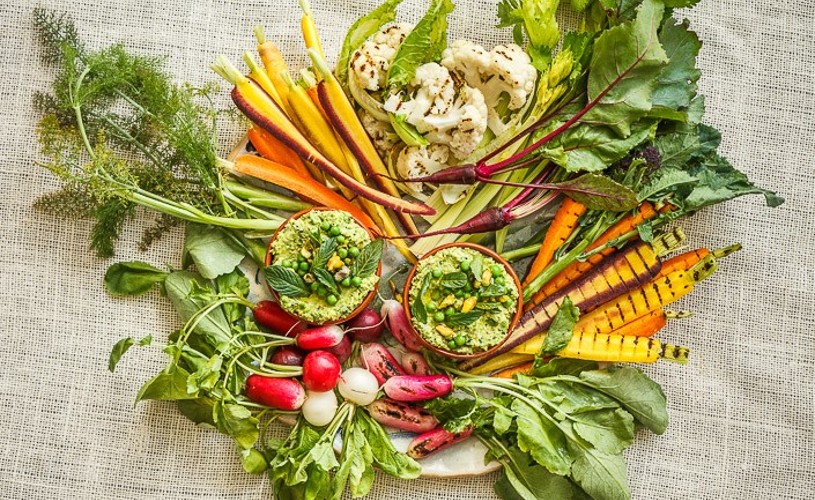 Image - Demuths Cookery School
If you like the idea of getting stuck in and learning how to step up your vegan dinners at home, head to Demuths Cookery School, which specialises in plant-based cooking.
Demuths run a range of cookery classes across different cuisines and skill levels, all following the ethos that food is a pleasure to cook, eat and share. Whichever class you pick, you'll learn about the variety and flavour offered by including more plants in your diet.
Related
0 Comments