As many of us are spending more time at home during this difficult period, we want to bring a taste of Bath to you. In our Bath Bites series, we'll be posting delicious recipes from Bath-based restaurants and food businesses that you can enjoy from the comfort of your home.
Thanks to Simi from Simi's Kitchen for sharing her wonderful recipe for Leek and Chicken Pie.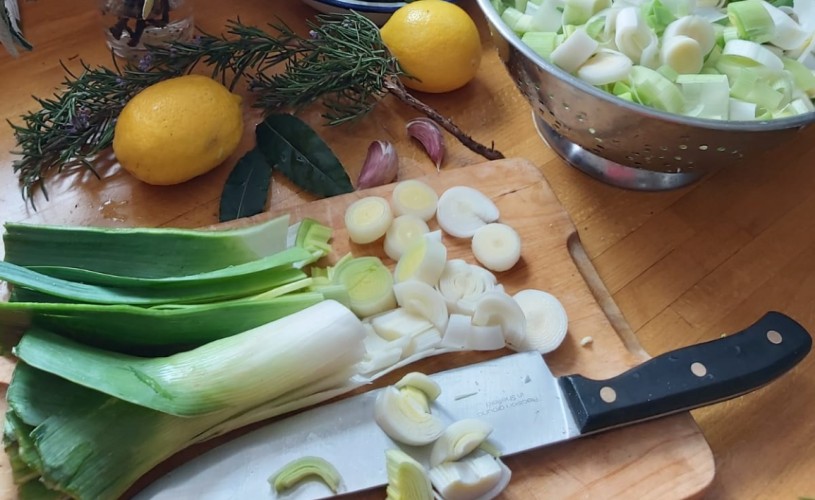 Simi's Just-Pulled Allotment Leek and Chicken Pie
Feeds four hungry adults/six normal portions.
Ingredients
1kg chicken thighs (or I used 4 chicken breasts, as this is what I had), chopped into chunks.
6 leeks, washed thoroughly and sliced.
2 large springs of sage, rosemary and 2 bay leaves. Fresh or dry taragon, thyme would also be nice.
2 cloves of garlic, chopped.
¼ teaspoon turmeric.
200ml milk.
Cream (optional, I had some left over).
2 large tablespoons of plain flour, some for rolling out pastry.
1 tablespoon of white wine or vinegar – optional, makes milk curdle.
100g lamb stock.
20g of lamb fat, olive oil or butter.
2x 200g puff pastry, always all-butter, or make your own rough-puff pastry.
½ an egg or milk for glazing the pasty, optional. I fry the remaining egg and have it with yoghurt.
Salt and pepper to taste.
Method
I had a lot of chicken and leek, so I couldn't cook everything in one pan. In hindsight, I could have either fried the leeks or cooked the chicken in my iron tray, to save some washing up!
Start by frying the leeks in either butter, oil or, as I did, in dripping. When they soften, add a bit of salt, lots of pepper and put a lid on. The large cast-iron frying pan doesn't have a lid, so I put a plate on it. Stir every now and then.
In another pan, heat a tablespoon of olive oil, and put the chicken in. When it changed colour, l flipped it over and waited until that changed colour, before adding the vinegar, chopped herbs and garlic, and stirring.
Add the milk and put a lid on for 15 minutes. When the chicken is cooked, switch the heat off.
In the meantime the leeks will have become silky and yielding.
Add two tablespoons of flour and mix it in. I didn't cook out the flour as one would for a roux. Pour the chicken and liquor into the leeks and mix. Taste and adjust seasoning.
Pour the filling into a baking dish.
Roll out the pastry, place over the filling and then brush with glaze.
Put in the oven (at 220°C or 200°C for a fan oven) for 30-40 minutes until the filling is bubbling and the pastry is golden.
Enjoy with boiled, steamed or roasted vegetables from the cupboard, freezer or allotment (we had ours with with allotment potatoes, cavolo nero flowers, cabbage and peas).
About Simi's Kitchen
Located on Great Pulteney Street, Simi's Kitchen offers Persian cookery classes which provide a memorable experience of authentic Persian/Azeri food and hospitality. Follow Simi's Kitchen on Facebook, where Simi is posting a new recipe every other day.
Related
0 Comments