The Provenist's menu focuses on nutritious and seasonal produce, offering all the comforts and choice of being at home.
And while many of us are enjoying more meals than ever from home, the team at The Provenist have offered up the recipes for three of their brunch dishes – Sweetcorn Fritters, Buckwheat and Cinnamon Pancakes, and a Banana and Berry Smoothie Bowl – for you to take your pick from...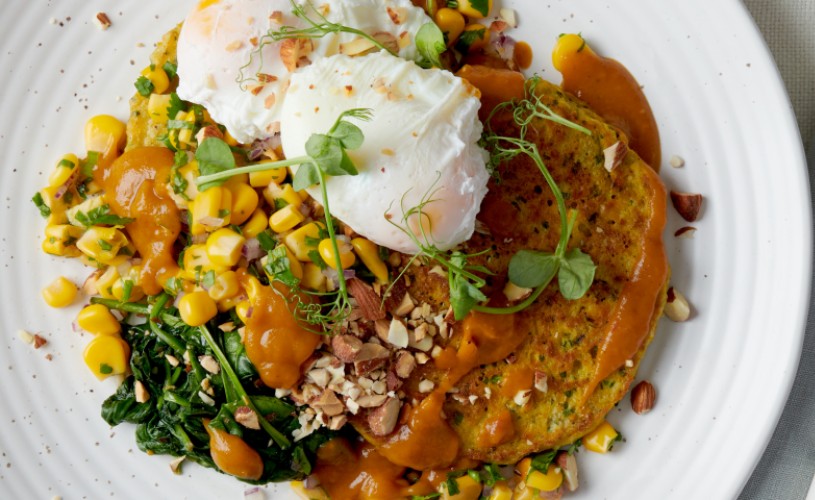 Sweetcorn Fritters
Makes 12 fritters
Ingredients
300g tinned sweetcorn
2 large onions
2 cloves of garlic
A bunch of roughly chopped coriander
4 eggs
150g self-raising flour (The Provenist use Doves Farm gluten-free)
1 tsp baking powder
Salt and pepper
Olive oil for frying
Method
Place the onion, garlic, spring onions and half the sweetcorn into a food processor and pulse until finely chopped (alternatively, you could do this by hand if you'd rather).
Tip into a large mixing bowl and add in the flour, baking powder, the rest of the sweetcorn and the eggs.
Mix really well until fully combined, and season well with salt and pepper.
Heat oil in a non-stick frying pan and spoon in two tablespoons of the batter per fritter. You could use metal rings to get perfect rounds or keep them rustic. Fry gently on either side for a couple of minutes.
Once all the fritters are cooked, place on a tray and finish in the oven for five minutes.
The Provenist serve their sweetcorn fritters with a couple of poached eggs and some wilted spinach.
Note, you can use whatever herbs you can get your hands on, and you could swap regular onions for red onions, spring onions or shallots.
You could make a batch and freeze some to eat at a later date.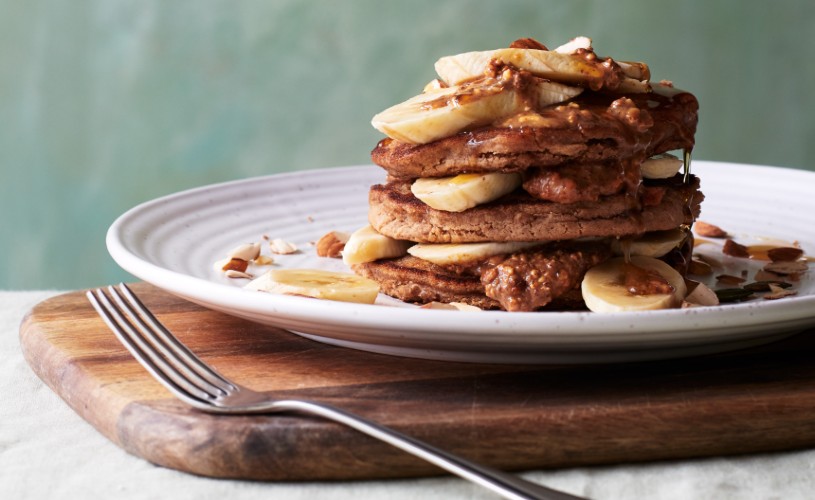 Buckwheat and Cinnamon Pancakes
Makes enough for five portions (three pancakes per portion)
Ingredients
For the pancakes:
160g gluten-free plain flour or regular flour
65g soft light brown sugar
160g buckwheat flour
1 tsp ground cinnamon
1 tsp baking powder
500ml milk (regular or plant-based)
Oil for cooking
For the topping:
6 bananas (half a banana each)
6 tablespoons of almond butter or any nut butter you have
Method
Combine all the dry ingredients in a mixing bowl and add 500ml milk.
Whisk together and allow to sit for a couple of minutes – you should see bubbles begin to form as the mixture reacts and thickens.
In a pancake pan or a large non-stick pan, rub a little oil on the surface and carefully ladle out about one large tablespoon of the mixture, leaving enough space between the pancakes as they expand slightly as they cook.
Once air bubbles begin to appear on the surface, your pancakes are ready to flip. Using a spatula, flip the pancakes over and cook for a further two minutes.
Repeat with the rest of your mixture, until it is all used up. Whilst you are doing this, keep your cooked pancakes in a warm oven to stop them getting cold.
Once your pancakes are all cooked, start stacking them up, layering in between each one some sliced banana and a generous drizzle of almond butter.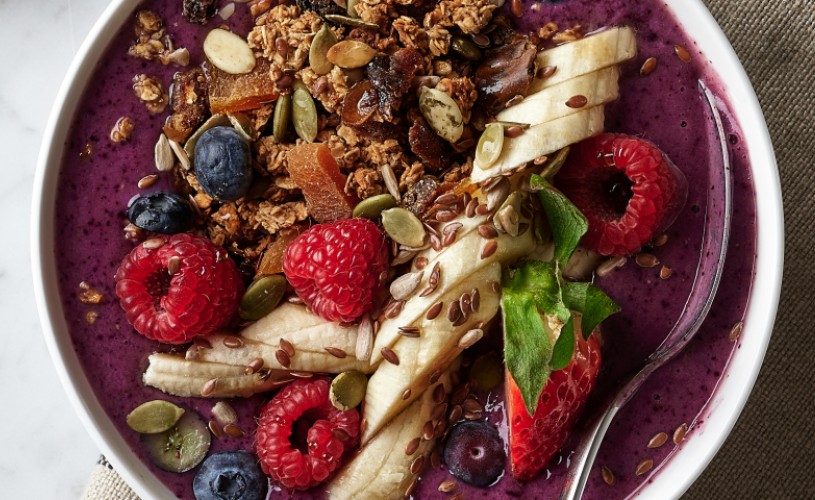 Banana and Berry Smoothie Bowl
Makes two
Ingredients
Two bananas, peeled, chopped and frozen
200g mixed frozen berries
1 tablespoon maple syrup
250ml plant-based milk
Topping ideas: granola, fresh fruit, nuts, chia seeds, coconut flakes
Method
Place all of your smoothie ingredients into a high-speed blender or food processor, stopping occasionally to scrape down the sides. Blend until you have an ice cream-like consistency. Depending on your blender, you may need to add a little more liquid to help it blend, but be careful not to add too much, as you want the smoothie to be as thick as possible.
Divide between two bowls and top with whatever toppings you like. The Provenist serve theirs with homemade granola, sliced banana, berries, and a scattering or chia seeds.
About The Provenist
At The Provenist, every ingredient has a story. From growers to gatherers, their menu brings together people who really care about quality from field to fork (or spoon). Supporting lesser-known independents, unearthing some of Britain's most specialist producers, being mindful of their carbon footprint and championing consciousness is at every step of their food's journey are principles behind every plate at The Provenist.
Related
0 Comments