If you love the great outdoors and history, plus rolling countryside with panoramic views, lace up your walking boots and head on one of the best walks in Bath! From Bath Skyline Walk to the Cotswold Way, you'll be sure to find your favourite Bath walk.
In the latest in his blog post series for us, Darroch Davidson from Wild Swim Bike Run has listed his favourite walks around Bath starting in the heart of the city...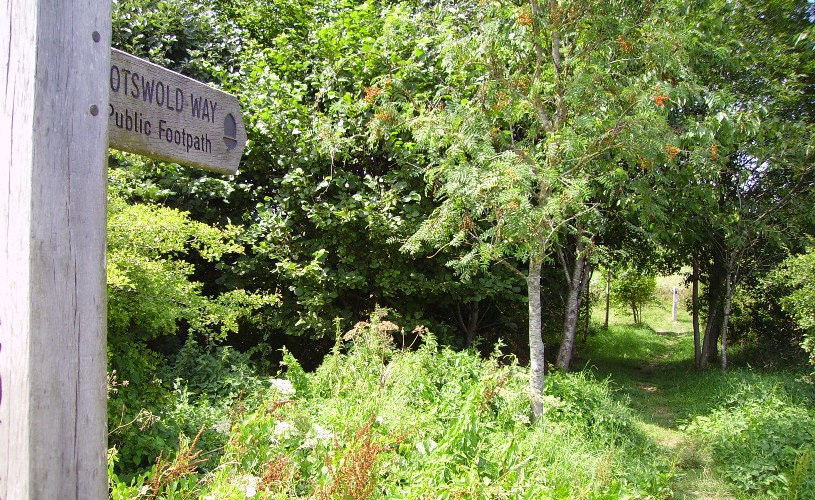 Image - Cotswold Way
North – Cotswold Way and Limestone Link
The stunning Cotswold Way attracts walkers from all over the world and when combined with the Limestone Link paths, it can be turned into a circular route from Bath. Numerous footpaths connect both walks letting you plan a distance matching your fitness. Highlights include panoramic views over Bath, Bristol and the Severn Estuary, Roman forts, civil war battlefield sites, bronze age hill forts and World War Two airfields.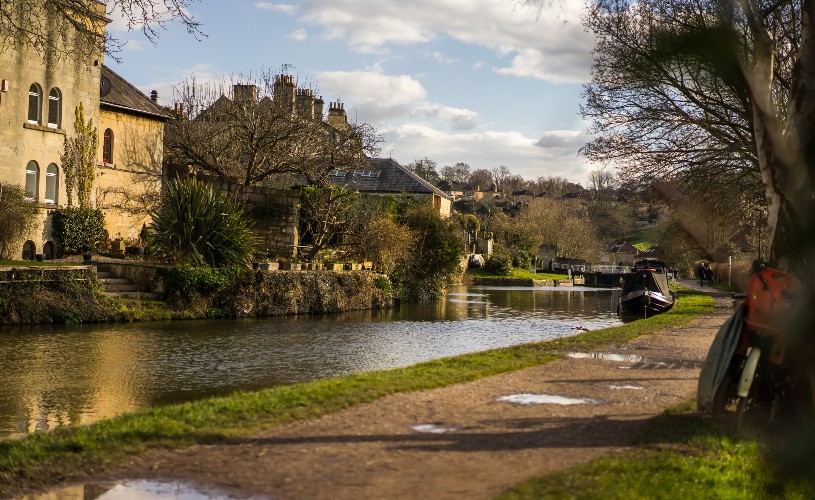 Image - Kennet & Avon Canal
East – Cotswolds, Macmillan Way and Kennet and Avon Canal
The Cotswold Hills provide a feast of hidden valleys and quaint villages. From Bath, use the Kennet and Avon Canal to walk towards Bathford before following footpaths along the Bybrook Valley towards Box and join the Macmillan Way towards the delightful villages of Slaughterford, Ford and Castle Combe.
Alternatively, follow the Kennet and Avon Canal along the Avon Valley and make the walk into a circular route at Dundas Aqueduct. Follow the Limestone Link and return to Bath through the converted railway path of the Two Tunnels Greenway. You could also head along the canal footpath to Bradford-on-Avon, crossing the iconic Dundas and Avoncliffe Aqueducts on a stretch of canal buzzing with wildlife, including kingfishers!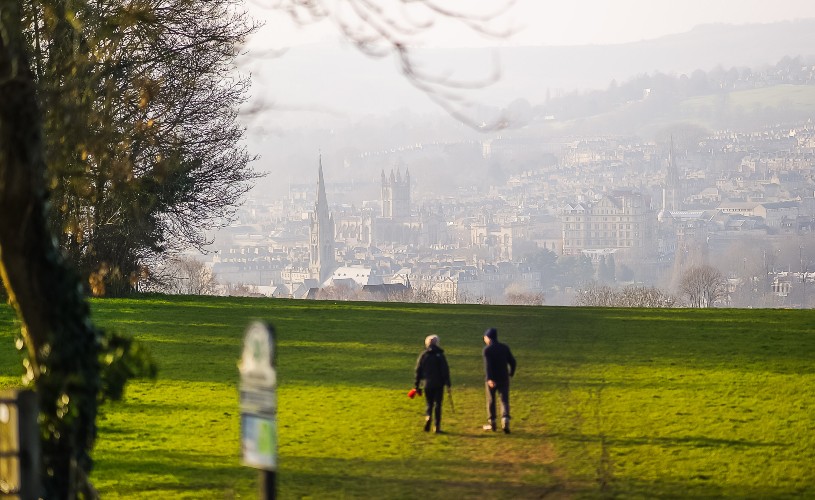 Image - Bath Skyline Walk, credit Paolo Ferla
South – Bath Skyline Walk
Overlooking the city with breathtaking and expansive views is the six-mile Bath Skyline Walk. Journey through meadows, ancient woodlands and hidden valleys whilst enjoying the sites of Prior Park Landscape Garden and Sham Castle along the way.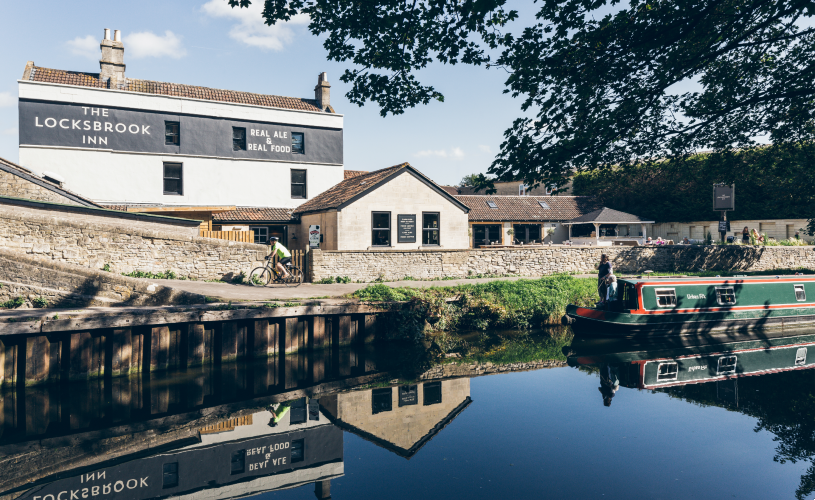 Image - The Locksbrook Inn
West – Bristol and Bath Railway Path and River Avon Trail
Head west along the River Avon to find the Bristol and Bath Railway Path. When combined with the River Avon Trail it creates a gentle circular route. There are plenty of riverside pubs along the way – one is the brilliant Locksbrook Inn – letting you enjoy the gentle pace of life along the river.
Public Transport
Walks can be combined with taxis, buses and trains to create the perfect day for you or your group. A day walk to Bradford-on-Avon for example could be combined with a scenic train ride back to Bath after some refreshments at your walk's end!
Safety for Happy Walkers - What Should You Consider before You Walk?
Wear appropriate clothing and footwear
Stay hydrated
Carry a fully charged phone
Take a map – very handy if you get lost!
Remember a first aid kit and any prescription medication
Finally, whilst enjoying our beautiful countryside, please remember to leave nothing but footsteps!
Wild Swim Bike Run organise cycling and triathlon holidays in the UK and New Zealand. Enjoy a Bath Cycle Tour, which takes in the city's famous landmarks, and joins the Kennet and Avon towpath for countryside trips - perfect for individuals or groups of all levels.
Related
0 Comments