One of the most quintessentially British traditions to enjoy when visiting Bath is an afternoon tea, and the Pump Room, which was once at the heart of the Georgian social scene, offers the perfect backdrop for this sophisticated experience.
Although you can't currently dine on a delicious afternoon tea at The Pump Room Restaurant, you can enjoy a cup of tea and a slice of their delicious Victoria Sponge Cake from the comfort of your own home...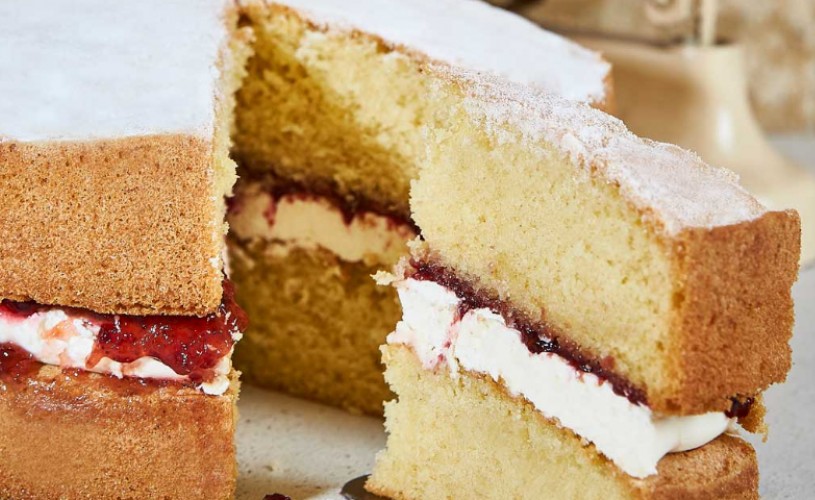 The Pump Room Restaurant's Victoria Sponge Cake
Makes two large or 12 small cakes
Prep time: 20 minutes
Cooking time: 20 minutes
Ingredients
For the cake:
200g caster sugar
200g unsalted butter
200g self-raising flour
4 eggs
1 tsp baking powder
2 tbsp milk
1 tsp vanilla
For the filling:
100g butter
150g icing sugar
1 tsp vanilla extract
Strawberry jam
Method
Grease four five-inch cake tins or 12 small tins.
Preheat oven to 200°C.
Whisk the butter and sugar in a mixing bowl until soft and fluffy.
Add the vanilla essence and eggs and whisk until combined.
Add the milk, then gently fold in the flour and baking powder.
Divide between the tins.
Place in oven and bake for around 20 minutes, or until the middle of the cake is cooked.
Once cooked, remove from the oven and place on a wire rack to cool.
For the filling, place the butter, icing sugar and vanilla into a bowl and whisk until soft and fluffy.
Cut each sponge in half and spread a generous amount of jam on one half and a generous amount of filling on the other, sandwich the two together, dust with icing sugar and serve.
About The Pump Room Restaurant
Housed in the magnificent Pump Room, with its Corinthian columns, glittering chandelier and spa fountain, The Pump Room Restaurant is one of the city's most elegant dining establishments, serving delicious modern British cuisine by renowned caterers Searcys. The Pump Room Restaurant provides the perfect backdrop for a tasty breakfast, lunch or dinner, a sophisticated afternoon tea, or to try a Bath Bun, one of the city's local delicacies.
Related
0 Comments