Bath has been one of the UK's most stylish destinations for 300 years. In celebration of the reopening of the much-loved Fashion Museum Bath, here are some reasons why the city has such stellar connections to the fashion world, and why it's the perfect choice for a fashionable city break…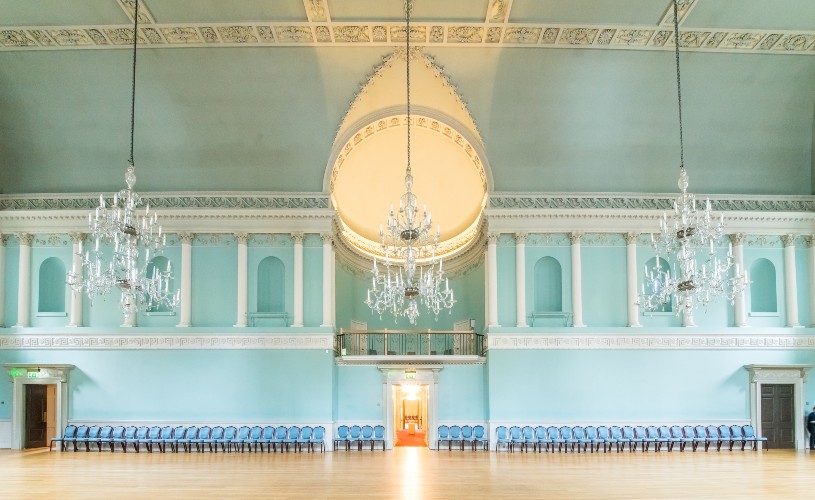 Image - Assembly Rooms
Gorgeous Georgians
Admire the honey-coloured buildings and you'll soon understand why Bath became such a popular recreational destination during the Regency period. The fashion for promenading influenced the design of the city's streets and gardens, and society gathered for afternoon tea and to 'take the waters' at the Pump Room.
The Assembly Rooms were the place to see and be seen during balls, and as such they've been used as glamorous sets for the filming of several scenes in Netflix's smash hit Bridgerton.
Stroll along the wide pavements of the iconic Great Pulteney Street – the widest and grandest in Bath (flanked by immaculate five-story townhouses) – and imagine horse-drawn carriages and the finest dressed ladies and gentlemen in their bonnets and top hats.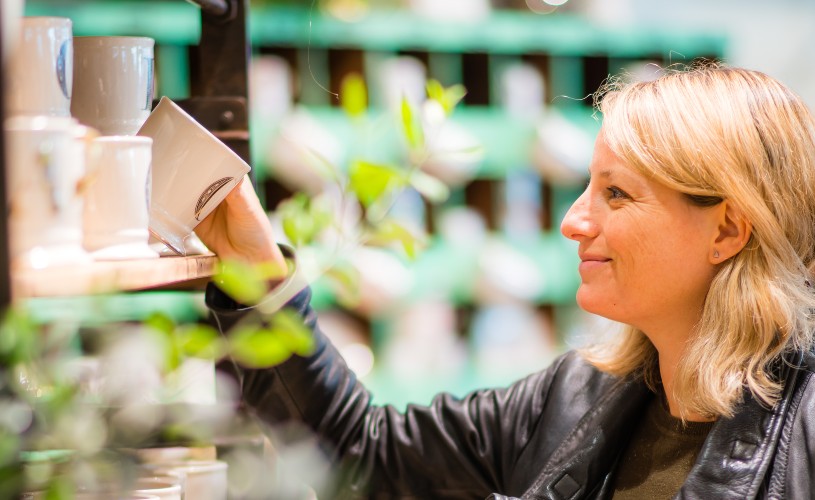 Retail Therapy
Bath's show-stopping retail scene is set against this backdrop of Georgian grandeur. SouthGate, Stall Street, Union Street, New Bond Street and Milsom Street all have a variety of fashion brands, from big name labels to smaller independents. Don't miss Portman Bath, Wylde Jewellers, Chanii B (in Milsom Place), Rossiters of Bath, Jolly's – a department store opened in 1823 – and many more.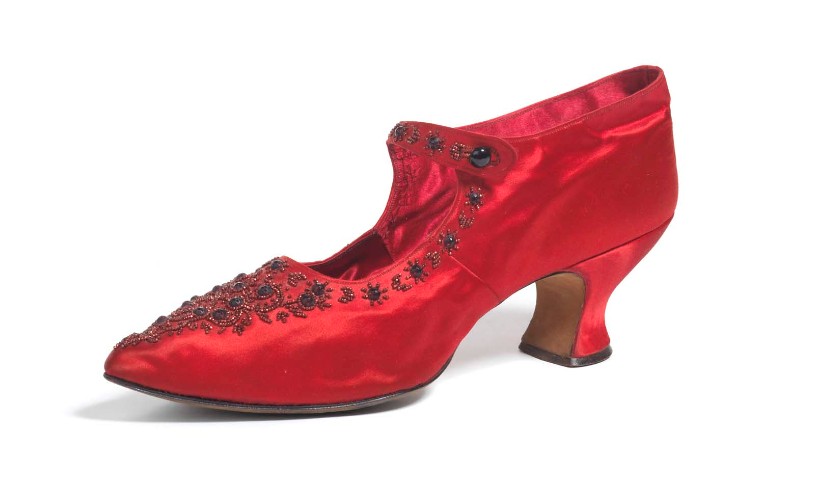 Image - Shoephoria! at Fashion Museum Bath
Stylish Exhibitions
There are around 100,000 objects in the Fashion Museum's collection, ranging from decorated gloves from the time of Shakespeare, to outfits by today's leading designers in the Dress of the Year collection.
Shoephoria!, the museum's latest exhibition which opened on 18th May, demonstrates the evolution of shoe design over the past 300 years, from some of the oldest pairs from Her Majesty Queen Mary to more modern examples by Vivienne Westwood and Jimmy Choo. Check out the Guardian's great review of the exhibition.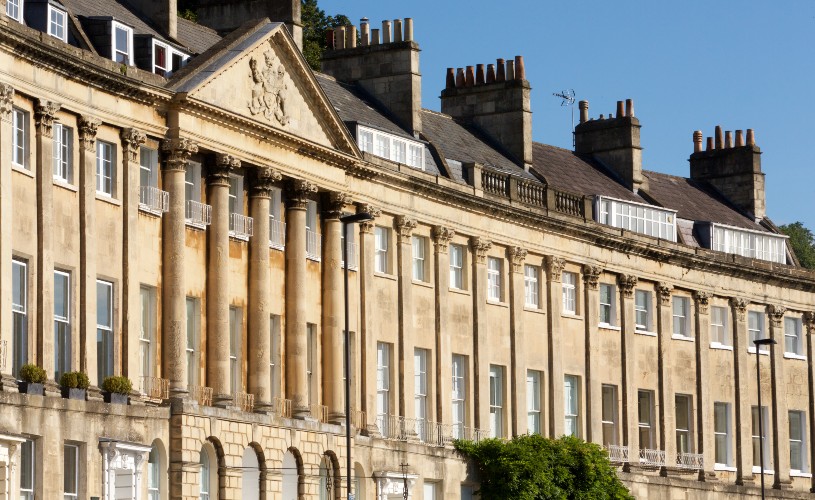 Image - Camden Crescent
Make Like Manolo
One of the world's most famous shoe designers, Manolo Blahnik, has had a long-lasting love affair with Bath since reading about the city when he was a boy. In 1981 he visited for the first time and fell in love with a Georgian terraced house on Camden Crescent, convincing the owner to sell the property to him. You can get a glimpse into his stylish home interiors and shoe collection in Ivan Terestchenko's book, The Charming Mr Blahnik.
A pair of gold silk fringe Blahnik shoes from the 1990s is on display in the Shoephoria! exhibition at Fashion Museum Bath.
A Creative City
The BA (Hons) Fashion Design course at Bath Spa University has a reputation for producing award-winning designers, many of whom show at London's Graduate Fashion Week and have successful careers with labels and brands.
This summer you can see final-year collections at the Locksbrook Campus, along with other students' work from the Bath School of Art and Design, from degrees including Fine Art, Textile Design, Ceramics and Furniture Design from 21st to 27th June. Many pieces will be available to purchase.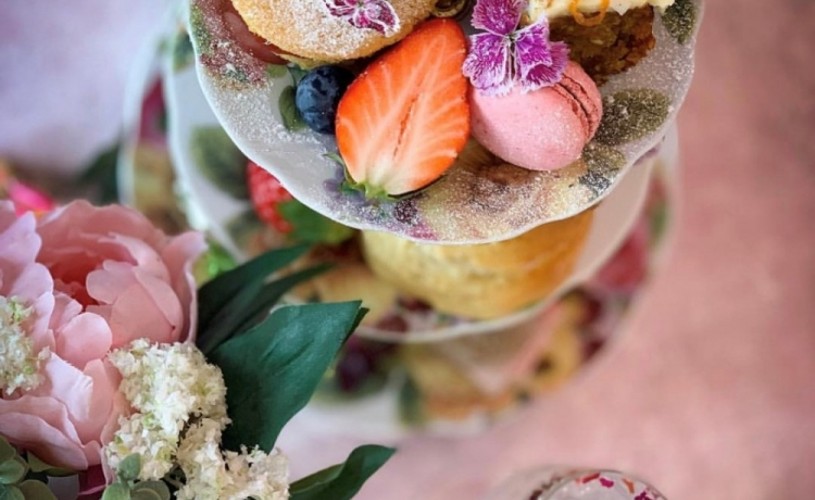 Image - Sweet Little Things
Time for Tea (or Something Stronger!)
A fashionable trip to Bath wouldn't be complete without afternoon tea or cocktails. Sweet Little Things, the Pump Room, The Royal Crescent Hotel & Spa, The Bath Priory and The Roseate Villa Bath all serve decadent teas in gorgeous surroundings. As the sun sets, The Ivy Bath Brasserie, Sub 13, Circo Bar and Comptoir+Cuisine's Champagne+Fromage bar are stylish options for cocktails.
Check out afternoon tea options.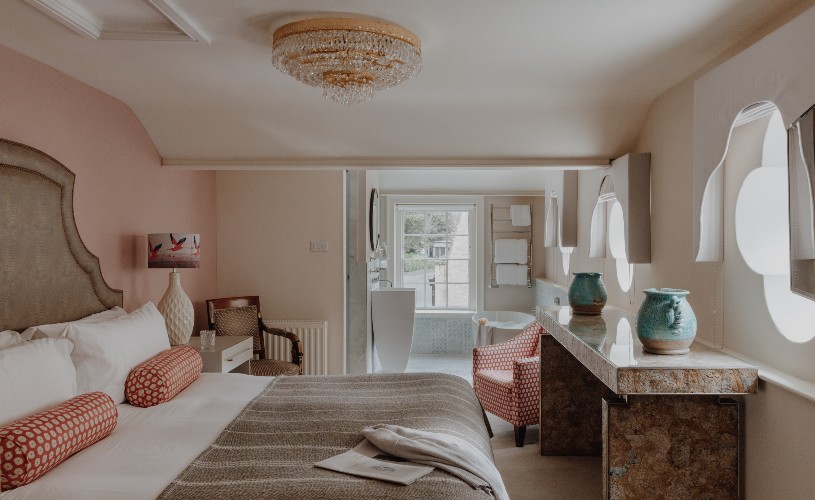 Image - No.15 by GuestHouse, Bath, credit Toby Mitchell
Stay the Night
From five-star luxury to independent boutique hotels with personal touches, there are many stylish places to stay in Bath. No.15 by GuestHouse is bursting with elegant features including a 'lost earring chandelier' and Georgian doll's houses doubling up as help-yourself pantries.
Eight is a charming independent boutique hotel with eight individually designed rooms, and, just round the corner, Henrietta House now features a trendy bar in the boutique wing. If you're looking for a self-catering option, Hope Place is a luxurious one-bedroom apartment a stone's throw from the Royal Crescent.
Related
0 Comments