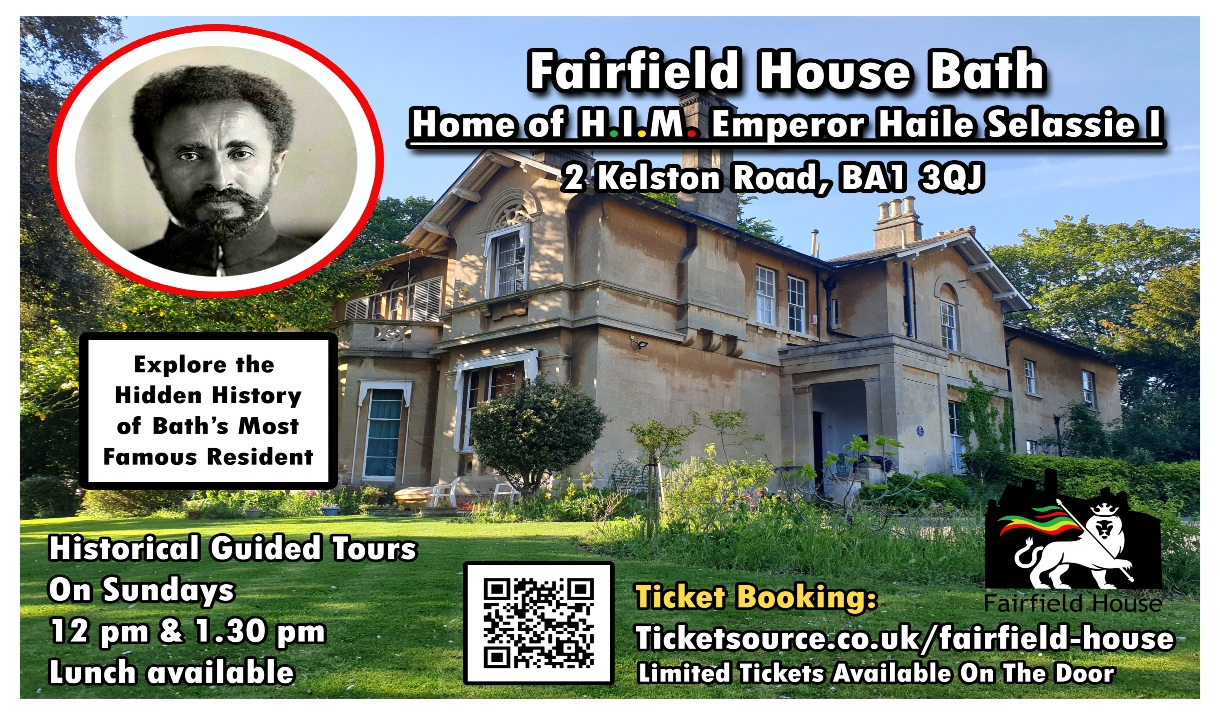 Opening Times
Date

(10 July 2022)

Day
Times
Sunday

12:00

- 13:00

13:30

- 14:30
Date

(17 July 2022)

Day
Times
Sunday

12:00

- 13:00

13:30

- 14:30
Date

(31 July 2022)

Day
Times
Sunday

12:00

- 13:00

13:30

- 14:30
About
Fairfield House, Home of H.I.M Haile Selassie I, is opening for guided tours every Sunday. This hidden piece of Bath's history holds an amazing story, home to Emperor Haile Selassie I and the Ethiopian Royal family, during those difficult years of exile from Ethiopia from 1936 - 1941, when the Emperor was working tirelessly to liberate his country from fascism.
Discover stories about his court in exile, his prophetic speech to the League of Nations, his faith, his friendship with Sylvia Pankhurst, Empress Menen's role in educating young women and the young prince's time in Bath. So warm was the welcome from the people of Bath, that in gratitude he gifted the house to the Corporation of Bath for use by the elderly.
Today it is cared for and presented by its diverse communities, comprising the elders of Bath Ethnic Minority Senior Citizens Association, local people and both the Ethiopian and Rastafari community, as a cultural beacon and place of pilgrimage for those of the African diaspora and beyond. This is a unique opportunity to hear the history and understand the deep connection the Emperor made with the City of Bath. An uplifting and inspiring slice of Black History for our times.
Tours last just over 60 minutes, starting at 12pm and 1.30pm, and include the gardens.
Adults £10, Senior Citizens and Students £8, Children aged 6-18 £5, Children 5 and under free.
A Caribbean Lunch is available for all visitors after the guided tour, with both meat and vegan options priced at £8 for adults and £5 for children.
To book your ticket, visit www.ticketsource.co.uk/fairfield-house.
Tickets are also available on the door from 11.45am.
Book Tickets