There are many ways to step into the world of Jane Austen in Bath, one of which is through food and drink. From taking tea in elegant Georgian buildings, to sampling delicacies from the era, to sipping 'Gin' Austen cocktails – here's where you can indulge in Austen-inspired eating and drinking.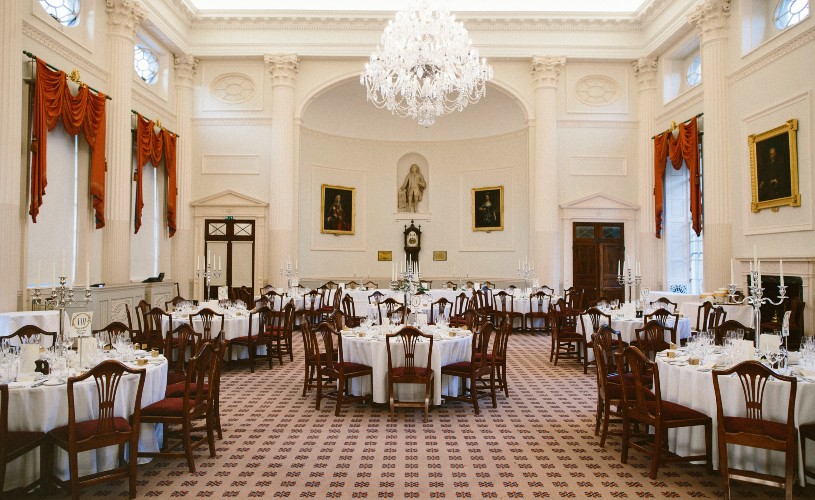 Image - Pump Room Restaurant
Pump Room Restaurant
"Every creature in Bath…was to be seen in the room at different periods of the fashionable hours" – Northanger Abbey, Jane Austen
As described in Northanger Abbey, The Pump Room (which also features in Persuasion) was where members of high society would flock to promenade, enjoy lavish entertainment and 'take the waters' in Jane Austen's time. Today, it's still a favourite setting for high tea in elegant surroundings, with most of the Georgian features remaining unchanged.
Savour a traditional afternoon tea or a delicious brunch to the soundtrack of the restaurant pianist or the Pump Room Trio, believed to be the longest established resident ensemble in Europe.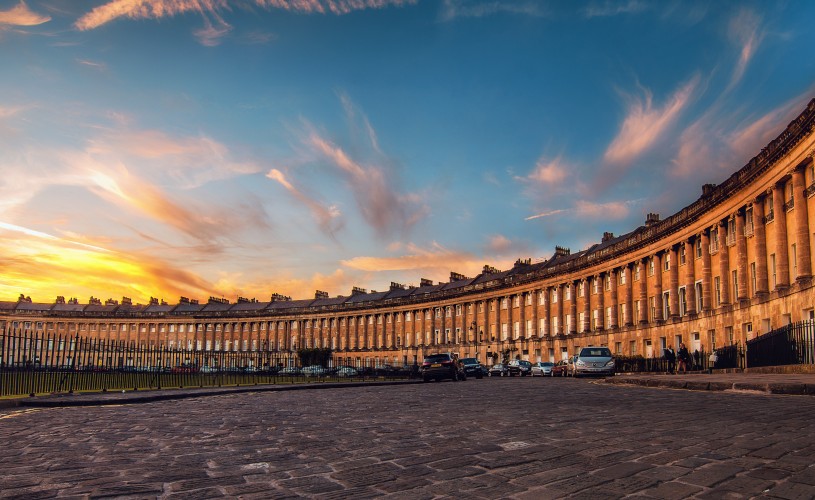 Image - The Royal Crescent
The Royal Crescent Hotel
Dine on what was the most fashionable address in Bath during the Regency era. Completed in 1775, The Royal Crescent is a magnificent sweeping terrace of houses, which has become one of the city's most iconic landmarks. Scenes for the upcoming Netflix adaptation of Austen's Persuasion have been filmed here.
Once you've promenaded along the terrace, step inside The Dower House Restaurant at The Royal Crescent Hotel for a classic afternoon tea or a fine dining tasting menu. On sunny days, request a garden table or a picnic to enjoy on the sprawling crescent lawns.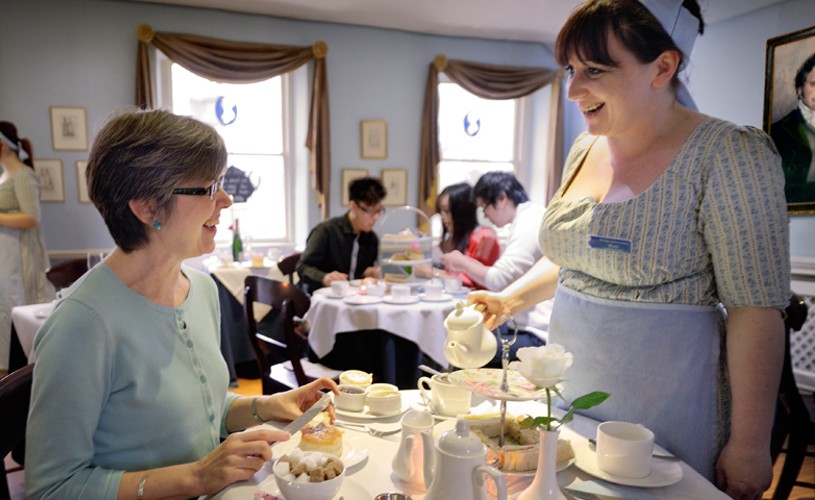 Image - Regency Tea Room
Regency Tea Room at The Jane Austen Centre
Learn about, dress like and even eat like Jane Austen at the interactive and immersive museum dedicated to the author, which looks at her life and the impact of Bath on her writing.
No visit is complete without dining in the Regency Tea Room. Here you can indulge in 'Tea with Mr Darcy', a decadent afternoon tea, or lighter options such as 'Lady Catherine's Proper Cream Tea' and 'Mrs Bennet's Cake of the Day'.
All treats go down nicely with a cup of Jane Austen Blend tea. It's a light blend of China black teas that was popular in regency times, when Indian teas were not readily available.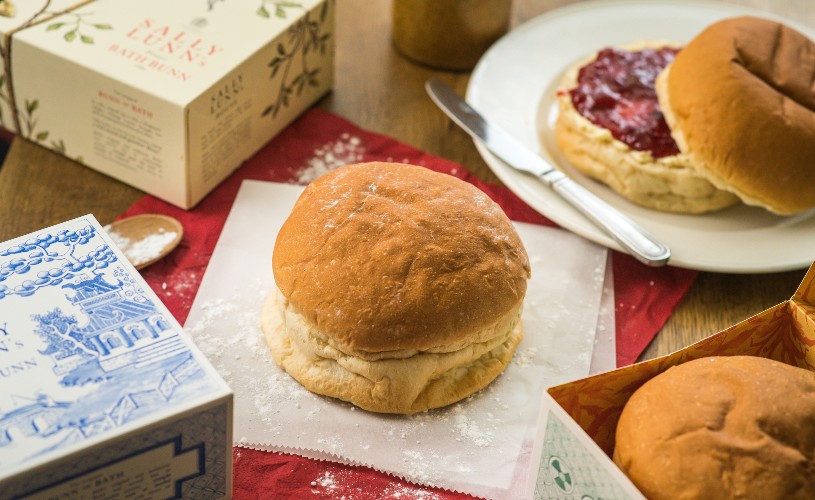 Image - Sally Lunn's Historic Eating House
Sally Lunn's Historic Eating House
"Disordering my stomach with Bath bunns..." – Jane Austen
Come here to sample a local delicacy with a storied past – Sally Lunn's buns have been around since the seventeenth century and are said to originate from the recipe of a Huguenot refugee. Austen wrote of how she'd been "disordering my stomach with Bath bunns", so she certainly enjoyed indulging (or overindulging!) in them during her time here.
These brioche-style treats can be served sweet or savoury, with toppings ranging from lemon curd to smoked salmon. Make sure you request a seat in the Jane Austen-themed room!
The Bath Bun Tea Shoppe
A rival bready treat popular during the Regency era was the Bath bun. Made from a sweet yeast dough, legend has it they were originally invented for medicinal purposes. Dr William Oliver often recommended his patients drink the local thermal water, but to offset the taste he prescribed the buns.
Have a taste of them today at the Bath Bun Tea Shoppe, a traditional tearoom on Abbey Green where you'll be served by staff in period costume.
Hands Georgian Tearooms
This family-run tearoom is based in a Grade II listed Georgian building on Abbey Street. Dine here and imagine yourself in an Austen novel among the Regency-style décor including chandeliers, Greek motifs, and period portraits. In keeping with the theme, waiting staff also dress in long black dresses, white aprons, and bonnets.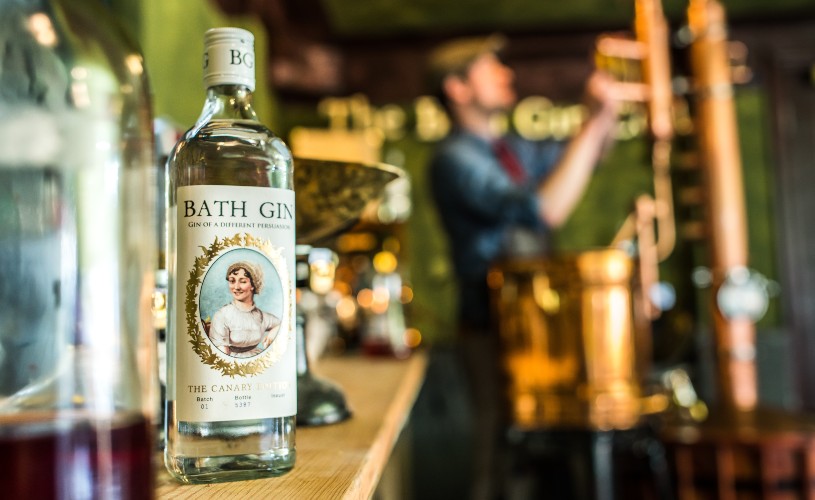 Image - Canary Gin Bar
Canary Gin Bar
Run by Bath Distillery, The Canary Gin Bar has concocted the character of Virginia 'Gin' Austen and a menu of cocktails to match. Boozing in the bar is overseen by a portrait of a winking Austen and your gin can be served in teapots, to ramp up the Regency vibes even further.
Now you know where to eat, find a place to stay with a Jane Austen connection.
Related
0 Comments