Bath has long attracted directors and producers eager to feature the city's stunning Georgian architecture and surrounding manor houses and countryside on both the big and small screen…
Silver Screen Spots
2012's multi-award-winning musical film Les Misérables shot scenes in Bath, with Pulteney Bridge and Weir standing in for nineteenth-century Paris. The epic historical film, featuring an all-star cast, used the bridge as the location where Javert, played by Russell Crowe, takes his own life in a dramatic, plot-impinging scene.
The city's Little Theatre Cinema has also been immortalised in Wes Anderson's 2009 stop motion classic Fantastic Mr. Fox – you can spot the red doors of its exterior towards the end of the film.
More recently, Bath has appeared in Hettie Macdonald's 2023 film adaptation of Rachel Joyce's novel The Unremarkable Pilgrimage of Harold Fry, as the titular character passes through the city during his epic walking journey from South Devon to Berwick-upon-Tweed.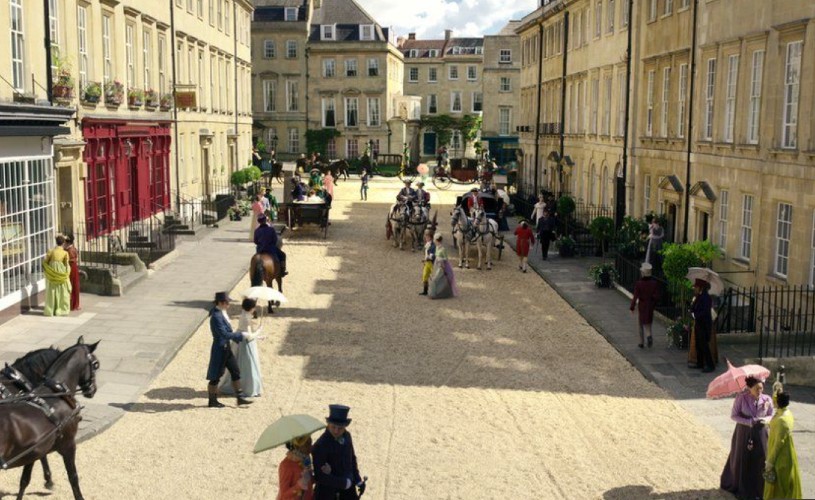 Image - Bridgerton
Period Drama Perfection
Bath's most notable starring role in recent years came courtesy of Bridgerton. Netflix's delightfully escapist period drama series follows the Bridgerton siblings navigating the world of Regency romance and scandal. Based on the bestselling books by Julia Quinn, produced by Shonda Rhimes (of Grey's Anatomy and Scandal), and narrated Gossip Girl-style by none other than Dame Julie Andrews, it returned for a second series in 2022, and has been renewed for a third and fourth.
Bath reprised its role in the Bridgerton franchise in the 2023 prequel series Queen Charlotte: A Bridgerton Story, which follows the life of the titular monarch during her rise to prominence and power in the late 18th century. See if you can spot some of the city's most recognisable landmarks, including The Royal Crescent and The Holburne Museum among many others. Find out more about the Bath Film Office team's role in the series' production here.
Find out more about Bridgerton in Bath here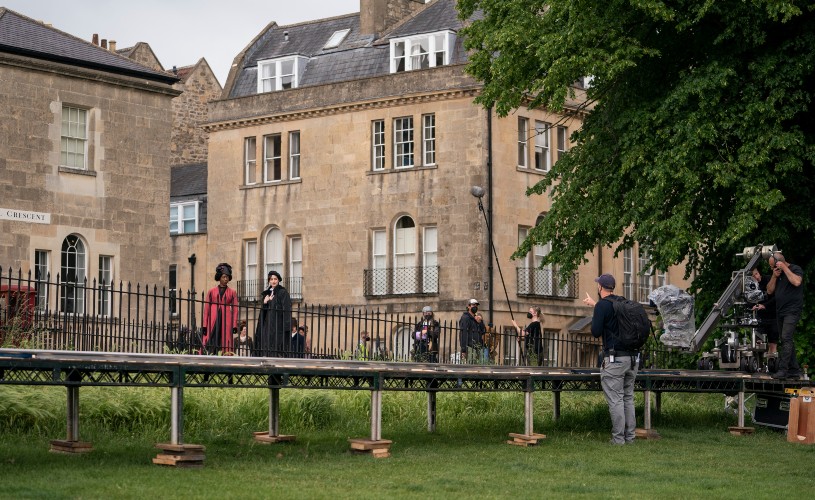 Image - Filming by the Royal Crescent, credit Netflix
With Jane Austen living in Bath from 1801 to 1806, and the city providing inspiration for her novels Persuasion and Northanger Abbey, it makes sense that its historic Georgian streets would also be used as locations for period adaptations of her work. Netflix's 2022 version of Persuasion starring Dakota Johnson features beautiful Bath as a backdrop, as do both the 1995 and 2007 adaptations.
Also set in Austen's Georgian world, 2008's The Duchess, starring Keira Knightley, features the grand Assembly Rooms and the Royal Crescent, as does 2004's Vanity Fair, in which Reese Witherspoon plays the cynical yet complex social climber, Becky Sharp.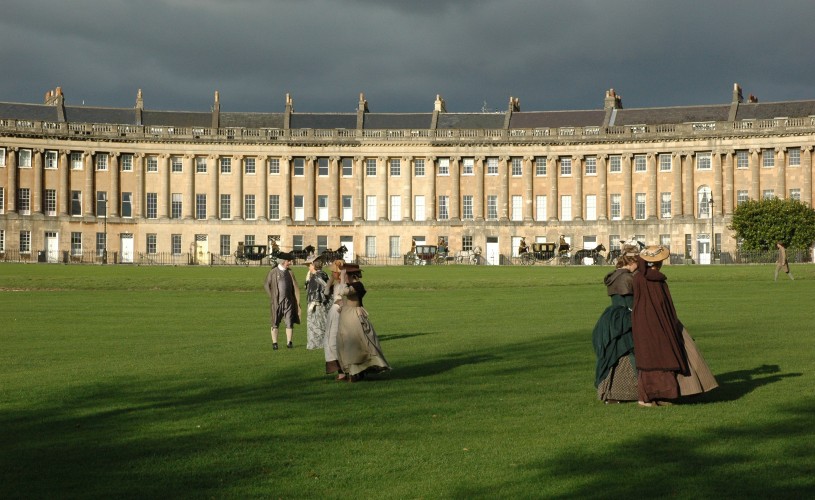 Image - The Duchess, credit Bath Film Office
Small Screen Spots
It's not just in movies that you can spot Bath. Fans of Benedict Cumberbatch will have been looking out for him in 2015, when the cobbled Queen Street stood in for Victorian England in a special episode of Sherlock.
You might have also noticed Bath in The Trial of Christine Keeler, the 2019 BBC One series about the 'Profumo affair' – rooms in the Guildhall were used to film the Old Bailey scenes, and Abbey Green was used for scenes set in Notting Hill.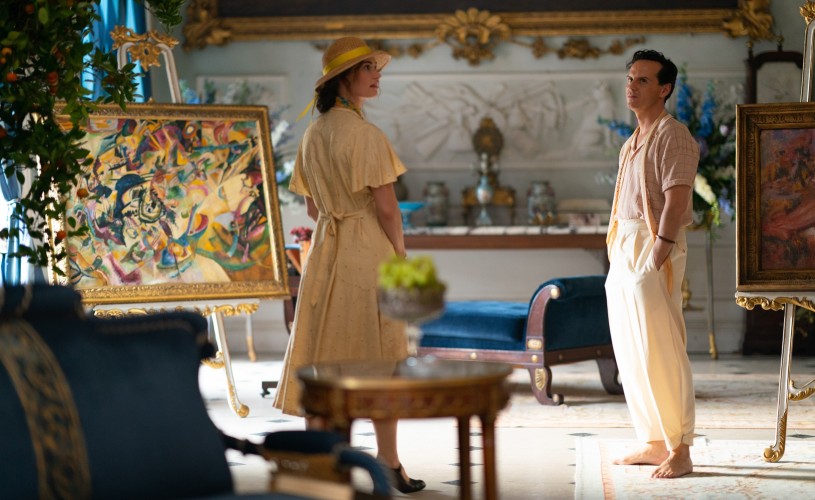 Image - The Pursuit of Love, credit Open Book-Moonage Productions-BBC
2021's adaptation of Nancy Mitford's 1945 romcom novel, The Pursuit of Love, was partially filmed in Bath in September 2020. Shown primetime on BBC One, the series features an all-star cast of Lily James as the lead – Linda Radlett – plus Dominic West, Emily Beecham, Andrew Scott and more.
Locations used in the city include Green Park Station, and exterior shots nearby in the Georgian terraced street of Green Park and outside No.1 Royal Crescent. Further afield, the National Trust's Dyrham Park and Lacock Abbey were featured, along with Avon Valley Railway in Bitton, just six miles from Bath.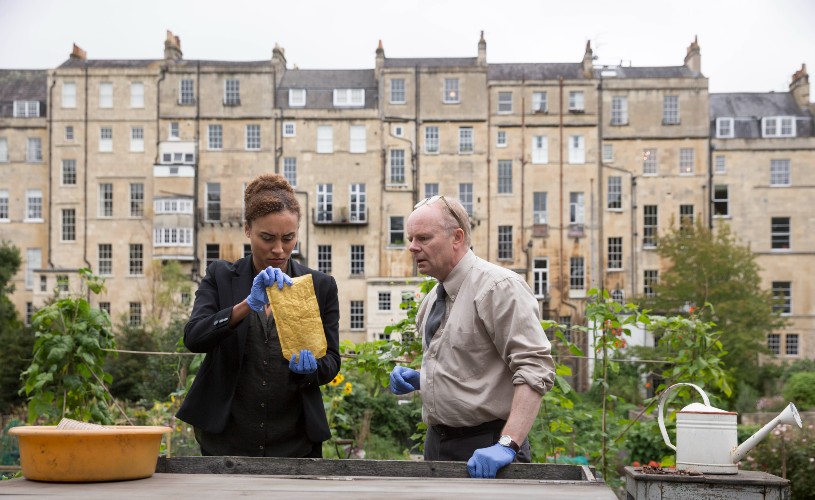 Image - McDonald and Dodds
Look out for Bath in both series of ITV drama McDonald & Dodds too, about an unlikely detective duo starring Jason Watkins and Tala Gouveia. All three series used Bath extensively for filming during 2019, 2020, and 2021. A scale model railway layout of Bath used in the programme can be seen at the Museum of Bath at Work, with demonstrations of the layout taking place each day. Check out our blog post about must-see sights from the series.
In 2023, Bath appeared briefly in the fifth series of Chris Lang's popular cold-case crime drama series Unforgotten, starring Sinéad Keenan and Sanjeev Bhaskar.
You can spot Bath's Assembly Rooms in ITV's Belgravia, a nineteenth-century historical drama starring Philip Glenister and Tamsin Greig. The stunning building features in much of the first episode as a setting for a grand ball in Brussels.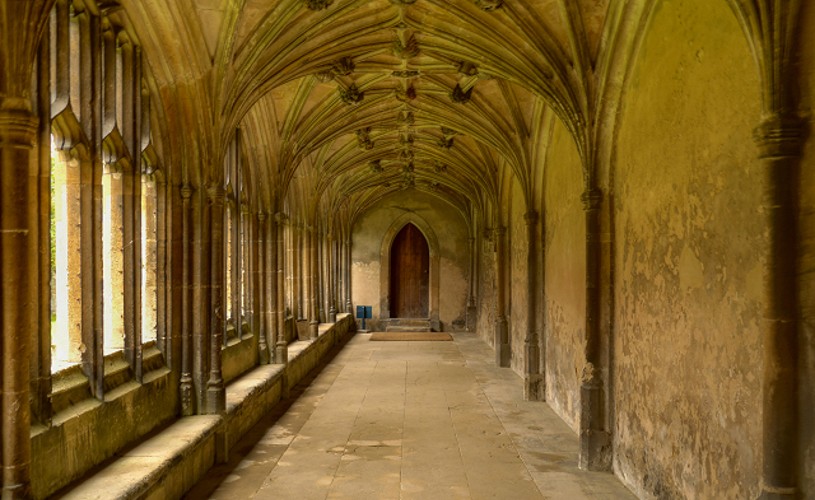 Image - Lacock Abbey
Further Afield
Visit Lacock, a picturesque Wiltshire village 40 minutes' drive from Bath, and step back in time – around 200 years, to be precise. Its timber-clad cottages provided the backdrop to 2009's BBC series Cranford, and the National Trust-owned Abbey stood in for Hogwarts in the first and second Harry Potter films, with the 2015 historical drama Wolf Hall also using the Abbey's exterior in some scenes.
Sanditon, the ITV drama recently adapted from Austen's unfinished novel by Andrew Davies, used the National Trust's Dyrham Park and Iford Manor and Gardens near Bradford-on-Avon as prominent locations, this latter setting also featuring in The Secret Garden, released in cinemas in 2020.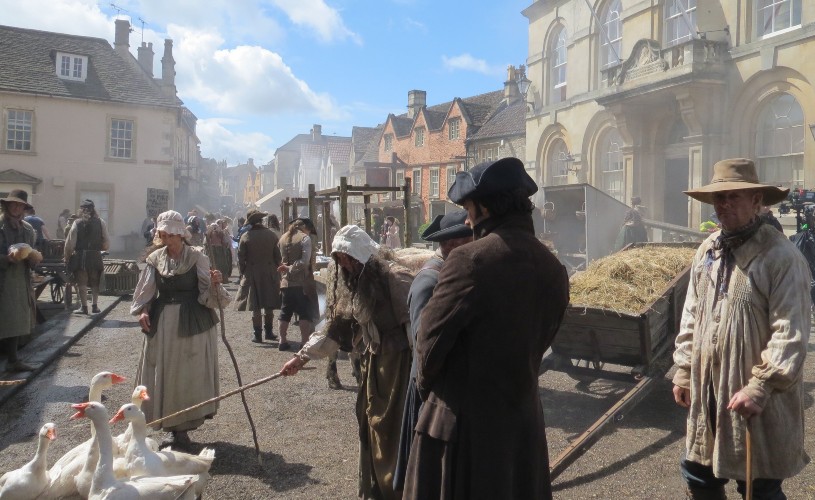 Image - Poldark, credit Mammoth Screen
Whilst the period drama Poldark, which first aired in 2015, is set in Cornwall, several locations in the West Country stood in for seaside villages. Corsham's High Street doubled as a bustling eighteenth-century Truro. In Wells, the Town Hall was used as Warleggan Bank and the Bishop's Palace was transformed into a French convent. The Mansion and staff room at Prior Park College in Bath stood in for Truro Assembly Room's ballroom. And the grounds of Bowood House in Wiltshire once doubled in the series as London's Hyde Park.
Poldark isn't Wells' only on-screen credit – the small Somerset city starred in 2007's cult action comedy Hot Fuzz, starring Simon Pegg and Nick Frost, standing in for Sandford, a fictional Gloucestershire village with strange goings-on afoot.
Famous Faces
Bath is, or has been home, to a few famous faces. Top independent film director Ken Loach lives in Bath and is patron of FilmBath Festival, which takes place each year in November. He's also a loyal fan of the local football team, Bath City, and can sometimes be spotted at games.
Hollywood star Nicolas Cage also made Bath his home in the mid-noughties, buying a house in the prestigious Circus – three impressive curved segments of Grade-I listed Georgian townhouses.
Related
0 Comments