There are hundreds of things to see and do in Bath. Here's an easy top ten to get you started. And here's a top tip: enjoy them at their best by visiting midweek.
1. Visit the Roman Baths
Immerse yourself in history and see how Bath's former residents relaxed all those centuries ago. Interactive exhibits and CGI reconstructions bring this unique ancient site back to life, showing how important the baths were to our Roman ancestors. Make sure you stop into the World Heritage Centre to learn more about Bath as a UNESCO World Heritage Site and discover what makes the city so special.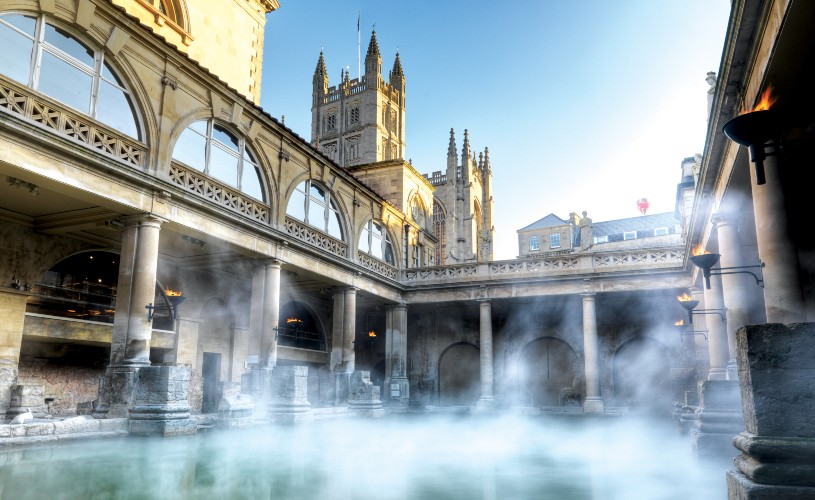 Image - Roman Baths, credit Colin Hawkins
2. Relax at Thermae Bath Spa
You can't take a dip at the Roman Baths these days, but you can still enjoy the same natural hot spring water at Thermae Bath Spa. This one-of-a-kind complex brings the spa into the twenty-first century, with lovely treatments, relaxation spaces and a spectacular rooftop pool offering 360-degree views of the city.

Image - Thermae Bath Spa
3. Be a culture vulture
Bath is a deep treasure chest of museums and galleries (far too many to list here). Dive in to Bath's culture at The Holburne Museum, or relive the Georgian era at No.1 Royal Crescent. Immerse yourself in the dark world of Mary Shelley and her famous gothic creation at House of Frankenstein.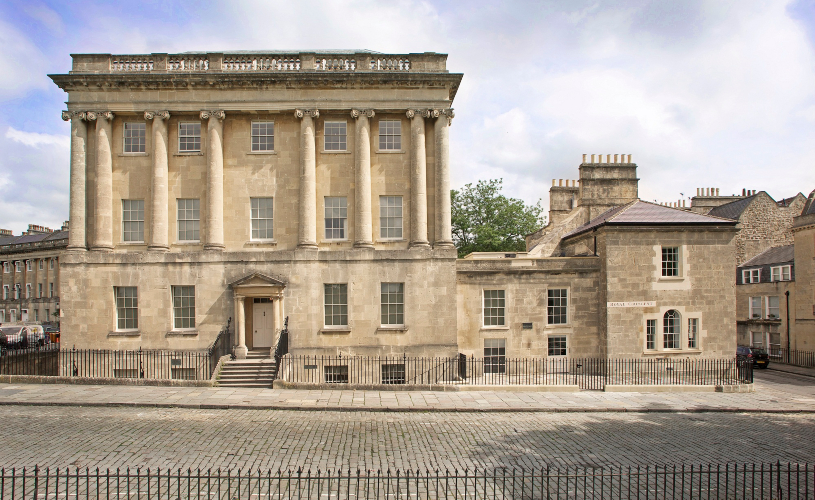 Image - No.1 Royal Crescent
Visit Victoria Art Gallery for classic and contemporary art in a splendid Victorian setting, or learn about the life of Bath-based astronomer and musician William Herschel at the Herschel Museum, which also hosts regular astronomy sessions.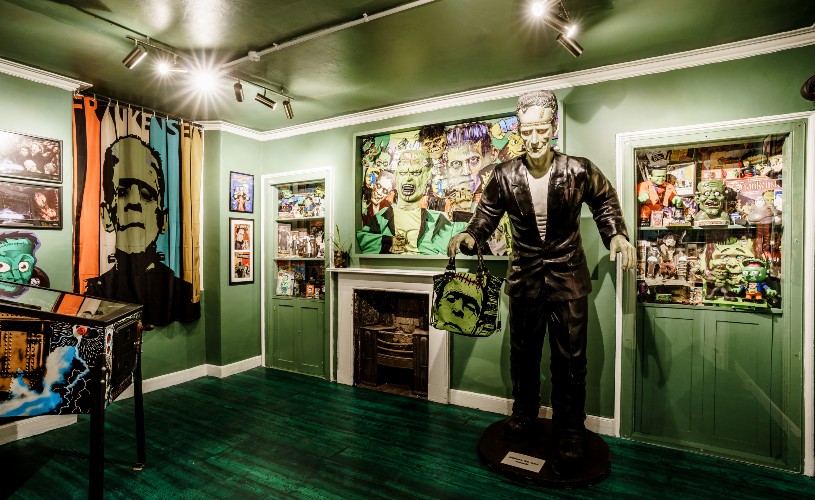 Image - Mary Shelley's House of Frankenstein
4. Climb Bath Abbey's tower
Take the Bath Abbey Tower Tour to see the different, working side of this iconic landmark. Ascend 212 steps to the top, and you will climb past the ringing chamber to the bell chamber, to have the chance to stand above Bath Abbey's vaulted ceiling and sit behind the clock face. Once you reach the roof, you'll be rewarded with breathtaking views over the city and surrounding countryside.
If you're looking for more panoramic views, climb the 154 steps to the the top of the 120-foot neo-classical Beckford's Tower, located on Lansdown hill, just a short distance from the city centre.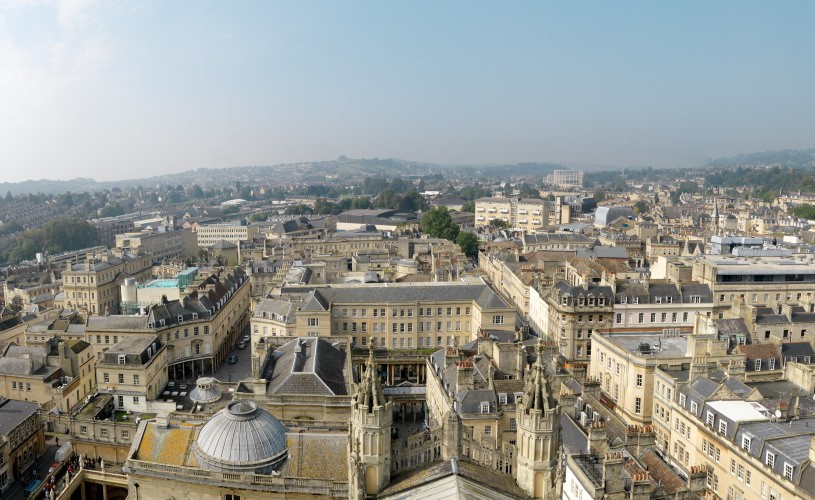 Image - Bath Abbey
5. Get lost in Austen
Visit The Jane Austen Centre to delve into the life of Britain's favourite author. Exhibits and costumed characters tell the story of Austen's time spent living here in Bath between 1801 and 1806 and the impact it had on her work. You can dress up in regency clothes before enjoying some snacks or sweet treats in their tea room.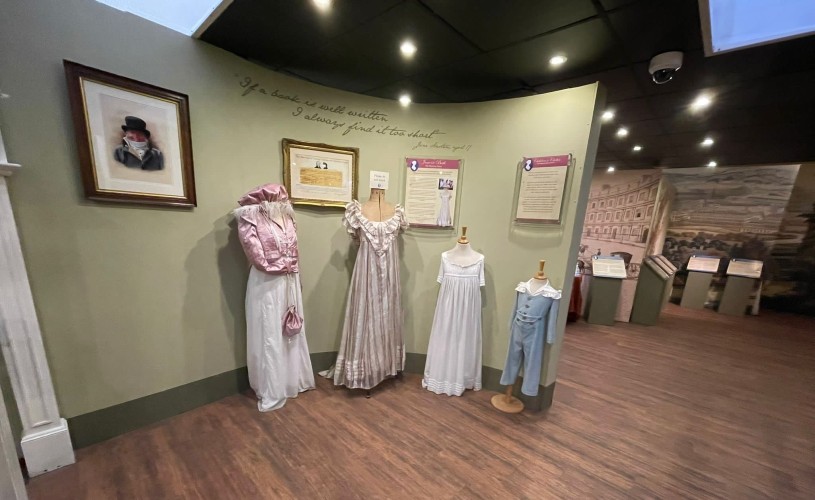 Image - The Jane Austen Centre
6. See Bath from another angle
The benefit of Bath being nestled among seven hills is that you're never far from some amazing views! Whether you opt to do the Bath Skyline Walk or a gentle stroll along the Kennet and Avon Canal, you're sure to encounter some memorable vistas.
For an even more special view, take to the skies in a hot air balloon over Bath, with flights available for groups or couples. We'd also recommend seeing Bath from the water, on a boat trip or a paddleboarding adventure! You can get a great view of the city from The Rec too, whilst experiencing at home game at the famous Bath Rugby.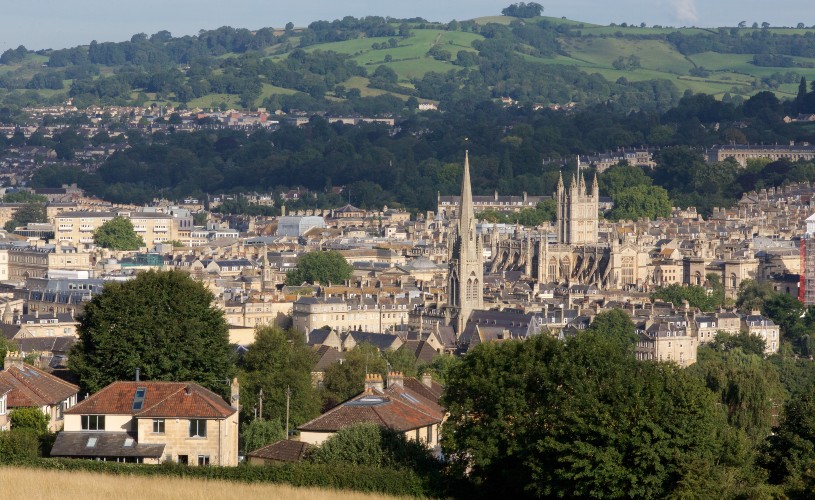 Image - Bath Skyline Walk
7. Take the waters
Our hot springs aren't just for bathing. Drinking the mineral-rich waters is said to be a healthy remedy for numerous ailments. Try some for yourself in the elegant Georgian Pump Room Restaurant, where a glass of water from the spa fountain makes a unique accompaniment to a meal or extravagant afternoon tea.
Not keen on sipping spa water? The city also has its fair share of breweries, distilleries and vineyards if you want to try some other local tipples!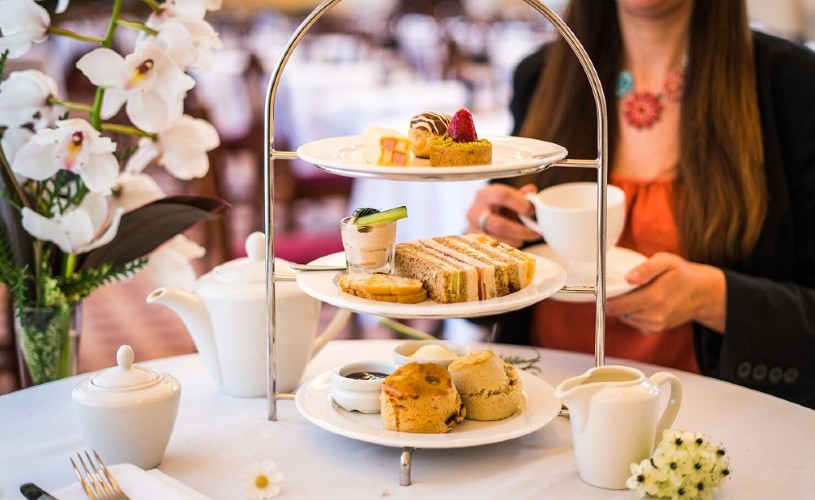 Image - The Pump Room
8. Referee the battle of the buns
In one corner, the Bath Bun, a sweet roll sprinkled with fruit and crushed sugar. In the other, the Sally Lunn bun, a light brioche-like creation only made at Sally Lunn's house here in Bath. These two rivals have battled it out for centuries, but which one is best? You'll have to taste them both and decide for yourself.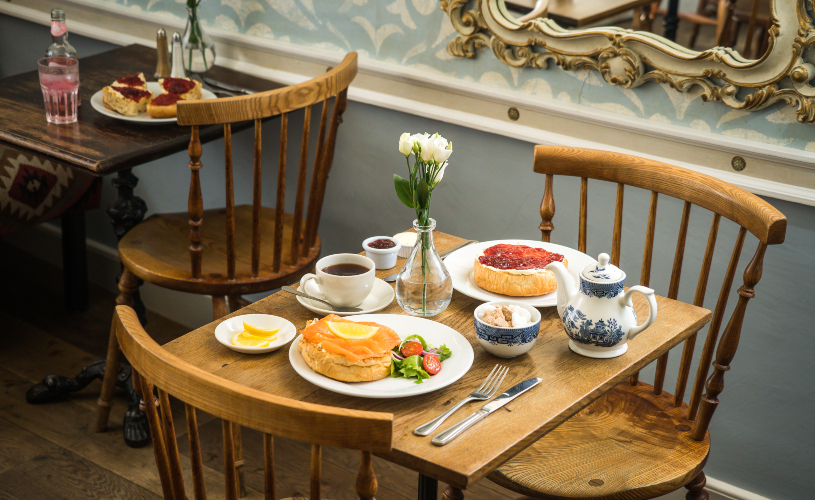 Image - Bath buns at Sally Lunn's Historic Eating House
9. Take a tour
Bath has plenty of guided tours for you to choose from, including food and drink tours, Bridgerton location-spotting, entertaining history walks and even a silent disco ghost tour! The Mayor of Bath's Honorary Guides also offer free daily walking tours around the city.
If you want to take the self-guided approach, a walk through Bath is a journey through centuries of architectural art. It's the reason why Bath is the only city in the UK that's a designated UNESCO World Heritage Site. For more information on Bath's unmissable landmarks see our list of Top Ten Must-Sees.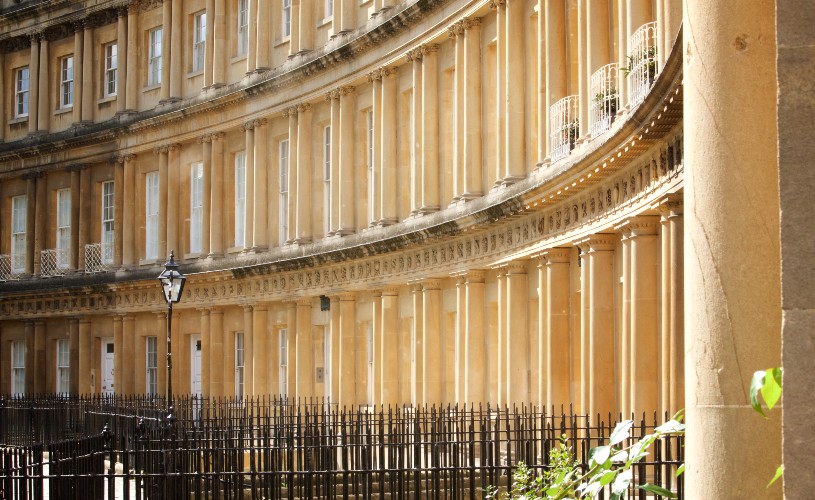 Image - The Circus
10. See what's on
Bath serves as a stage for a packed calendar of events. From comedy and carnival to food and drink, music and literature, there are lots of exciting events and festivals taking place throughout the city, from The Bath Festival with its 120 events spread out over ten days, to the renowned Jane Austen Festival, a ten-day programme of literary-inspired events with a whole range of talks and workshops taking place in various venues across the city. Other key events in the city include Bath Carnival, Bath Children's Literature Festival, The Great Bath Feast, Garden Theatre Festival and FilmBath.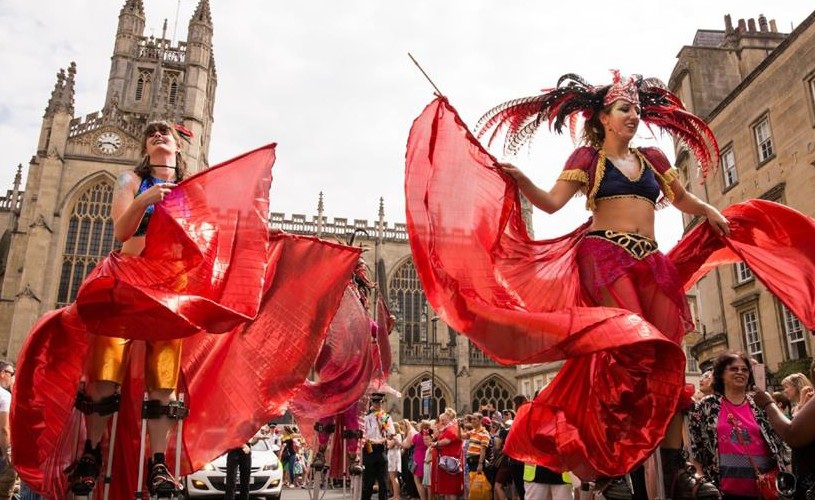 Image - Bath Carnival
Take a look at our Events Calendar to see what events are taking place during your visit - you could end up enjoying free live jazz at Green Park Brasserie,watching Bath Rugby in action, or spending a night at the theatre.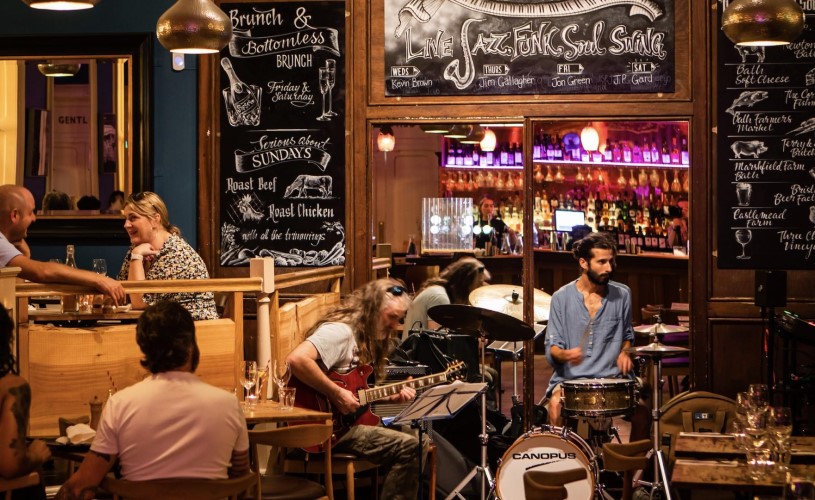 Image - Green Park Brasserie
Add a little spice to your holiday shopping at Bath Christmas Market. Laid out around Bath's city centre, you'll find a wonderland of pretty wooden stalls packed with one-of-a-kind festive gifts and tasty seasonal treats (plus warming glasses of mulled wine).
There are plenty of other fantastically festive events taking place in the city from November onwards, so don't miss out on a chance to see Bath at Christmas.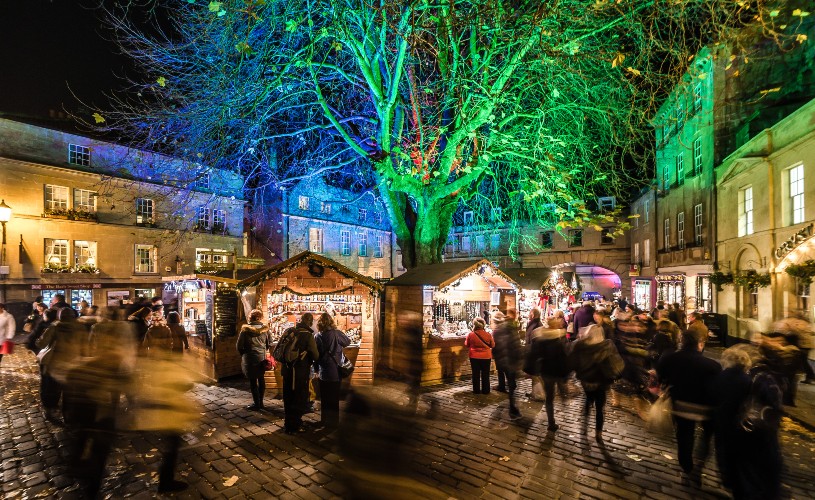 Image - Bath Christmas Market
As you roam the streets of Bath, look out for the Bath BID Welcome Ambassadors, wearing distinctive blue jackets emblazoned with 'Ask me!', who have all the information you could possibly need right at their fingertips.
Read more:
Related
0 Comments